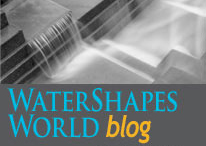 By Jim McCloskey
Earlier this year, I devoted a good bit of energy to covering two educational groups and their pursuit of excellence in the classroom. I am happy to report that both Artistic Resources & Training (ART) and Genesis have been far from idle since I last wrote about them.
For its part, ART has organized a second program that builds on the first and expands it gloriously. They're bringing back "The Art of Colored Concrete in Water," for example, but placing Shawn Still and Shawn Hayes' eye-opening course in a helpfully constructive context by preceding it with "The Art of Color," a class on color theory taught by Judith Corona. Each is an eight-hour session – time that will be well-spent by all attendees.
ART founder Mark Holden also takes to the podium with a new eight-hour course called "20th Century Art and Architecture" – a detailed examination of the role water has played in some of the modern era's greatest projects. ART will also be taking advantage of the program's location in Scottsdale, Ariz., by transporting participants to Taliesin West, Frank Lloyd Wright's Arizona outpost and a case study in environmentally driven design.
Also on the schedule is an eight-hour course called "The Art of Asian and Natural Environments," led by Keiji Uesugi, as well as a 16-hour class titled "Advanced Design and Presentation," taught by David Tisherman and Brian Lally. David's advocacy of advanced presentation skills is widely known; the unique twist in this course is the participation of Mr. Lally, an actor and acting instructor who will cue participants in on the dynamics of body language and verbal interaction.
It's a great second act, and it all comes together in Scottsdale, Ariz., September 28-30.
***
Over at Genesis, I've been more than pleased to see that something I've wanted to happen for more than ten years is about to take place: Dave Peterson, Skip Phillips and Eric Groft will appear at the annual meeting of the American Society of Landscape Architects (in Phoenix on September 29), where they will present "Water Works: Keys to Designing State-of-the-Art, Award-Winning Water Features."
I take this as a sign of how far things have progressed since Genesis appeared in 1998 and WaterShapes came along in 1999: Back in those early days, recognition by ASLA in the form of participation in its educational forums always seemed beyond reach. But persistence and growing credibility have paid off, and I hope this is just the first trickle in what should become a steady flow of information from watershapers to ASLA's members. After all, a great many of the latter are watershapers and, as such, are in need of information, inspiration and education.
Finally – and I may well have saved the best for last – there's "Dry-Deck Fountain Safety," a Genesis-sponsored eight-hour course that will be part of the World Aquatic Health Conference on Wednesday, October 10, in Norfolk, Va. My hope is that this session, which will be taught by Michael Denman of Crystal Fountains, will go a long way toward addressing key safety issues related to interactive fountain design. Wouldn't it be great if this session registered the watershaping industry's general position so effectively that local code authorities will find it easier to do the right thing?
Genesis has always been good about reaching out to other groups to form useful alliances. All I can say is bravo!