Articles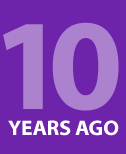 By Stephanie Rose
'With spring upon us,' began Stephanie Rose's column in May 2007, 'calendars of local events are filling up with garden tours of all shapes and sizes. From large estate tours and special events at botanical gardens to tours of wonderful neighborhoods staged by local garden clubs, there's much to be seen while wandering through the grounds and yards and viewing the work of other designers and architects.
'I've always enjoyed these tours,' she continued, 'and learn something from each and every one, whether it's about a new plant or plant combination or an installation technique shared by a generous designer or installer who's on hand for that purpose.' She went on to say:
***
'A while back, I mentioned my fondness for these forums to another landscape professional, and I was taken aback when she informed me that she didn't like going on tours because she didn't want to see and be influenced by what everyone else was doing. I found this a bit odd, as it has always been my belief that viewing the work of others is generally inspirational and filled with lessons I can adapt and apply on my own.'
***
'I don't attend these events to be entertained by beautiful landscapes. Instead, I see them as opportunities to gain insights on current trends, evaluate other professionals' work, see new plants and connect with others who may make significant contributions to my work in one way or another. To me, garden tours are less an option than an absolute requirement.'
***
'The main value for me is always the recognition of design variations and palettes required by the specific locations of these gardens or by the local availability of particular plant varieties. I also look at installation practices and at the ways topography and local traditions influence design.'
***
'If I keep my mind and eyes open, I can take ideas from a garden in Italy and apply the principles and arrangement styles I see while using plants available to me where I'm working.'
***
'I'm a big advocate of education, reading and networking as avenues for professional improvement, and I'd like to add garden tours to that trio: I believe we all should attend at least two tours a year (one in the spring, another in the fall to see how nature balances itself) as part of our continuing educations. And the fact that most of these events happen over weekends makes them easy to add to our schedules – no excuses!'
***
'I go to all this effort because these events are incredibly helpful to me as a professional. They inspire and motivate me, and if I'm on the road and can't find an organized tour, I'll even go so far as to stop at nurseries and inquire about good neighborhoods in which I might walk on self-guided tours. Yes, it's better to have company and be surrounded by other professionals with whom I can share thoughts and ideas, but these opportunities to see what's going on in other places are simply too valuable to waste.'
***
'So if you're like my old friend and can't stand the thought of looking at other people's work," Stephanie concluded, "I suggest you think again and take a closer look at how open and creative you're allowing yourself to be. You may be happy in your isolation, but are you serving your clients as well as you might?'

Stephanie's point about getting out and seeing what others have done and are doing is as on-point now as it was five years ago, but is it something you've taken to heart in your own business? Please share your thoughts below.
Stephanie Rose wrote her Natural Companions column for WaterShapes for eight years and also served as editor of LandShapes magazine. She may be reached at This email address is being protected from spambots. You need JavaScript enabled to view it. .