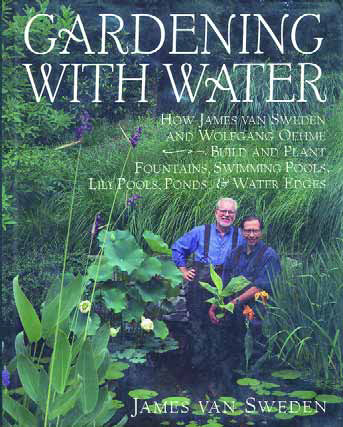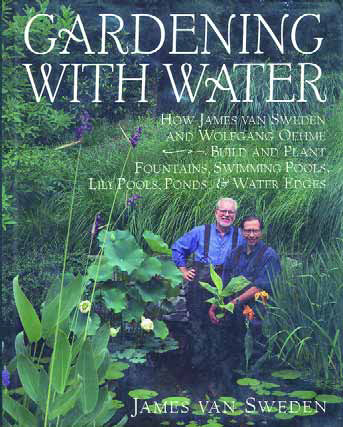 Without any hesitation at all, I can say that Gardening with Water by James Van Sweden (Random House, 1995) is one of the most influential books on design that I've ever read. It's currently out of print, but it's certainly worth a hunt and can still be found on the Internet and in many technical bookstores.
All through its 206 beautifully illustrated pages, Van Sweden carefully details his approach to designing with water – an element he says should be used in some form in every garden design. Along the way, he covers his firm's use of swimming pools (natural and architectural) as well as birdbaths, fountains, small watergardens and large ponds.
It's an important book from a tremendously influential designer. In fact, it's fair to say that Van Sweden's firm, the legendary landscape architects Oehme Van Sweden of Washington, D.C., almost single-handedly changed the course of residential landscape design in the 1980s. The ornamental grasses, perennials and undulating lawns they advocated – and that are so common today – were rarely seen in the boxy residential designs that dominated the middle decades of the 20th Century. (The firm's overall design philosophy is explained in detail in Bold Romantic Gardens, another book by Van Sweden.)
The text begins with a lengthy discussion of the broad range of Van Sweden's primary influences, a surprisingly eclectic list that includes the masters of Japanese gardening, the bold designs of Brazilian landscape architect Burl Marx, the formal English gardens of John Brooks and the sprawling achievements of F.L. Olmstead, designer of New York's Central Park and the man considered to be the father of American landscape architecture. Van Sweden does a nice job of spelling out which elements of design he favors and why, demonstrating how ideas can be borrowed from one context and transplanted into fresh, original designs.
The meat of the book is its 30 case studies, each examining the use of water over a range of mostly residential designs.
Many of the principles Van Sweden discusses are simple, and all are presented in wonderfully clear terms. He covers several of the highly formal (yet simple) pools that grace many of his firm's spectacular New England gardens. He then pulls apart the principles at work in designing naturalistic watershapes, such as his preference for locating these pools and ponds at low elevations to create the appearance of water gathering at natural drainage points.
Van Sweden also covers techniques for "eroding" the edges of natural watershapes with large stonework and/or massive plantings and delves into the ideas of Japanese gardeners who use ponds that are slightly upsized to increase the feeling of spaciousness in a garden setting. He also discusses principles of using clean lines in small spaces near homes, transitioning to more organic forms in spaces further removed from residential structures. In addition, there are studies of fountains in formal courtyards and small plazas – and extensive discussions of the use of ponds and watergardens in lush landscape schemes.
Following the case studies, Van Sweden offers key recommendations for plantings used in and directly around water and cites several key texts for further information and inspiration. Helpfully, and unlike many landscape architects writing on the subject of water, he also spends time on what's involved in designing with the practicalities of building codes and property easements in mind.
The result is a book that I believe should be read by anyone designing with water. Whether you're a pool builder looking to get into water gardening or a landscaper moving into swimming pools, this text has information that you'll turn to over and over again.
Mike Farley is a landscape designer with more than 20 years of experience and is currently a designer/project manager for Claffey Pools in Southlake, Texas. A graduate of Genesis 3's Level I Design School, he holds a degree in landscape architecture from Texas Tech University and has worked as a watershaper in both California and Texas.