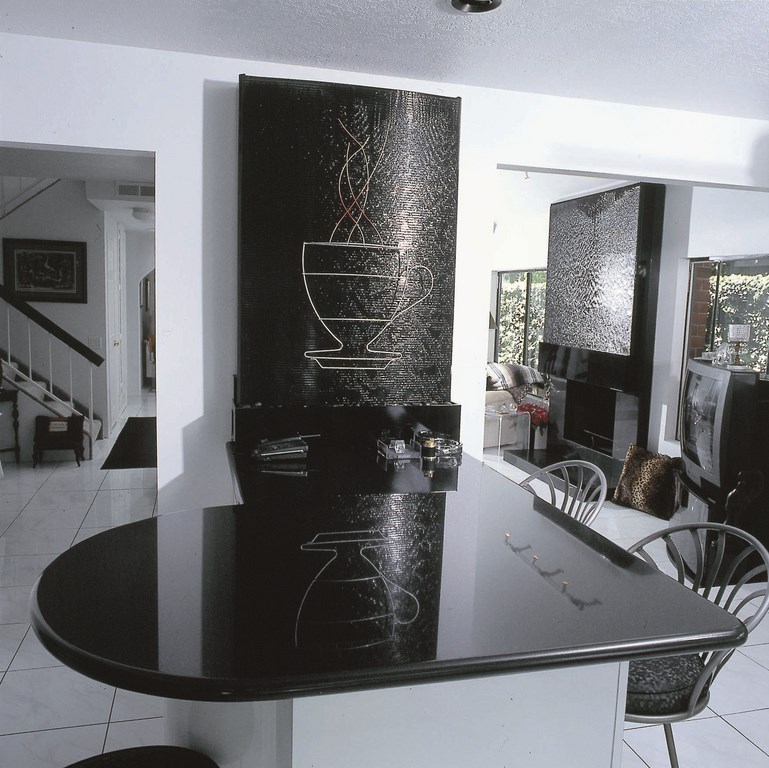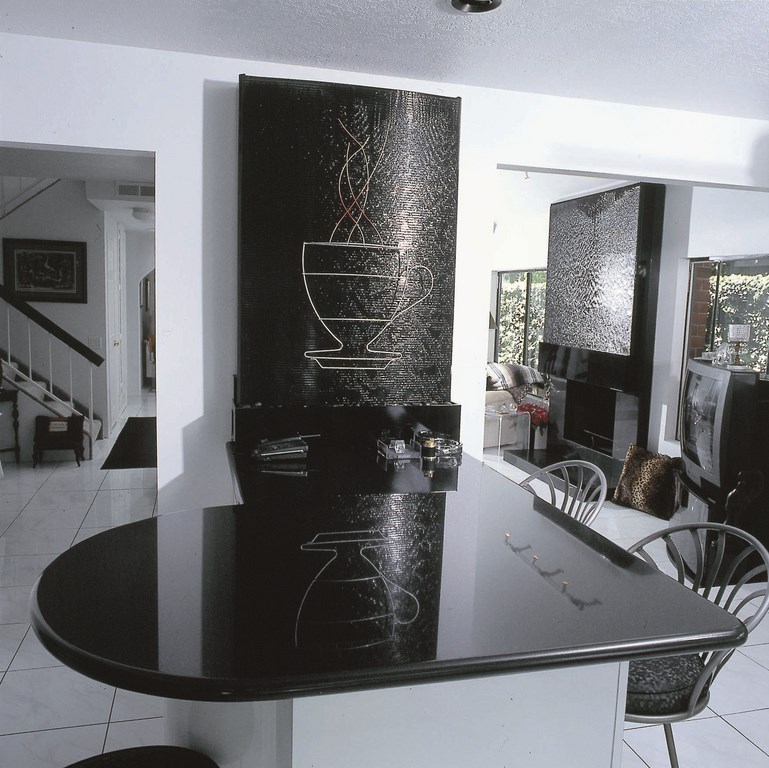 In a real sense, I want to build antiques: My goal in designing and shaping water walls has always been to develop systems of beauty that will be around and appreciated decades or even centuries from now. Not only are they built to the highest standards of quality – as are many antiques – but they're also meant to hold running water year after year.
I don't know who created the first water wall, but my best guess is that they've been produced in one form or another since the late 1960s or early '70s. I became aware of them in the early '80s, at which point a number of craftspeople were making them from stone, copper, and bronze.
Some of these products aspired to be works of sculptural art, but for the most part I thought that the medium's artistic potential hadn't been fully explored or expressed. My idea at the time was to expand the concept with respect to shapes, sizes, materials and styles. I also wanted to check into the possibilities of combining
water-wall effects with a variety of sculptural and illustrative visual elements.
In 1994, things had advanced far enough that Acqua Werks was formed and has now become a substantial operation with headquarters in Corona, Calif., and manufacturing facilities in China and India.
SPIRIT OF INNOVATION
As an entrepreneur and inventor, I've been involved in more than a few creative ventures, including several in the custom-automotive and sporting-goods industries. My companies have built custom golf carts, motorcycles, and other recreational vehicles as well as products for automobiles and high-end custom furniture.
All of that other work is steeped in modern industrial materials and manufacturing processes, but I have to say that I take my greatest inspiration from good, old-fashioned water – largely because I am completely intrigued by its history and its influence on ancient cultures.
The attractions of decorative water truly span the centuries and the globe. We see it used in nearly every design tradition, from Feng Shui, Japanese gardening and Islamic design to the works of the ancient Egyptian, Greeks and Romans. I see what we're doing with water walls as a continuation of those traditions as expressed in modern materials, designs and manufacturing methods. In all cases (including ours), water represents nature, prosperity, spirituality, good fortune, fertility and tranquility.
I've always had the thought that the watershaping industry has made it much too difficult for residential and commercial clients to obtain decorative water and moreover were offering them far too limited a range of aesthetic options. That's changing, I think, but until very recently, it was almost absurd how few choices consumers really had, especially in light of the vast possibilities water provides us as an artistic medium.
Many of our water walls begin with simple shapes that we curve, bend, ripple or color to serve our purposes. The products can stay this way, but often they are transformed, decorated and thoroughly customized to meet specific clients' wishes.
The idea of building water walls myself first dawned on me during a visit to New York in the early 1990s, when I saw a sculpted waterfeature that had a thin sheet of water flowing across and adhering to a stone surface. As beautiful as the natural rock was, it struck me that other materials would work just as well if not better. So when I returned home to Beverly Hills, Calif., I began making prototypes.
In nine days, I had dozens of designs. Within two months, I had opened a store – and the demand was instantaneous and nearly overwhelming. Before long, the company was selling water walls through specialty stores including Sharper Image and later moved into all the biggest mass merchants. Through the next ten years, the business expanded almost exponentially, with sales in 144 countries. In takes no monumental insight to see that this demand is based on the fundamental attraction that every human has to water and its qualities.
Our production capacity has expanded through the last 10 years – and continues to grow at an amazing rate by incorporating state-of-the-art manufacturing equipment that enables us to integrate materials old and new, including glass, stainless steel, copper, granite, Avonite, brass, fiberoptics, LED lighting and rear-projection video technology.
Each of our water walls is a work of art, from conception of the idea through delivery and installation. All are hand-built (with machine-integrated parts), and some of the larger models rise more than 100 feet in height and include more than 6,500 components – every single piece being architecturally correct.
CREATIVE BANDWIDTH
In our facilities, we use multiple media in designing our water sculptures – whatever it takes to capture the spirit and imagination of the client and the nature of the setting. Our goal is to complement those settings with artistic designs featuring the life-enhancing characteristics of water, whether the location is a private residence or a lavish resort hotel.
To make our watershapes more accessible to consumers, we've started a line of retail stores called Water Wall Galleries. (Our first, Cascade Water Gallery, is located in the heart of San Diego, Calif. Others are set to open in Florida and central California, with a nationwide rollout planned for 2010.) Open to the general public as well as tradespeople, these shops are run by trained personnel who understand water in both technical and design terms.
We use our basic walls in countless ways, applying logos and imbedding them with fiberoptics, setting them up as backdrops for sculpture, designing them as retail or corporate displays or painting them with just about any and every image imaginable.
We've also assembled a custom catalog that now contains hundreds of water walls that provide appropriate accents for a staggering range of settings. There's a mass-production catalog as well that covers our most popular designs, with many lines offered for exclusive distribution through select merchants so each has its individual "look."
In my view, this meets a need I see to make decorative water much more accessible than it has been to date. To be sure, there are watershapers out there creating truly innovative and interesting designs, but their output tends to cost a king's ransom to obtain. Our view is that more-accessible water does not have to be monotonous and uninspiring. Given the basically simplicity of a water wall, it's particularly suited to erasing those sorts of conceptual and financial barriers.
We also do custom work, of course, to meet the needs of our high-end clients. In that vein, we have the ability to combine illustrative art and commercial graphic images with water effects in ways that have proved irresistible to many such clients.
Not all of our work involves water walls. In fact, our approach and technologies have involved us in numerous fountain projects around the world, including these large-scale projects that put our special skills with surface tension and system design to work.
Because these water walls invite viewers to come closer, study the rippling effects, listen closely to the soothing sound and/or reach out and touch the flowing water, they serve as compelling vehicles for communication. That is why many of our corporate clients are displaying their logos on our water walls in their lobbies and corporate offices: There's no way these icons will be ignored.
Our work with these sorts of displays has led us more recently to pursue the potential of a specialized form of water wall in which we permanently affix images into the finish of the wall itself instead of applying or transferring images using another medium such as paint or ink. We can now place any type of digital image imaginable on a water wall, ranging from modern art or classic mythological images to nature scenes or replications of classic paintings or corporate graphics.
BUILDING IMAGES
But the images or materials are only part of the overall impression to be made: By texturing the wall surface, we increase the range of effects almost infinitely.
In systems with grooved surfaces, for example, we've learned ways to use surface tension to create a wide range of visual textures. We've also developed designs that feature grooves of varying depths, widths and spacings to create flows that will adhere to surfaces of varying dimensions, contours and angles. These surfaces are machined on a custom, computerized manufacturing system we developed to enable us to produce (and reproduce) these highly refined surfaces quickly and reliably each and every time.
The system variations we've developed are fantastically numerous. We've developed walls that use ultrasonic waves to make water adhere to steeply angled or nearly horizontal surfaces. For some of our systems, we imbed fiberoptic lighting in the surface, and we also have numerous techniques for embossing text or images. There are even systems that feature three-dimensional artwork mounted to the surface.
Many of our projects involve taking water walls in new and adventurous directions – so much so that we so no limits to their potential use in an infinite variety of settings. These are works of art, each in its own way, and all of them spring from water wall technology.
In the interest of making these water walls even more accessible, a great many of our systems are self-contained, stand-alone units that can be placed just about anywhere. Other systems, however, can be fully integrated into the basic architecture of settings as diverse as living rooms, conference rooms, lobbies, art galleries and museums.
To date, we've sold systems in 144 countries and executed more that 40,000 custom designs. Even so, we appreciate the fact that water walls are generally new as manufactured products, which means we devote a great deal of time and energy to educating professionals – architects, landscape architects, interior designers and watershapers as well as prospective commercial or residential clients – about all the possibilities.
(Other companies make water walls, of course, but from what we've seen they tend to focus on limited design vocabularies and single types of material – usually acrylic, stone, copper or stainless steel.)
At this point, I enjoy the process of weighing hundreds of options when it comes to materials, finishes, sizes, shapes and illustrative possibilities. Through the years, these processes have led us to create surfaces that look like wood, all forms of marble, granite or pebbles. We've made "walls" that mimic the appearance of the trunk of a palm tree as well as some that look like paintings by Picasso mounted on a sheet of water. We've also done pieces that stretch up over 100 feet tall.
It's a unique amalgam of high art, commercial art, industrial design, advertising, garden ornamentation, technology, manufacturing and determination – anything and everything that has to do with bringing the enjoyment of water to increasing numbers of people. I consider this an art form so vast, so flexible, that I think it may even dominate the watershaping world in years to come.
As I wrote at the outset, someday these systems will become collectible antiques in the same way that fine furniture, artwork and textiles are today, with each water wall having its own unique design and vintage. That's an enormously ambitious way to look at a product the nature of which is so simple, but for us, part of the fun of pioneering an art form is seeing the sky as the limit.
Tory R. Zweigle is president, founder and chief creative force for Acqua Werks, a manufacturer of water-wall systems with headquarters in Corona, Calif. A successful inventor and entrepreneur since his early teens, Zweigle has designed and manufactured a range of products for the automotive and sporting goods industries, among others. He designed his first water wall in the early 1990s and quickly developed a full catalog of products, some that are now mass-produced and many that are still purely custom. To date, he has completed more than 40,000 custom waterfeatures in 144 countries.