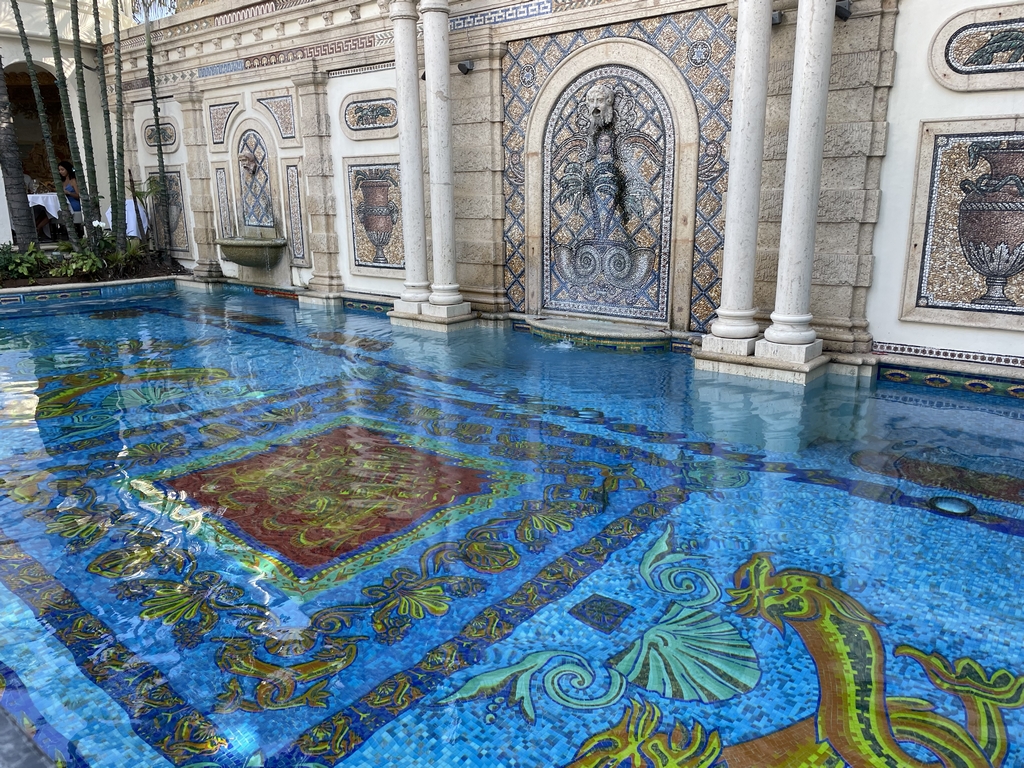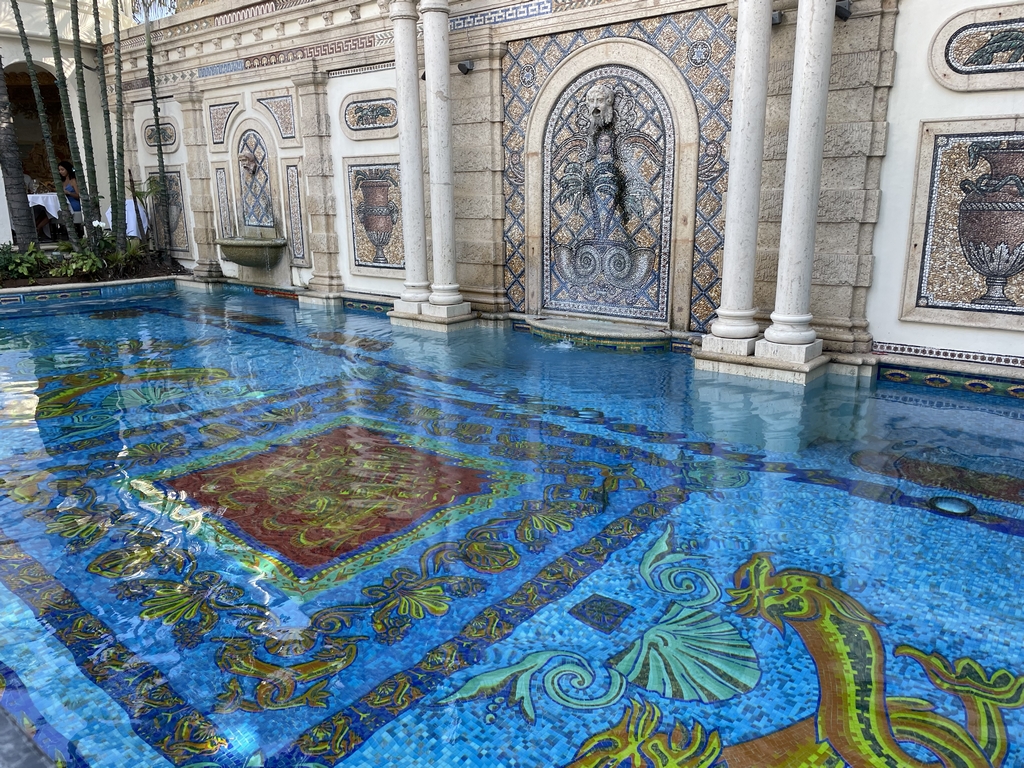 The fabled Versace Mansion in Miami Beach is a place rich with history, luxury, style and even infamy. Now a boutique hotel, JC Escudero recently visited and photographed the historic property, taking a deep dive into the Versace legend, eclectic design tradition, and a rich taste of the good life.
By JC Escudero
Gianni Versace was a creative genius with a design flare unlike any other. The Villa Casa Casuarina, aka the Versace Mansion, stands as a grand testament to the man's flamboyant life and legacy. And, it is a wonderful place to visit, as my wife, Liliana, and I recently discovered.
Located in the heart of Miami Beach, the property can rightly be considered in the same lofty neighborhood as other legendary residences such as Hearst Castle, the Playboy Mansion, Biltmore Estate and Graceland, a place that stands as a unique testament to the man's flare, wealth and prominence.
Because Versace was famously murdered just outside the front door in 1997, the property also carries an infamous quality. Even before Versace came on the scene, it has a long and, in some ways, spotted history.
Today, the 23,000-plus square-foot villa is an ultra-exclusive, and expensive, boutique hotel. It draws countless sightseers every year; but, the only way you can visit the property, beyond taking a selfie in front of it, is to pay the $800-plus nightly rate, or make reservations to dine there.
We chose the latter this past February, and were able to briefly immerse ourselves in the world of Versace. The place had been on my bucket list for a long time and our short time there lived up to my expectations.
To say it's lavish is an understatement. Every square inch is decorated to perfection, drawing on a pantheon of mythical and classic design themes. It is very much an elaborate design laboratory, and a place to lose yourself in the luxury.
I've long been fascinated by Versace and his beautiful clothing designs. I wanted to find a glimpse of what it was like to see through his eyes. Midst all the beauty, we also found a fascinating narrative that encompasses both Versace's life and the history behind the playground he created — a place that features one of the most beautiful pools found anywhere.
NEARLY A CENTURY
The residence at 1116 Ocean Dr. was established in 1930 by Alden Freeman, whose father, Joel Freeman, was treasurer for the Standard Oil Trust, and part of the Rockefeller inner circle. Fabulously wealthy, the elder Freeman left his son a vast fortune. Only 27 years old when his father passed, Alden Freeman said goodbye to his fledgling career as an architect and spent the rest of his life traveling the world and championing a variety of charitable causes.
Adventurous and highly intelligent, Freeman had a profound appreciation of history, culture, art and architecture. After visiting Alcazar De Colon in Santo Domingo, Dominican Republic – built by Diego Columbus, son of Christopher Columbus in 1510, and believed to be the oldest residence in the Western Hemisphere – Freeman was inspired to establish his own classics-influenced estate.
He chose Miami Beach of the late Jazz Age, a place bursting with sunshine-drenched affluence and high style. The home he created was a perfect addition, and bold counterpoint, to the cultural Art Deco-inspired city-scape. It was stately in size and concept, with eight bedrooms, two kitchens, four living rooms, three sitting rooms, 10 bathrooms, a bar and a library. It featured a richly eclectic Mediterranean Revival style with opulent appointments throughout, including dazzling key-lime corral tile mosaic flooring, which is still there and beautifully restored.
The grand entry is one of the world's most photographed architectural facades.
After Freeman's death in 1937, the property was bought by businessman Jacques Amsterdam, who transformed it into a 30-unit apartment building called The Amsterdam Palace. The repurposed site quickly became popular with Miami's ultra-Bohemian art community, and underworld figures.
The property would undergo various incarnations over the next half century, eventually falling into severe disrepair in the 1980s. Despite years of use, abuse and neglect, most of Freeman's original decorative features amazingly remained in place.
CONTROVERSIAL EXPANSION
Versace saw the property while visiting Miami Beach in 1992 and immediately decided to purchase it for a paltry $2.95 million. He was fond of saying that it was the statue 'Kneeling Aphrodite' that first captivated him. Versace immediately began restoring and expanding his new home, while celebrating and embellishing the original design and adding his own palette of Greek and Roman influences.
Most everything Versace did in his storied life was outsized and elaborate. When he purchased the mansion, he had already long owned a spectacular home on Lake Como, Italy, known as Villa Fontanelle, a sprawling estate overflowing with opulence and luxury.
In 1993, Versace also purchased the historic Revere Hotel for $3.7 million, located immediately next door to the mansion. Despite fervent opposition from Miami's historical community, and much to the chagrin of many of the city's most prominent residents, Versace immediately tore down the Revere to make room for a garden and swimming pool, a brazen move that drew widespread condemnation.
Undaunted, and perhaps even reveling in the hubbub, Versace employed legendary British landscape designer and historian, Sir Ray Strong, to create an outdoor space that further amplified the design motifs of the original property. The project included original and historic art work — the finest materials, all installed by top artisans in their respective trades.
The result of Versace's hubris is a space of almost dreamlike quality.
The swimming pool is the crown jewel of the garden and entirely Versace's own design. Named the Million Mosaic Pool, this magnificent work of watershaping art features tile mosaics inspired by Versace's iconic fashion line, Marine Vanitas.
The mosaics feature geometric patterns typical of Versace's designs with interacting circles, squares and triangles, and symbolism steeped in classic mythology. The intricate mosaics dominate the pool and surrounding garden space with classic images of Neptune, Medusa and other figures that were largely based on works found in Versace's hometown, Calabria, Italy.
Versace continued to restore and enhance the property until the time of his death, a dramatic murder that captured worldwide headlines.
AN EXCLUSIVE LEGACY
Although Versace only lived there for five years, his presence became forever etched in local lore and history. He threw legendary parties that lasted for days, and welcomed countless celebrities and wealthy associates from the world over. He flaunted his hedonistic lifestyle, while creating iconic fashion lines, and he almost singlehandedly created the "super model."
The property was sold by his daughter and heir, Donatella Versace, in 2000, and transformed into a private club, which failed financially during the Great Recession. It was auctioned in 2013, selling for a whopping $41.5 million to VM South Beach Ltd, which is owned by the Nakash family, who renovated and restored it, reopening in 2015.
As mentioned above, today the site is a boutique hotel with 10 luxury suites and a five-star restaurant appropriately named Gianni's. It is one of the most elegant places you can visit, and is open to anyone who can afford it. There is a dress code in the restaurant and the guests mostly preen around in stylish attire, behaving in a fun-yet-sophisticated manner, befitting the exquisite surroundings.
The service and food are incomparable and guests are free to wander the grounds, imbibing in the lifestyle of one of the true icons of style and fashion. It is the perfect romantic getaway where you feel like you've stepped into a different world, right in the midst of the swanky hustle and bustle of Miami Beach.
I'm deeply inspired by the bold creative expression and uniqueness of Versace's creative vision. I love how you can spend time in a place like this, touching it, experiencing the ambiance and feeling the vibe. Everything detail is the result of a creative process, a psychology of design that endures the test of time.
The Villa Casa Casuarina is very much a place where the Versace legacy not only lives, it thrives.
JC Escudero, IWI, is co-founder and chief executive officer of J Designs Pool & Spa, a custom design/build firm located in North Hollywood, CA. Born in Mexico City, a well-traveled international citizen, JC has been working in the pool industry since 2001.
Mansion image by Karmir | Shutterstock. Kneeling Aphrodite image by Tverdokhlib | Shutterstock.