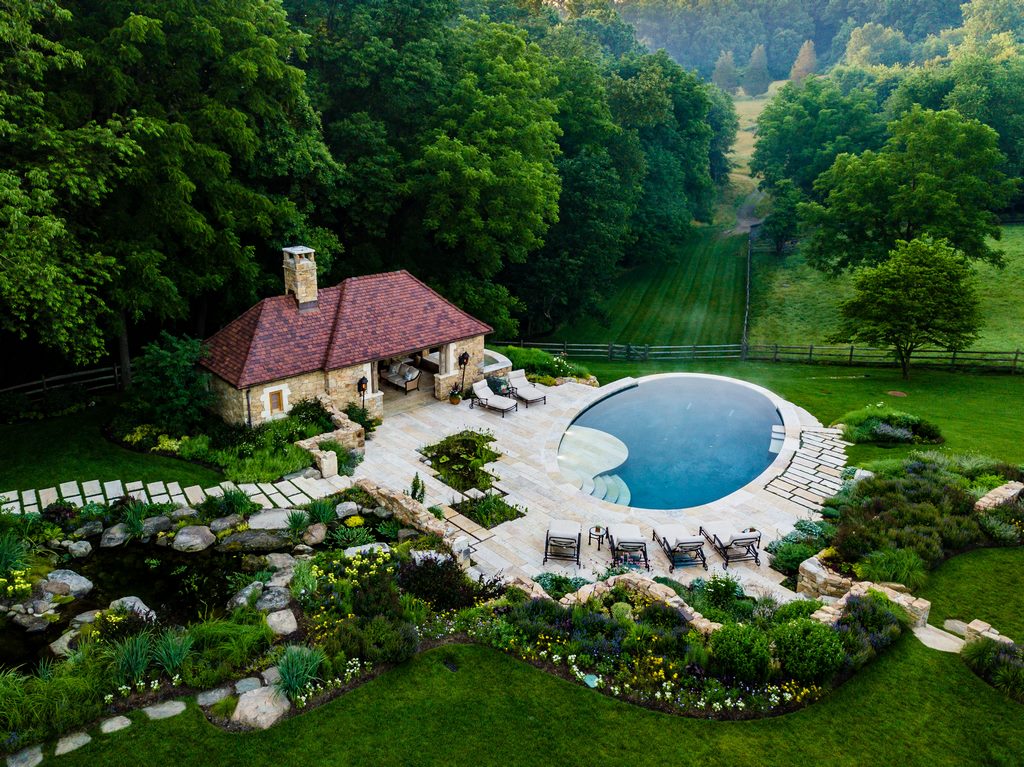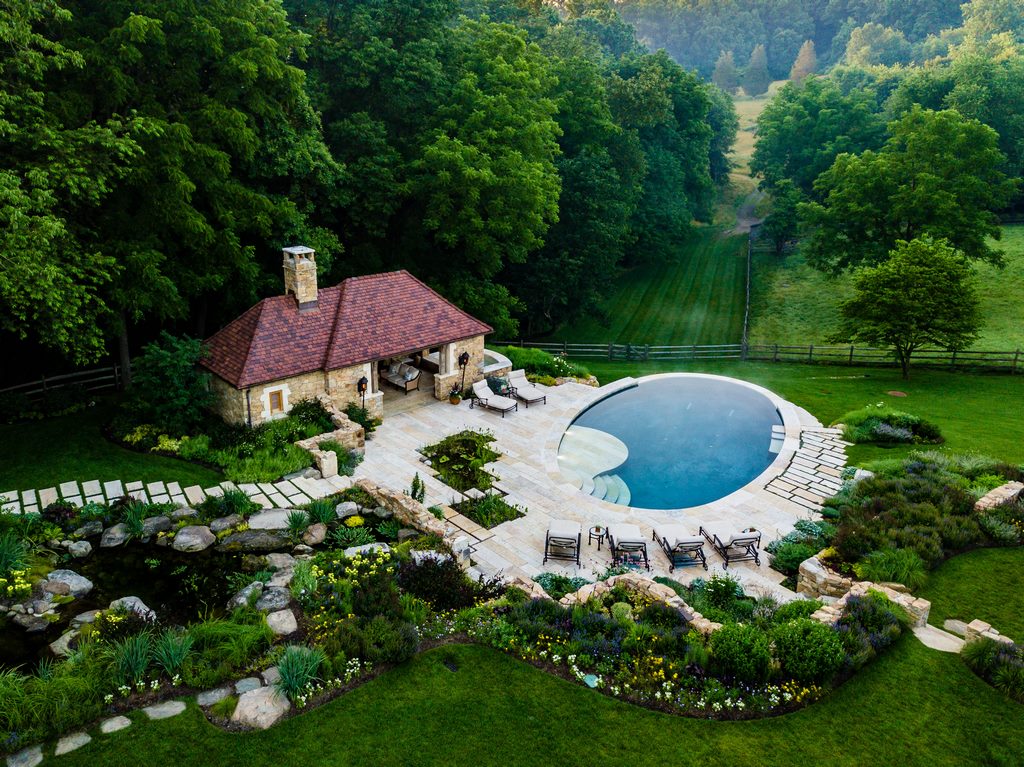 My recent article in WaterShapes left readers in some suspense.
As reported last time (click here), we were most of the way through the design process and were actually getting ready to start important work on site when the homeowners sprung something new on us. They'd just returned from a trip to Europe, and they'd been so inspired by what they'd seen that they wondered if we could inject a sense of the "Old World" into the project.
The goal had previously been about creating a naturalistic setting in which wilderness seemed intent on reclaiming the space. Their fresh desire was to make explicit the notion that a failed attempt at taming the environment had been pursued long ago and that nature had won. Evidence of the process would take shape as the ruins of a former structure we would add on site, around and even within our projected construction area.
This required us to step back a fair distance in conceptual terms and then think through a whole mass of consequences this change would have on materials and construction techniques if we were to carry it off effectively – as always, per the clients' elevated expectations.
Yes, this was like peeling a different, larger onion, but we knew we could figure it all out and soon produced new renderings that included remnant walls arranged in a configuration consistent with what might once have been a building – an "apparent structure" that had fallen long ago after countless years of wear and tear. The client loved it all, and we started moving forward once again.
SUBTLE IMPLICATIONS
The challenge, of course, was that there was in fact no old ruin on site: Creating something from nothing is one thing, but creating something artificial that is otherwise authentic in its appearance of antiquity is another thing entirely.
The fear was, in creating something artificial, that it would look simulated. We recognized, for example, that how the individual stones were laid would become critical aspect of making the ruin convincing, so we placed larger stones near the base of the walls and smaller ones as the walls grew in height. The implication is that the larger, lower stones had weathered more slowly, subtly conveying a time-worn look. Further supporting this exercise, we sourced actual pieces of antique limestone from France to insert into the garden walls and related structures.
By now, we were fully at work on site, finished with drainage and other subgrade work and setting the foundation for the pool house – beneath which we'd eventually be setting up the equipment room for both the pool and the pond system.
Given the slope, it was easy to daylight all of the drains, including those beneath the floor of the equipment room. To win plan approval, we also were required to mitigate any runoff from impervious coverage on the project site – which meant we had to position and engineer a significant underground recharge basin in an area that would remain untouched in any future construction.
Once our new direction was set, we prepared revised plans and made ready to bring them to fruition on site. While drawing up the desired 'ruin' was relatively simply (top row), we knew that translating it physically to the job site with the necessary sense of authenticity would be difficult – but not impossible. At this time, we also prepared a complete planting plan that reflected the site's varying needs (bottom left).
Once that space was identified and had been found to be suitable in a percolation test, the consulting civil engineers designed a network of large, perforated pipes within a gravel seepage bed into which all collected water ultimately passed through into the ground, thereby avoiding runoff. Eventually, all drainage systems on the property were directed to this spot, minimizing the property's contribution to runoff and any potential for downstream flooding.
Once construction on the watershapes began, we ran into three unexpected challenges – each of which we had to address without significantly delaying our progress. The first of these had to do with the variable-width coping system we'd specified. This detail was important to developing an overall sense of irregularity in the built environment, particularly given the pool's classic oval shape.
Knowing these stone pieces would overhang the back of the pool's bond beam, we were concerned with frost causing differential heaving that might eventually pop pieces off or, worse, crack and break them. We'd anticipated some of this by widening the top of the bond beam in some areas, but when stone application began, we realized there were additional areas where we needed to parge the back of the bond beam with additional mortar to provide full and reliable support for the coping.
As work progressed on site, we could see right away that the vanishing-edge pool was, as expected, the design's true heart when viewed from the home's level (top left and middle left). Placing the decking stones around that pool was among the most intricate parts of the construction process because of the random, 'irregular' look we were after (top middle right and right, bottom left). As the pool approached completion, we turned our attention to the pond (bottom middle left and right) and the stone-clad spa (bottom right).
The second issue had to do with lighting the steps by the vanishing edge: We knew we wanted to place recessed light fixtures in the raised pool wall to provide this illumination – but recognized that they would be placed near the water's surface and much closer than was allowed by electrical codes governing non-UL-listed fixtures.
Available pool lights wouldn't be appropriate for this dry-area use, and they also would've been too bright for this particular application. What we needed was a wet location, UL-listed LED fixture, small in size for mounting in a core-drilled hole and capable of emitting only a small amount of directional light. We found something suitable from a supplier in Australia, and it proved to be the perfect solution.
The third in the chain of on-site headaches had to do with the vanishing edge – in three distinct arenas. For starters, we were concerned with salt migration through the concrete shell and the emergence of efflorescence on the outside of the vanishing edge wall. Next, we had concerns about attaching the thicker stone coping to the concrete bond beam, as the edge stones and joints between would be constantly wet. Finally, we wanted the flowing water to vanish into its trough through a narrow, three-inch gap at the base of the edge wall.
Working with various suppliers and consultants, we found solutions to all three of these vanishing-edge issues, including a thorough waterproofing process, careful grout selection and first-rate hydraulic design. Before long, we were on our way again in each case – another demonstration of the value of assembling a talented project team!
BIRD'S-EYE VIEW
With the pool and pond adjacent to one another on the deck, we knew we wanted to make them seem as though they existed as a single, integrated system.
But while the pond/bog system may appear to flow into the pool, they are completely separate for all of the obvious reasons. Up close to the house and adjacent to the outdoor kitchen, there's a top spout issuing water that flows down through a series of ponds and waterfalls. The water then flows through another spout into a large stone vessel; the overflow from this vessel then enters the bog.
The key to success with the decking had a lot to do with the level of care taken by the fabrication team in France to use our templates with care – and then label each piece and package all of them in well-labeled boxes that sped sorting tasks on site (top row). That same level of care went into planning and then filling the equipment room beneath the pool house (bottom row). The maze of pipes serves the needs of the pool and spa as well as the pond.
The necessity of grading the terraces properly to pitch runoff away from the swimming pool ensures that some rainwater moves into the bog – and the system has been designed accordingly, with a surge tank that offers plentiful freeboard in the event of significant rain events. The bog itself is quite deep and not only plays a key role in maintaining water quality in the pond system, but also accepts some of the runoff.
As the pond system's primary filter, the bog features graduated levels of gravel and an array of aquatic plants that help maintain water quality throughout the system. The pond is a home to fish, so we included informal pathways to the water's edge to offer prime, up-close viewing.
Keeping this complex system physically separate from the pool's circulation system was a significant logistical challenge because all of the pipes terminated in the same equipment room. The clients didn't want anything mechanical intruding on the project's naturalistic ambitions, so it's all hidden beneath the pool house in a room that contains all technology-related noise – an immeasurable aesthetic advantage for the surrounding exterior spaces.
The pond/stream system offers a beautiful set of transitions from the home down to the pool and beyond. The area also includes a key appearance by the 'ruin' in the form of a rough-hewn stone wall penetrated by a stone scupper. The system appears to flow down into the pool but actually ends in a bog area that intrudes onto the pool deck.
It took planning, of course, as all plumbing penetrations through the foundation had to be resolved and set prior to the concrete foundation walls being poured. This was an intense process, but we allocated runs for all required pumps, filters, heaters and disinfection systems. The engineers at Watershape Consulting (Solana Beach, Calif.) were key participants here.
With the water appearing to flow from the ponds and through the pool, the vanishing edge at the downslope side of the oval pool becomes the terminus for the moving water – but, looking down its length from the house, it also directs views up and out to long vistas across the valley. In that sense, the water serves as the key reference point for the design, with all of the surrounding spaces relating back to it in one way or another.
Once work commenced on site, construction went smoothly, start to finish. We'd been over each aspect of the project multiple times, so when crews arrived on site, everyone knew what was expected, who was responsible for what – and where everyone had to go for guidance as things rolled along. We were in contact with the pool contractor and general contractor almost daily and set up and attended numerous on-site meetings to answer questions not just from colleagues on site, but also from the clients, whom we'd invite to attend.
MAKING IT GO
In keeping with the clients' vision, we used only natural materials of the highest quality to complete the job. This included a very special limestone known as "Millennium Stone," supplied by Ancient Surfaces (New York).
This material, quarried on Malta and milled in France, was chosen for its unique combination of old-world appearance; its availability in flat, large-sized planks; and a high density that made it suitable for exterior use in a four-season environment. An oolitic limestone, it also remains cool underfoot – another important consideration around a pool.
The pool and spa occupy key spaces on the lower level, where each takes full advantage of the proximity of a lovely pool house and, of course, the distant views. One favorite detail here: The pool's vanishing-edge flow disappears into a narrow slot – an effect made possible by a top-notch hydraulic plan.
Every piece was cut from larger slabs, gauged for consistent thickness and hand-finished to ease the edges. We generated dozens of shop drawings, and every piece was produced from a full-scale template we'd prepared. Once each stone was cut and dry-fitted to perfection, all were numbered and packaged in sequence for ease of tracking and installation. The resulting massive shipment included pieces exactly one-and-a-half-inches thick in 10-, 15- and 20-inch widths at lengths from 30 to 60 inches.
The Project Team
Once again, here's some much-deserved attention for a stellar project team:
General Contractor: Griffiths Construction, Chester Springs, Pa.
Architect: John Milner Architects, Chadds Ford, Pa.
Pool Contractor: Ted's Pools, Newtown Square, Pa.
Pond Contractor: PondWorks, Pottstown, Pa.
Engineering Services: Watershape Consulting, Solana Beach, Calif.
— S.C.
The inside of the spa features a three-by-three-inch stone tile, also supplied by Ancient Surfaces. The pool's interior plaster is "Midnight Breeze" Primera Stone plaster from Wet Edge Technologies (Mesa, Ariz.), highlighted by Millennium Stone waterline tile that matches the decking. The shallow lounging area, the steps and the swim-out bench are topped with Millennium Stone as well.
The pool and spa run with IntelliTouch controllers, Triton sand filters, IntelliFlo variable-speed pumps and GloBrite LED pool lights (all from Pentair, Sanford, N.C.). There are Levolor auto-fills from Jandy (Vista, Calif.) along with transformers and junction boxes from Intermatic (Spring Grove, Ill.). The sanitizing system includes equipment from Clearwater Tech (San Luis Obispo, Calif.) and SpectraLight (Georgetown, Texas), while the heater is a Jandy Hi-E2.
The pond operates with an Ultima II biomechanical filter from Aqua Ultraviolet (Temecula, Calif; an Emperor Aquatics Smart UV sterilizer (Pentair); and a MultiCyclone centrifugal solids separator from Waterco (Augusta, Ga.).
As for planting, it was a key component in our unstructured "ruin garden" theme. The aim was to have the landscape appear as if it was slowly engulfing the ruin – as if the plants themselves hadn't been deliberately planted, but rather had sprung up and established themselves among the structural remnants. We'd left pockets within the stonework, for example, so plants now appear to be growing out of cracks and gaps they'd found and opened in the hardscape.
Walking around the completed job site is a visual delight, from the outdoor kitchen/dining area at the top and flowing down to the pool house and various outdoor rooms we established around the pool and spa. There's a lot of stone here, but the softening effect of the plants makes the environment welcoming while expressing the thought that nature is working to reclaim this piece of land from any vestiges of human intervention.
Despite appearances, however, plant varieties were specifically selected not to expand out of control to make the setting appear overrun or infested. Continuity of plant communities was also important, with pond-area plantings consistent with wetland typologies; plantings near walls and terraces (and their radiant heat) both durable and drought-resistant; and the tree-lined pathway leading to the home's basement entry populated with shade-tolerant, forest-floor species.
Beyond that, there was a specific French Provençal vibe, so we used Lavender, Creeping Thyme, Yarrow and Flowering Sage near the pool while Iris and two types of Lobelia were used near the pond. Wood Aster, Ferns, and Coral Bells provide varying foliage textures and bloom sequences along the wooded edge.
We had a deadline, of course: Our clients were organizing a party for the Fourth of July, and they wanted the whole project to be finished by then. It was tough to pull it all off, but in the end we managed – despite a few weather-related delays. (It's hard to keep going with a foot of snow on the ground!)
Using tents, patience and dedication, the contractors steadily adapted to the site and its conditions. Eventually, we all walked off the job site, happy about promises kept and a job well done.
Scott Christie is a designer at Hess Landscape Architects in Lansdale, Pa. A 1994 graduate of Cornell University's Landscape Architecture program in 1994, he started with the firm in 2009 and is a specialist in developing and executing planting programs as well as project documentation and marketing. Recently, he was recognized for his involvement with community-funded dune-restoration projects in Avalon, N.J. For more information, visit www.hessla.com.