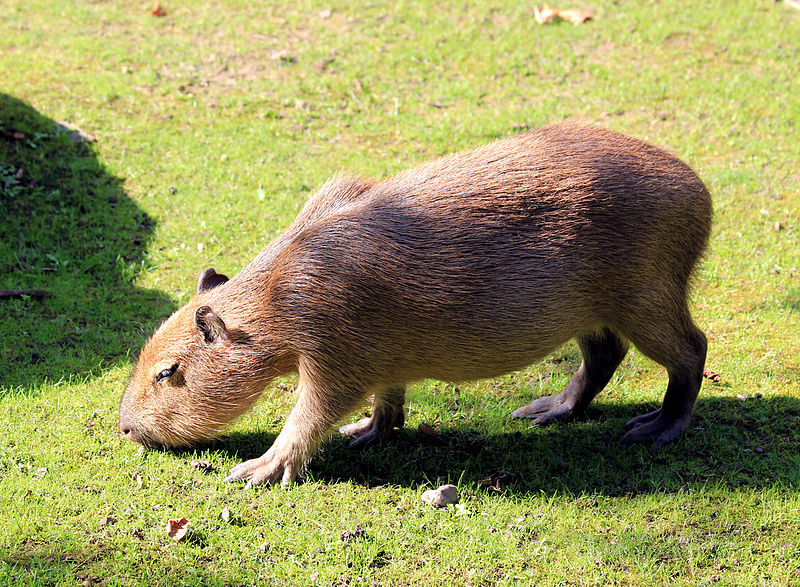 By Jim McCloskey
Way back in my Pool & Spa News editor days – I want to say circa 1990, but I may be off by a year or two – we ran a piece on a waterfeature built by Mike Stachel of Mt. Lake Pool & Patio (Doylestown. Pa.) to meet the needs of the Philadelphia Zoo's relentlessly cute capybaras.
I've forgotten all of the details of the article (which, as a small twist of fate would have it, was written by future WaterShapes editor Eric Herman) other than the relentless cuteness of the creatures for whom the watershape was built, but enough of the memory of the project lingered that I made a point of stopping by the zoo while visiting the city ten or twelve years later to see how the critters were getting on. I also wanted to see whether they were as darned cute in person as they had been in Mike's photographs.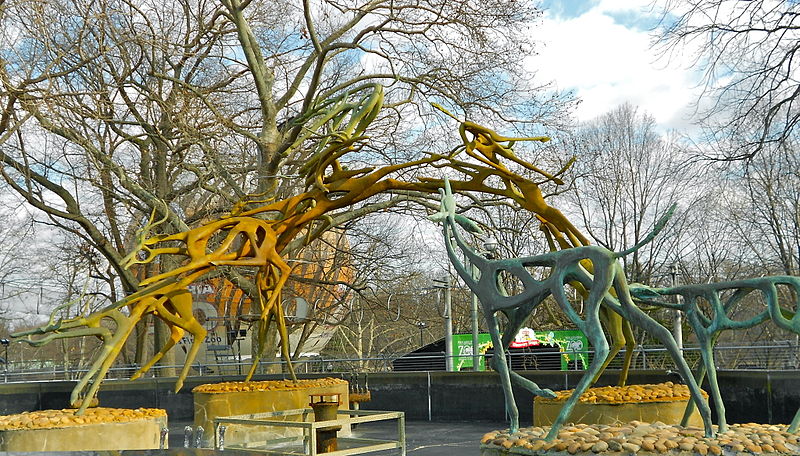 I wasn't prepared in any way for the fact that they were actually too large to be considered cute. They were taller and longer and more girthsome than the photos I'd seen had led me to believe. I couldn't help thinking of them as supersized squirrels with bigger, sharper teeth and voracious appetites to match. The horror . . .
Fortunately, there was much else to see at the zoo. Before I was anywhere near the capybara enclosure, in fact, I strolled up to and past the Impala Fountain and knew I'd come back for a longer look once I'd paid my respects to my rodent friends and Mike Stachel's handiwork.
The Impala Fountain belongs to a class of waterfeatures for which I have something of a weakness – that is, fountains that feature wild animals interacting with water. I love the horses running up the steps at the entrance of Denver's Mile-High Stadium, for example, and I'm truly smitten by the mustangs that race across the "stream" in Williams Square in Irving, Texas.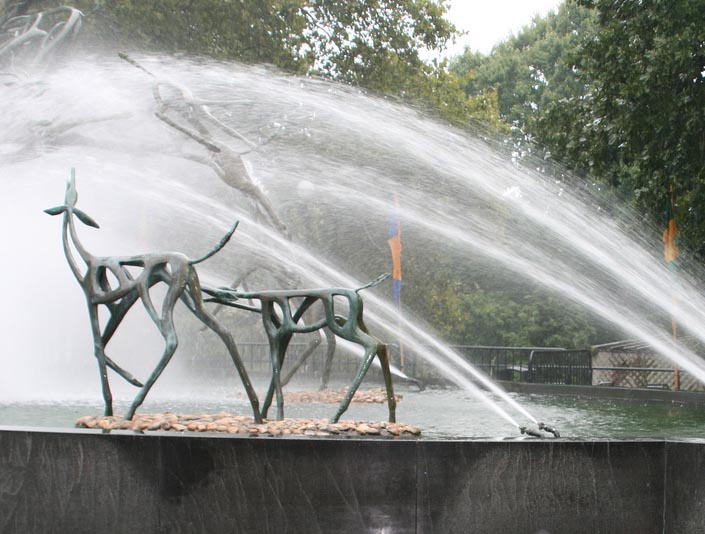 The difference in this case is that the impalas (executed between 1950 and 1963 by Philadelphia sculptor Henry Mitchell, are distinctly abstract – basically skeletonized versions of a dozen of these great and amazing leapers set in an arc above fountain jets, doubtless in flight from one sort of predator or another.
To me, this is an ideal combination of sculpture and water where the kinetic nature of the fountain jets lends a direct sense of movement to the static sculptural elements. It's simply drop-dead gorgeous – and well worth a visit the next time you visit the Philadelphia Zoo to see Mike Stachel's fearsome capybaras.