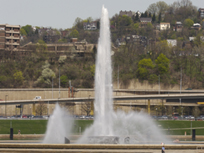 By Jim McCloskey
I've spent a considerable amount of time in Pittsburgh through the years. My mother was born up the Alleghany River in Brady's Bend, my father closer by in the suburb of Swissvale; both grew up in the city and attended the University of Pittsburgh, where they met and fell in love. My sister now works at their alma mater as a professor of art history.
If ever there was a place shaped by water, this is it. Pittsburgh sits at the confluence of the Alleghany and Monongahela rivers, which, combined, become the even mightier Ohio River. Their point of convergence has always been significant (it was, most prominently for sports fans at least, the site of Three Rivers Stadium, which hosted both the Pirates and the Steelers until it was imploded about a decade ago) and has always been perfectly suited to installations ranging from key colonial forts to modern urban parks.
I first saw Point State Park in 1977 while visiting my uncle and his family and was particularly transfixed by the fountain, which had been commissioned in 1974. (Please note: The fountain is currently undergoing extensive renovations but will be reopening in 2013.)
With all that surface water around, it has always intrigued me that the fountain is fed by an underground aquifer rather than by the flow of any of the adjacent rivers. Apparently there's a glacial stream – sometimes referred to as Pittsburgh's fourth river – that flows just 54 feet below the fountain. It feeds pure, cool water to the 200-foot-diameter, 800,000-gallon fountain, including a central jet array that rises 150 feet above the plaza.
I know there are other cities that boast fountains that climb to majestic heights, but few of them have the advantage of the backdrop Pittsburgh affords this one. I regret that I've yet to see it lit up at night against the city's lighted bridges and buildings (other than in photographs, of course), but I found it breathtaking enough during the day that I remember it clearly even 40 years later. It's well worth a visit -- sometime after the fountain is reactivated, of course!
And while you're in the area, don't forget that Frank Lloyd Wright's Fallingwater is only a short distance away.
Video: To see the fountain in action, click here.