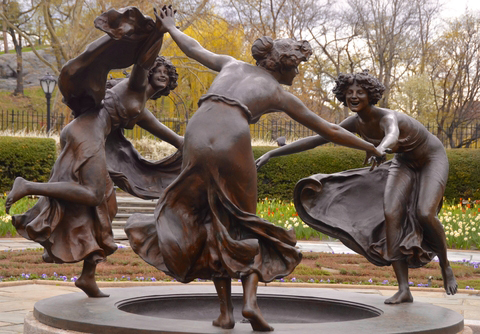 By Jim McCloskey

I've been to New York often through the years, mostly on business trips that have only rarely afforded me opportunities to get out and take in the sights. But on one occasion many years ago, I managed to shake out several extra days and spent my time experiencing as much of Manhattan as I could.

I ranged from Battery Park on the island's southernmost tip of the island up to The Cloisters on its northern reaches and managed to spend a whole, glorious early-fall day in Central Park. It was there, near the upper edge of Frederick Law Olmstead's masterpiece of urban space-making, that I came across a marvelous little fountain that's well worth a few extra steps the next time your travels take you to the Big Apple.
The fountain I'm referring to wasn't here originally. For many years, it had graced the Yonkers, N.Y., estate of Samuel Untermyer, who passed away in 1940. He was a New York lawyer and prominent civic leader, and when his children donated the fountain to the park, the monuments committee placed it by 1947 in an estimable space in the Conservatory Garden.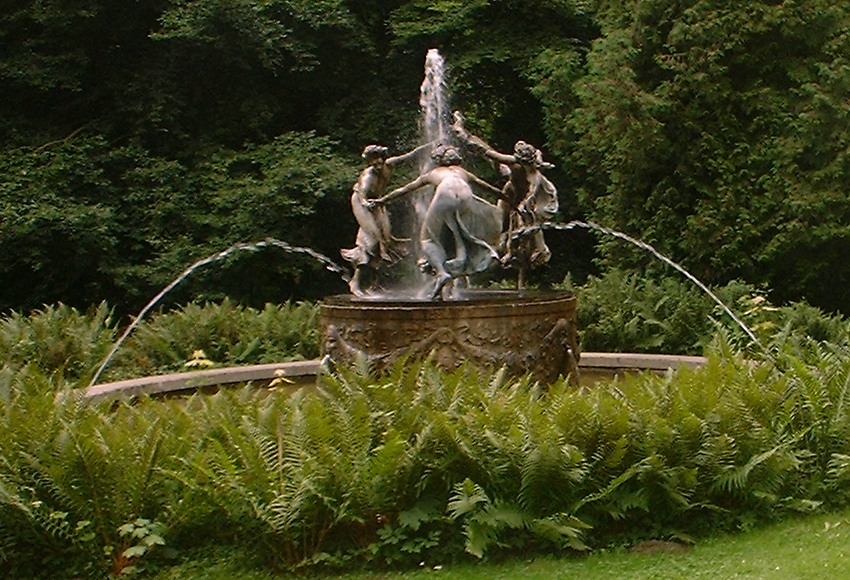 This is the original fountain. To see it, you need to travel all the way to Mecklenburg, Germany.
The fountain's sculpture, "Three Dancing Maidens" by the German artist Walter Schott, isn't exactly "original" either: It's one of a set of replicas cast in Berlin at some point after the artist finished his work around 1910. Schott was a favorite of Kaiser Wilhelm and spent a lot of time doing monumental portrait busts and conventionally grand statues of historical figures, but he was capable of working with far greater subtlety and expressiveness – these fair and flowing maidens being a case in point.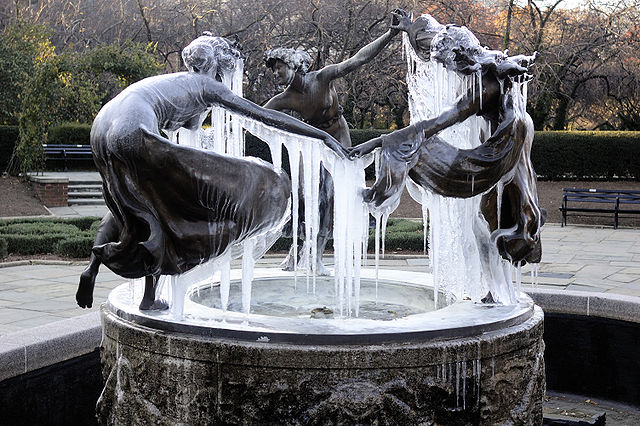 The fountain freezes from time to time, as seen in this photograph taken in 2008. The frozen drapery adds a special touch to the composition.
I haven't seen the Untermyer Fountain in more than 30 years, but it came quickly back to mind when I saw it among a photo survey of New York fountains frozen by wintertime cold snaps. As you may recall, I'm an avid fan of frozen fountains and waterfalls; I've always supposed it has something to do with the fact that my family escaped the Frost Belt when I was very young -- but I still have early (and happy) memories of icicles draping everything in sight.

You don't have to withstand frosty weather to appreciate the Untermyer Fountain: I saw it on a warm October day, and I have to say there's no better place to be than New York (and Central Park!) at that time of year.