Articles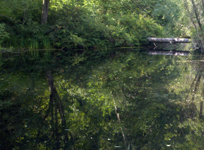 By Jim McCloskey
In one of my very first Travelogues (see the October 26, 2011 edition of WaterShapes EXTRA!), I wrote about Washington's Bainbridge Island – and more specifically about Bloedel Reserve and its large reflecting pool, which was showcased by Kelly Klein in Pools, her wonderful coffee-table book.
I've just returned from another trip to the island and once again visited the reserve – this time at a more leisurely pace. The weather was perfect, the skies were vividly blue, and my wife Judy and I took our time in wandering through the forests, meadows and gardens that highlight the property.
Bloedel Reserve, as you may recall, is an internationally renowned public garden that puts an emphasis on providing guests with a tranquil, refreshing experience of nature. Its 150 acres include the abovementioned reflecting pool as well as a moss garden, a Japanese garden and several ponds and streams – the focus of my recent visit and the subject of this article.
The amazing thing about the reserve (and, in fact, the entire island) is that it has been subjected to complete clear-cutting twice by the lumber companies that ruled the roost until the early years of the 20th century. Since then, the island has recovered to a stunning degree: The forests can in no way be described as "old growth," but they are bountifully full, tall and healthy and, in the case of Bloedel Reserve, passionately well- organized and beautifully maintained and managed.
When you reach the property's lowest level to bask in views of Puget Sound, it's easy to pause and do what you can to spot the elusive bald eagles that nest in the huge trees along the waterfront. On the return trip to the top, you will (if you take the correct fork in the path) move toward the inviting sounds of a ribbon waterfall, then along the course of a winding stream with a bed made up of small, smooth stones. Crossing a bridge, you keep rising until you turn onto a landing and confront the pond of the Japanese Garden, which offers one of the sweetest reflective surfaces I've ever seen.
Simply put, this place is fantastic and well worth a visit if you find yourself anywhere within striking distance.
Video: To see a detailed video on the Reserve and its history, click here.