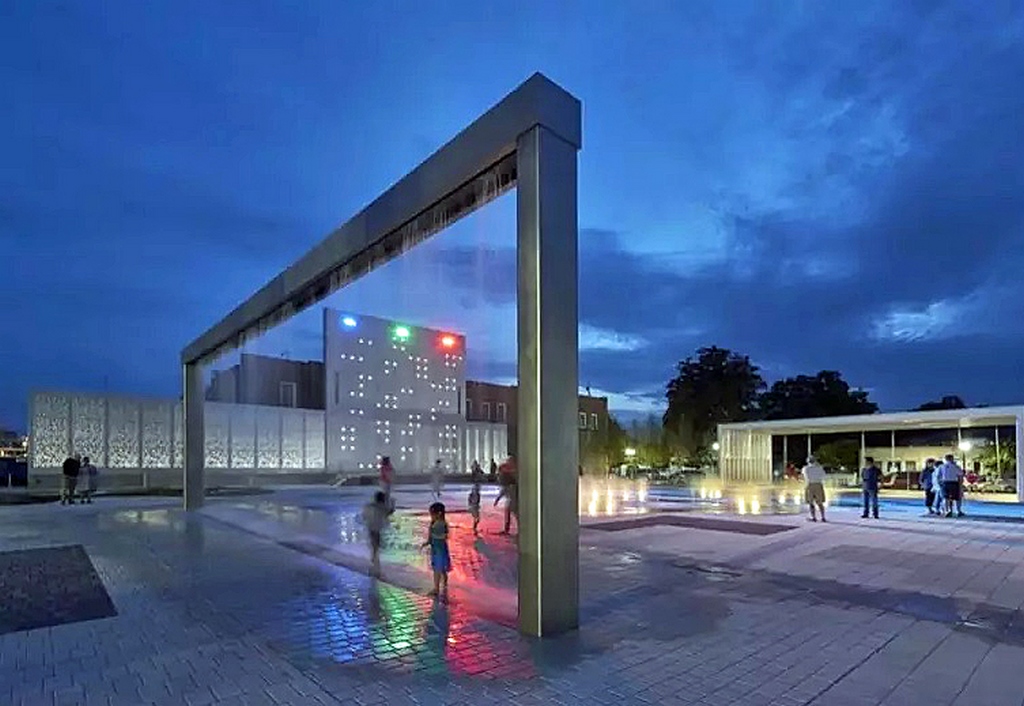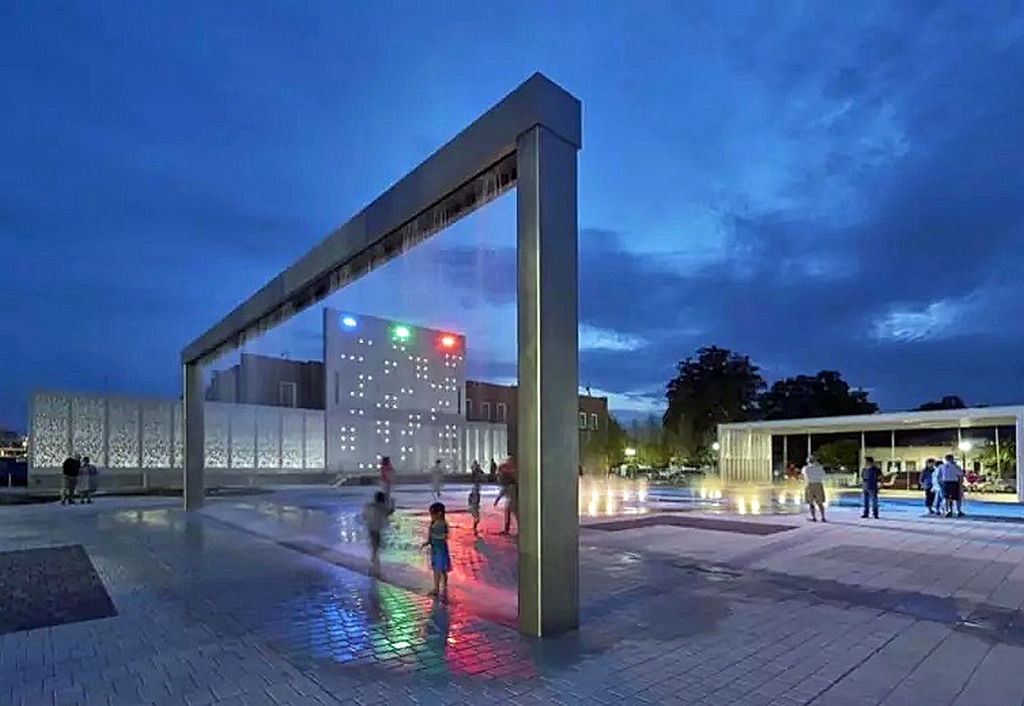 Back in the 1960s there was a sign on a road entering Alaska that read, "Choose your rut carefully – you will be in it for the next 200 miles."
Changing lanes in business can be stressful and risky, but sometimes it's the wisest choice because the road you're on could be leading nowhere. That's what happened to our company, Laughing Waters.
I started out in the pond business as a teenager and for years we were full-speed ahead installing naturalistic water features, including ponds, streams and waterfalls, among other backyard amenities, such as fire pits and outdoor kitchens. For a long time, I loved it. I learned from some of the top people in the trade, and had the opportunity to work on the highest possible artistic level.
But some things aren't meant to last; and, when the 2008 recession hit, and in the years that followed, the pond business dramatically waned. That's what led to my major change in direction, moving from ponds into the commercial fountain market. We weren't getting the work that I needed or wanted, and the frustration forced me to think about ways to expand what we were doing.
Working with artistic watershapes was where we started, so I wanted to explore what else we could do with decorative aquatic systems. After a tremendous amount of research and soul searching, fountains became the answer I was seeking.
LOOKING AND LEAPING
We started down this road about five years ago and now work as consultants and plumbing, electrical and mechanical (PEM) installers. We do still work on ponds, mostly in service and repair, but today, fountains represent more than 80% of our revenue.
The first and biggest lesson we've learned is that commercial fountain work is not for everybody. We've run into contractors, most pool builders and landscape contractors, that don't understand how working on fountains is a completely different animal. Seeing where others have gone wrong, I knew I had to assemble a team of experts in different fields to take on these projects.
My team includes a master plumber and electrician, both experienced in complex systems, a CPA that handles administration, and several guys that are skilled in a variety of construction techniques.
We are able to travel around the country and install commercial fountains relatively quickly, but that final step is the culmination of a long process. When you work for cities doing projects in parks and other public settings, you get into a tremendous amount of administrative work just to be able to take on these jobs. You have to have enough capital to carry you though the job because the city or the general contractor will often withhold payment until the project is finished. And, you have to be willing to take measured risks.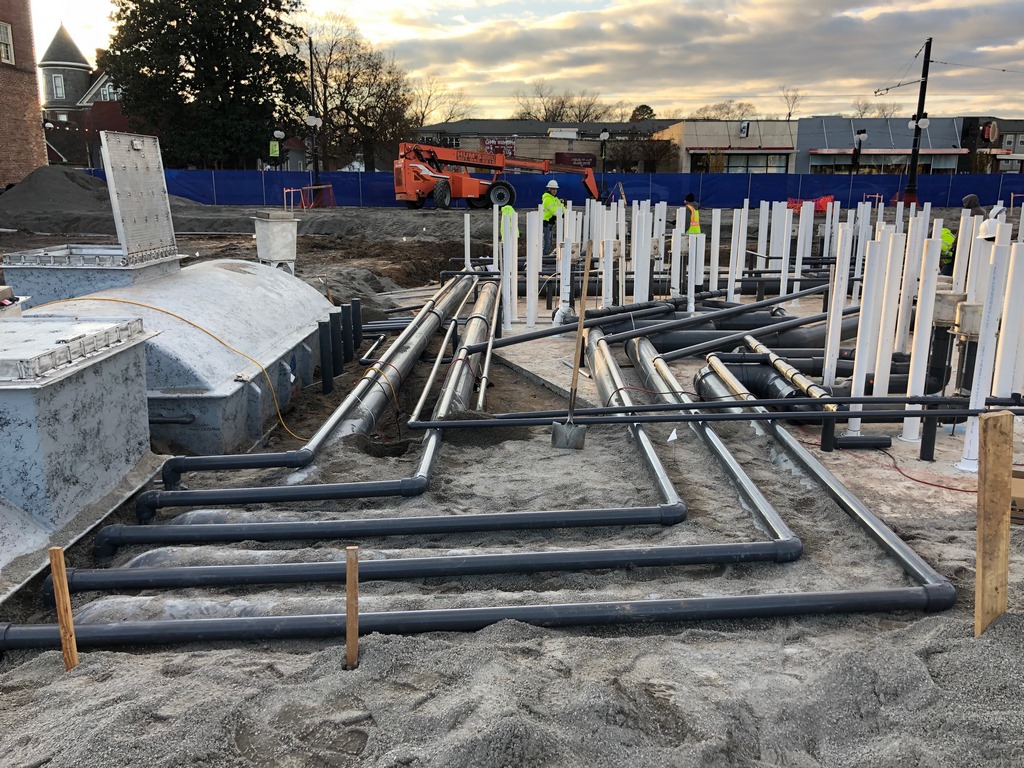 The complexity of the plumbing systems in commercial fountains far exceeds anything you see in the residential pond or pool world. It's part of why so many companies we've seen get in over their heads; with these precisely designed and complicated systems, there are plenty of opportunities for mistakes, and you have to work to an extremely high standard, including pressure testing every line.
I've had to learn how to work with these massive general contractors and cities in terms of bidding, signing contracts and all the required technical submittals. I've seen companies with no experience take on this type of work and get buried by the process. This is an area where making a fatal mistake can drive your company out of business. It is, in a sense, high-risk and high-reward business.
Often these projects are large and complex. As an example, we installed a leaping deck jet feature at Argenta Plaza in Little Rock Ark., a system that has more than three miles of piping in this incredibly complex and precisely engineered design – not an area where you can afford to make major mistakes, and that takes confidence.
I first became confident in my abilities in the pond side of our business as we took on bigger and bigger projects, graduating into high-end work on championship golf courses, for example. You learn what it takes work on a very high level and you become more and more self-assured in your ability to take on complex projects. The same thing happened in the fountain world. You must invest in the learning curve to hone ability and skill; but having the courage to go in that direction is probably the single most important ingredient.
REVVING UP THE ENGINES
Confidence in tact, the move into fountains was very much a calculated business decision.At first, I was reasonably intimidated by the complexity of these systems: how do you plumb an equipment room, or set up manifolds for jets and other fixtures, and what does doing the job correctly cost? How much would the equipment and materials cost? How much would labor cost and where would I even find the people capable of doing this work? Yes, there are transferable skills if you build ponds or swimming pools, but at the same time, it's so different and more advanced that, quite frankly, a little bit of fear can be healthy.
We learned quickly that commercial fountain projects involve a team including the client, general contractors, architects, landscape architects and a spectrum of subs. On our first project we worked with manufacturer/designer Roman Fountains. We made a few mistakes, but learned a lot and we came away okay financially. From that point forward, every job has been a learning experience. When we make mistakes, we correct them and make a point of learning everything we can from those missteps going forward.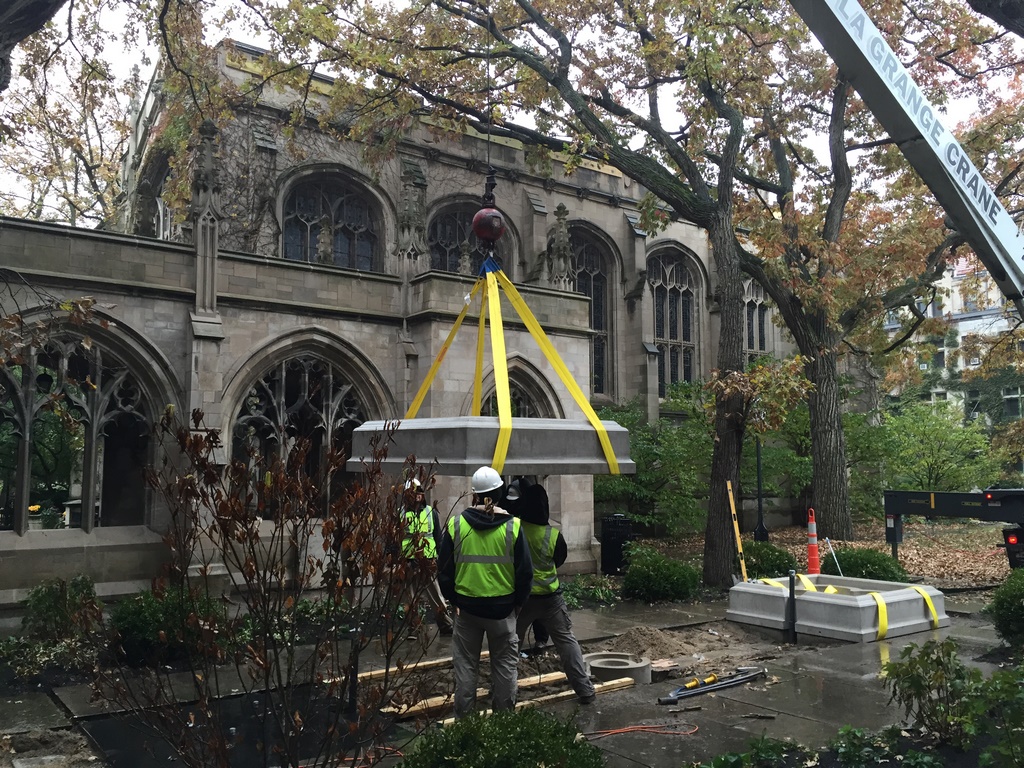 This relatively simple installation at the University of Chicago was our first foray into the world of commercial fountains. We made some mistakes on this project, but came through it with an increased appreciation for the precise and demanding nature of the work.
In addition to big-job confidence, our background in naturalistic water features did offer one big advantage in the bidding process. Every specification I read said that the water feature or fountain contractor have a minimum of five years' experience on projects similar in scope. I had learned about flow rates for different waterfall effects, setting up the mechanical systems, concrete work and other construction techniques. Having done some extremely large and impressive pond projects, we qualified for some of the higher-end fountain projects that were out for bid.
In terms of breaking into the market, we tried a bit of everything; bidding on public projects, answering RFPs and networking whenever and where ever we could. I studied the technology and focused entirely on the MEP side of the installations, put together my team, and went for it. I learned how to do take-offs on plans and accurately estimate project costs, and we started winning contracts.
FINDING THE WAY
Like most any business, commercial fountain work starts with relationships. We exhibited at the American Society of Landscape Architects show a few years running, where we met people from Roman Fountains, Hydro Dramatics, Delta Fountains, Fountain People, Crystal Fountains and others. In some cases, representatives from these companies approached us because they were experiencing failed installations due to a lack of competent contractors.
To rise above the rest, you have to be better than the next guy and oftentimes, you need a specialty. In our case it's been the MEP aspect of fountain installs, which can extraordinarily complex. The key is to take your time to break it all down piece by piece. When you get into thinks like working with 12-inch diameter schedule-80 PVC plumbing, or welding stainless steel couplings, you must be sure that you know the details.
The market shift changed our operations and some aspects of our company culture. Many of our projects are far from home and we've developed a kind of road warrior mentality as we move around the country going from one project to the next. I've customized a trailer to carry everything we need, every size plumbing and fittings, all necessary tools, adhesives and other supplies, with the major pieces of equipment delivered directly to the site.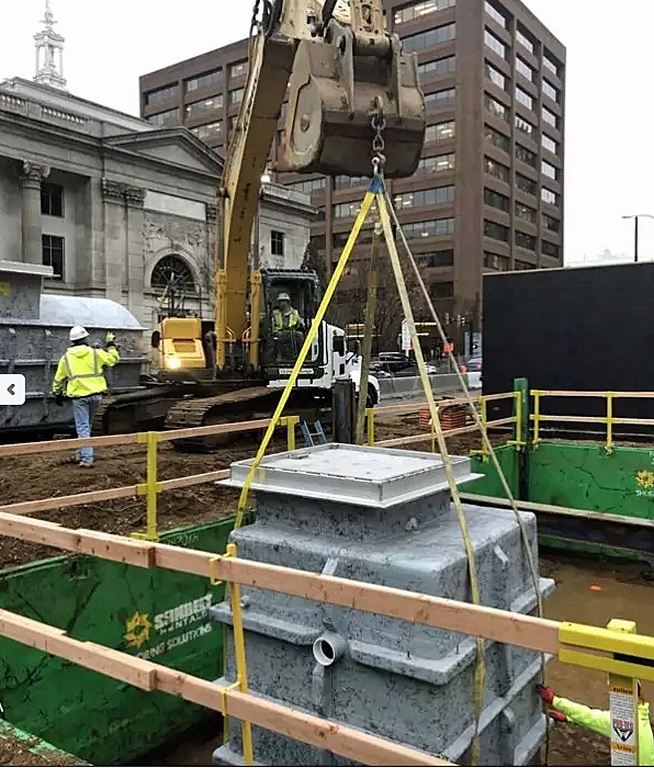 It's amazing the amount of heavy lifting required to construct what on the surface appears to be a simple deck jet splash pad. Many of our projects include sub-grade equipment vaults that feature complex plumbing, wiring and control systems.
Because we prepare and plan out each installation to the finest detail, we're able to move around quickly and get these projects done usually in a matter of days. We enjoy traveling together, doing whatever it takes to get the job done. It's grueling but we have a great time and make a big adventure out of the process. We dine at the best restaurants and make a point of enjoying the adventure. Some of my team members and I share Polish heritage, which is all about great food, beer and having a good time and we observe those traditions as frequently as possible.
Most of our projects are on the east coast; from Vermont down to the mid-Atlantic states and for whatever reason we seem to do a lot of projects in Pennsylvania. Up and down the coast in the major cities, we find all sorts of hot spots for fountains and water features. We're constantly networking with local companies, as well as the big national fountain companies.
The shift toward fountains is largely due to the greater profitability; once the work starts, we generate more revenue in much less time. While the execution of fountain projects tends to be quick, the entire process is quite lengthy. By the time you bid on the project, get awarded the project, go through the submittals phase and then build it, it's can be up to a year, or more.
That means most of the time you're administering the process in the office, making sure your paperwork is complete and on time. It's a full-time job managing that part of the process.
AQUATIC DESTINATIONS
Ultimately, I like the fountain work from a business standpoint because of how I'm able to tightly manage our operations and control costs. I'm able to have a small team that executes complex projects often in a relatively short time frame, and we've been very, very successful at it. I'm hoping that someday, we'll expand into the design and engineering side of fountains. For now, doing these installations is placing on us on firm financial footing while giving us experience and knowledge that we can use to expand our business in the future.
Working in the commercial setting often means working as part of larger team, far more so than in the residential market. We're finding that many of the project managers are young, ambitious and knowledgeable. The general contractors are highly structured organizations that have set procedures for how things are implemented in terms of scheduling and coordination. You have to participate in meetings and interact with people on a relatively sophisticated level. If you don't know what you're doing, it could become obvious rather quickly. It is a dynamic working environment and you have to be on your toes.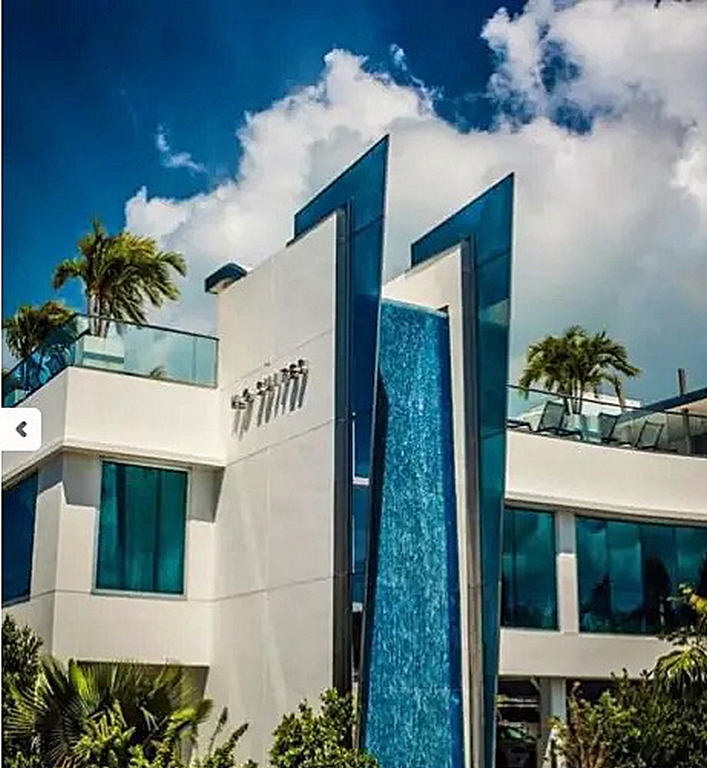 Seeing fountains come to fruition is always exciting in the way they have both a dramatic impact on large spaces and structures, to the personal, even intimate effects the have on people of all ages.
On the job site, you see how important coordination can be. We once had a concrete truck back up over, and crush, a set of manifolds we had just installed and backfilled. And, make no mistake, we've worked with some contractors that are absolutely horrible, with terrible finishing techniques and other problems, and our fountains have been compromised as a result.
While there are challenging aspects to commercial fountain work, the pluses far outweigh the downsides. Ultimately, we're working on installations that become integral to businesses and entire communities. Fountains are gathering places and casual destinations. They are conspicuous in the landscape and become part of people's lives — sometimes 10s of thousands of people year after year. It's exciting to think that we're earning a profit while making so many people happy.
Tim Krzeminski president of Laughing Waters, Palos Heights, Ill. Founded company in 2002, working across residential and commercial properties.