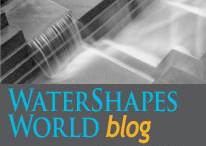 Through the years, one of my favorite advocacies at WaterShapes has had to do with building awareness among watershapers about the health benefits that result from what you all do for a living.
We've worked with the National Swimming Pool Foundation on many occasions, for example, lining up articles that have either reported on research related to the specific benefits of swimming and/or water exercise, or told personal stories of what
working out or simply being in the water has meant to various people.
We've also worked with our contributing writers – regular columnists and featured watershapers alike – to highlight design details and features from grab rails and ramps to the lifts and moveable floors that make pools and spas more accessible to (and safer and more comfortable for) those who focus on buoyancy or warmth or the gentle resistance offered by immersion.
And it's not just about swimming pools and spas: More times than I can count, our contributors have called out the soothing psychological and even spiritual effects the sight and sound of moving water lend to various settings, whether the project takes the form of a fountain, waterfall, stream, water wall or any other type of watershape that finds its way into a setting where meditation and healing are the order of the day.
These are benefits that cut across all watershaping lines, embracing commercial as well as residential projects of every conceivable description, scale and price point. Some of these projects focus on the functional, but there are also many that are simply beautiful to behold.
Our work in communicating these benefits never ceases. Almost every day, I comb the Internet looking for health-related stories to share, my philosophy being that we're doing our job best if we save you the time-sucking effort involved in winnowing through the torrent of worthless web junk that hides the occasional gem of a story. We put these items up on a section of the WaterShapes.com home page labeled "Aquatic Health, Fitness & Safety" – over there on the right hand side, just below another compendium called "Around the Internet" and just above WaterShapes TV.
In the past year, we've set up links to more than 300 of these valuable, benefit-defining stories. Some in the archive are related to safety, but I'd say the majority offer insights into watershapes' utility in coping with arthritis or fibromyalgia or muscular dystrophy; in facilitating rehabilitation from a range of injuries and surgeries; or in hosting basic exercise regimens that lead to better athletic training, better health, a better self-image and a better outlook on life.
Buried in all of this is my deep-seated conviction that watershaping has a powerful potential to do good – and on more levels than most would consider. I take great pride in that potential: It makes me feel good to be engaged with products that carry a measure of social significance with them, and it makes me feel even better to see that their potential is gaining recognition in the world around us. And it would make my day if I knew that more watershapers were involving themselves in spreading the good news.
If you're curious, take a look at the "Aquatic Health" archive (click here): If nothing else, it may make you smile to know that on some level you're participating in work that can make life so much better and easier and healthier for others.