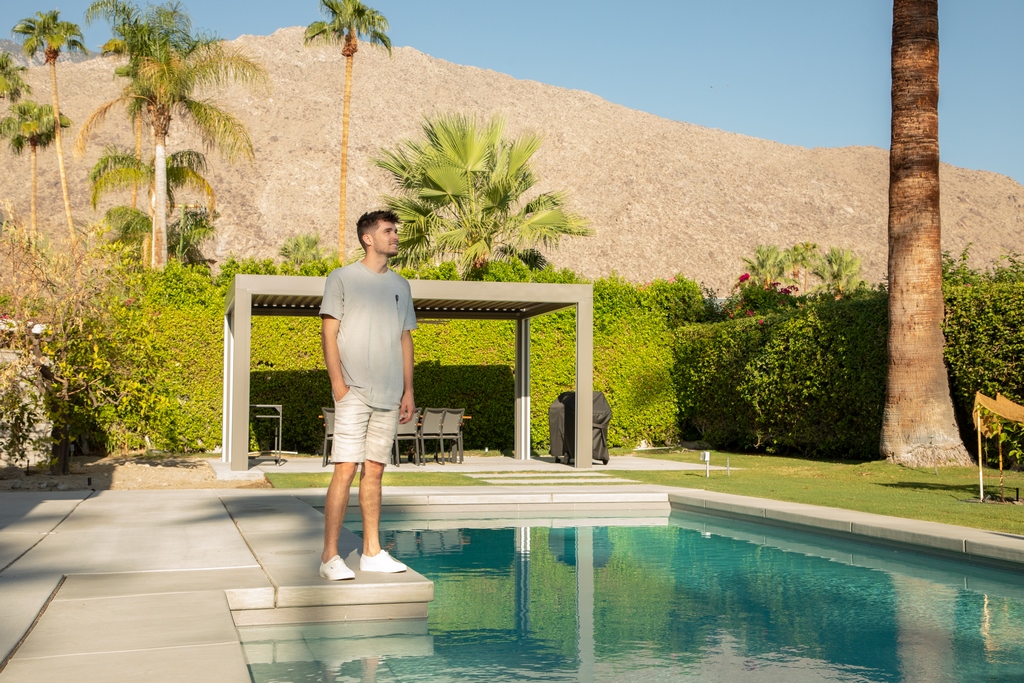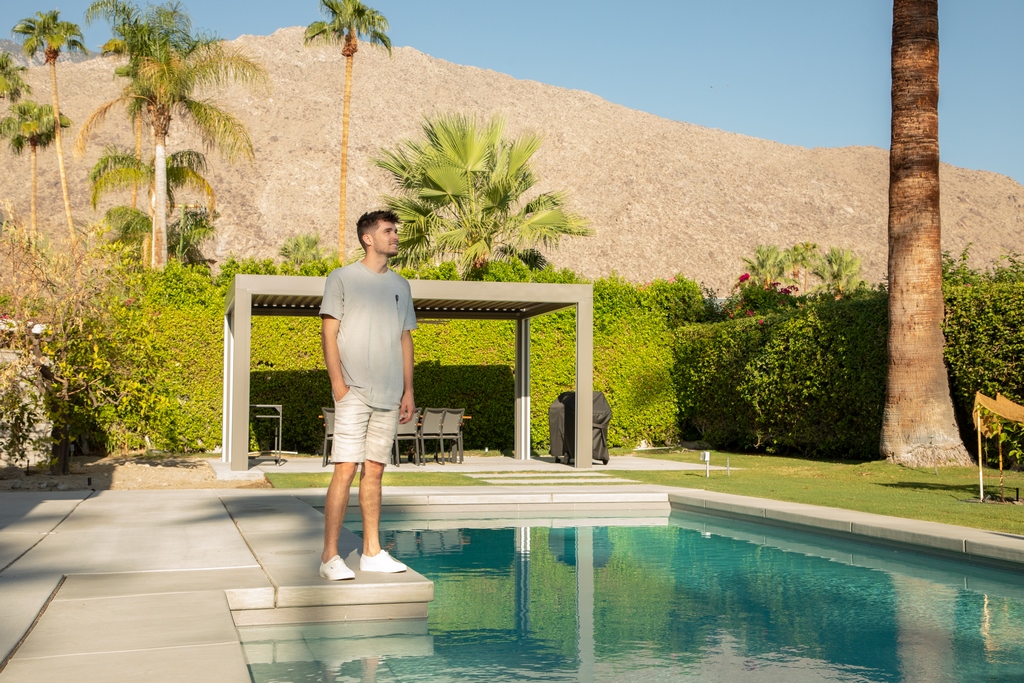 French designer Logan Guinard relocated nearly 6,000 miles from his home to establish a career in California's Coachella Valley. He came with faith in himself, a design education, practical experience but little else. In just two years, he has become established as a designer working for high-end clients who want only the best.
By Logan Guinard
Water and nature have always been with me. I was born and raised in Brittany, France, a beautiful peninsula on the northern west coast defined by forests and mountains, a region full of lakes, rivers and streams. Growing up in such a special place has given me a lifetime love affair with nature. It is the lens through which I see the world and why I love designing bodies of water and landscapes.
In fact, I built my first pond at age 10 for my mother and have been moving in that direction ever since. At age 15, I contacted a local landscape company and was hired as an intern. Later I applied to a prestigious pool-and-spa education program and went on to win a silver medal in the Best Apprentice in Pool Design national contest. In 2018, I graduated with a degree in landscape architecture, a program that required as much time on job sites as it did in the classroom.
I find deep meaning in observing the relationships in nature between water, land and the sky. This is why I have focused my career on creating places that harmonize with the surroundings and create a positive experience for people who spend time there.
I'm also inspired by amazing man-made places, such as the palace of Versailles in Paris, where water and art conspire to create one of the most amazing gardens in the world.
Although I am still in the early stages of my career, I already have learned to think with my eyes and manifest those visions into the landscape.
FAR AWAY
Today, I live and work in Palm Springs, Calif., a place that is about as different from my home in France as one can imagine. It is a vast and arid landscape that is mostly devoid of water, except for the thousands of swimming pools, fountains and man-made lakes on golf courses that are seemingly everywhere.
I moved here just a few months before the start of the pandemic, which seemed ill-fated at first. As we now know, however, the forced isolation people endured only served to drive the demand for pools and the backyard oasis. There has been plenty of work to go around and despite the circumstances of the past 20 months, I've managed to thrive professionally.
I had visited here two years before and could see tremendous opportunity. The high temperatures and constant sunshine mean that people spend much of their time outside. Their private outdoor environments become part of their living spaces and they crave places to cool off, all of which is why swimming pools are so common.
It took a huge leap of faith to move 5,700 miles not really knowing anyone. I knew very little English but I have learned quickly during the immersion over the past two years. Most important, I've worked to develop an environment of trust with people I know in the industry, the community and especially our clients.
I was hired by Architectural Blue, a high-end design and construction firm that enjoys a solid reputation for creating uniquely beautiful pool environments and other types of watershapes here among a well-heeled clientele in the Coachella Valley.
It's an exciting job that keeps me incredibly busy, always imagining what our clients need and want, and then acting as project manager, bringing the images to fruition.
Our company owner, Matthew Battista Naylor, also took a leap of faith bringing in a young designer with no local experience or connections into his company. Working at his side, I've learned much about the industry in this area, and what it takes to run a company that operates on the highest possible level of creativity and execution.
A NEW PALETTE
Every design I take on is meant to harmonize with the surrounding landscape and also with the architecture of the home itself. The water is an important element I use to create visual connections fusing the home and environment, using geometry, color, texture, movement, sound and reflection.
The area is famous for its countless contemporary designs and is famously one of the cradles of mid-century modernism. There are also many homes with more classical, or Spanish colonial and Mediterranean designs. The upscale neighborhoods have been home to numerous celebrities and social luminaries who hired prominent architects to create unique homes.
For my modest part, I love the challenge of making all of the pieces fit together and giving our clients something no one else has. The work requires constant adaptation and a strong sense of presence.
While I understand the formal aspects of different design traditions, my design process is mostly intuitive and is based on visualization that I communicate to my clients with sketches and computer renderings in Pool Studio, which like English I've become fully immersed .
Back in France, I worked building residential pools and landscapes, but the industry here is very different. Over there, the vast majority of pools have vinyl liners. There are no plaster or pebble finishes. Pool shells are built either with concrete blocks or formed poured-in-place concrete. There are virtually no shotcrete companies. It is a completely different way of approaching pool construction than what exists in the U.S.
Through my hands-on internships I gained an understanding and appreciation for the construction details and procedures. I find the technical aspects of watershape construction fascinating and believe that great designs much also be built correctly.
I'm like a sponge soaking up the fine points of the craft. Yes, exterior design is an artform, or it can be, and like all forms of art, you can only succeed if you understand the tools and materials.
ILLUMINATING THE PROCESS
I insist on perfection in both my design work and physical installation. Both are essential for success. Here in the U.S., I've continued the learning process, working with a much broader materials palette. Not only do my designs include a wide range of stone and masonry features, I've learned to incorporate custom tile, corten steel and quality wood elements – materials that soften the geometric lines of modernism and reveal the effects of aging in the environment, adding warmth and interest to the setting.
I've learned to appreciate the sculptural beauty of desert flora and find inspiration in the dramatic rock formations and expansive views. The immensity of the American desert can be overwhelming, it's so vast. As a designer, I've come to realize that whatever the setting, you have an opportunity to create relationships that connects the experience of being there to beauty that surrounds us.
I believe the best designs reflect the client's personality and emotional vibe. As a designer, I strive to find a meeting of the minds with the client, to be in sync with their moods and connect with their vision. The goal is to reflect their personality and manifest it in the project. And while, I do believe the visuals are crucial, so too is sounds, touch, and smell.
It's a way of seeing the world while at the same time solving technical challenges. This is why believe it helps to begin by thinking with your eyes.
Logan Guinard is the lead designer and project manager for Architectural Blue, a custom watershape and landscape firm located in Palm Springs, Calif.