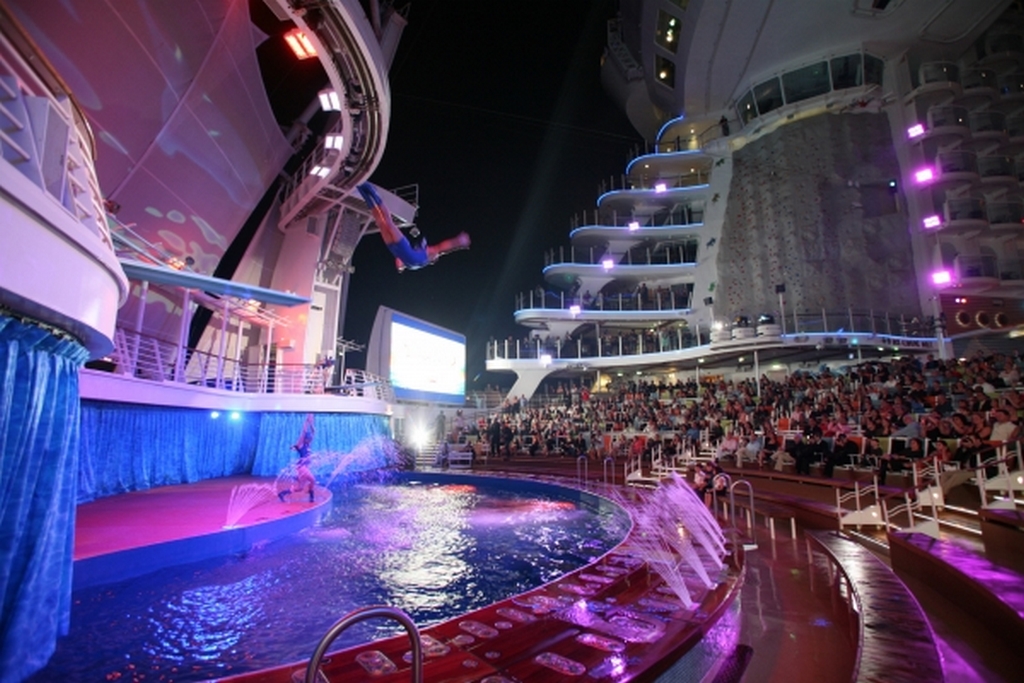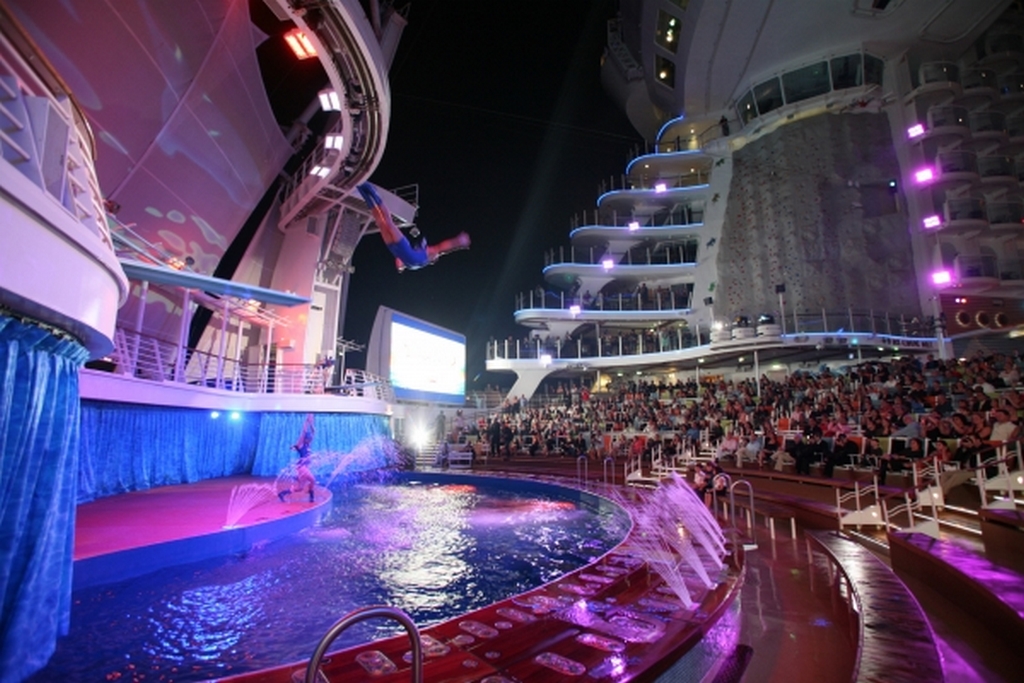 The AquaTheaters located on the Oasis class of Royal Caribbean cruise ships are arguably the most unusual and dynamic performance venues found on the high seas. As Crystal Fountains' George Ayer explains, taking part in the development of the fountain effects for these spectacular productions has been a thrilling high adventure.
By George Ayers
Royal Caribbean's fleet of innovative cruise ships features the largest vessels of their kind in the world. The Oasis class first set sail in 2009 with Oasis of the Seas, followed by Allure of the Seas in '10, Harmony of the Seas in '16, Symphony of the Seas in '18, and coming in '22, Wonder of the Seas, and there's a new series of ships in the planning stages that will be part of the Icon class, which is expected to debut in 2024.
Symphony is currently the world's largest passenger cruise ship. At 1,188 feet long, it accommodates 7,000 passengers on 18 decks in 2,759 staterooms, with a crew of 2,200. It has 22 restaurants, 23 swimming pools and a 10-story waterslide, among many, many other features and amenities.
As each successive Oasis class ship sets sail, it always features innovations, but they all share an innovative basic design that was established from their inception. Crystal Fountains was involved very early on during, back in 2006, the development of the ships, before Oasis was even named. Our work has been focused on one of the most innovative attractions on the vessels, known as the AquaTheater.
FIRST IN CLASS
Cruise lines tend to become known for different things, be it ultra-luxury accommodations, exotic destinations and amazing food. We learned early on that Royal Caribbean focuses largely on innovative best in class entertainment for its guests. They've always worked to create vacation experiences that appeal to the entire family, and entertainment venues are a primary design and programing focus. The AquaTheater's are a splashy example of that commitment, to say the least.
The venues occupy the aft of each ship adjacent to the Boardwalk neighborhood, creating a center of bustling activity with views of the sea. The ships feature an innovate design in which a parklike common promenade area, known as Central Park, runs down the middle of each ship's superstructure. As you move to the rear of the ship, you discover a 500-seat amphitheater surrounding a large kidney-shaped pool and a variety of hydraulic and mechanical features, all of which is the stage for diving and acrobatic shows.
The productions feature some of the world's greatest aquatic performers that dazzle audiences with music, lights, and synchronized water effects, aquatic extravaganzas. Royal Caribbean reports that the theaters have been a resounding success, consistently attracting large audiences for the nightly extravaganzas.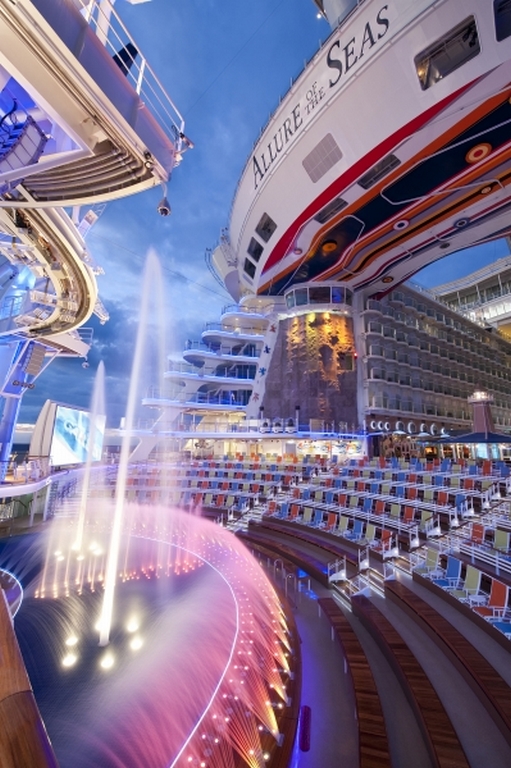 There are a number of restaurants and bars in the area surrounding the AquaTheater, all of which benefit from the traffic in the area and the audiences showing up for the performances. There's a category of staterooms and cabins that have views of the venues, which come with a premium price. So even though no one actually pays to see the shows, like all of the entertainment they are included in the price of the cruise, the venues do have an extremely positive impact from a revenue perspective.
When the Oasis was introduced, the AquaTheater included a number of elements that had been done on land, but never at sea. It has, for example, a movable pool floor that moves 12 feet up and down underwater. When fully raised the floor, which is divided into three separate independent platforms, becomes a stage with a rubberized non-slip surface. When the floor is lowered, it becomes a diving well, with two big tusk-shaped high diving towers on either side.
There are zip lines some of the performers use to tumble and fly through the air and there's a trampoline just behind the main pool that flips over. On one side, it's part of the stage, but then when it rotates, it's a trampoline the performers use to execute some amazing maneuvers bouncing and flying into the water.
The pool itself is about 80 feet long and 25 feet across at the widest, so it's not huge especially when considering the nature of the high-octane performances, but the design is ingenious in how it changes and accommodates different theatrical elements.
It's a truly spectacular show and the passengers love it.
COMPONENT CONCEPTS
When we became involved, there was a conceptual design in place created by Fluidity, a waterfeature design firm based in Los Angeles. We could see the great potential, and felt that we could create custom components that provided the same functionality as the specified components, which were all off-the-shelf products.
Rather than adapt the architecture to the available equipment, we thought it would be better to go it from the opposite direction. We suggested that because this was a special ship and a unique system, the component performance should be designed with the application in mind, rather than vice versa. Because we have an extensive background in developing custom fixtures, we decided to offer a bid based using alternative equipment.
While late changes caused some concerns on the design team, ultimately the client liked what we had to offer and we were the successful bidder. Since then, we've supplied the fountain features for all five of the Oasis class ships and are currently working on Icon class.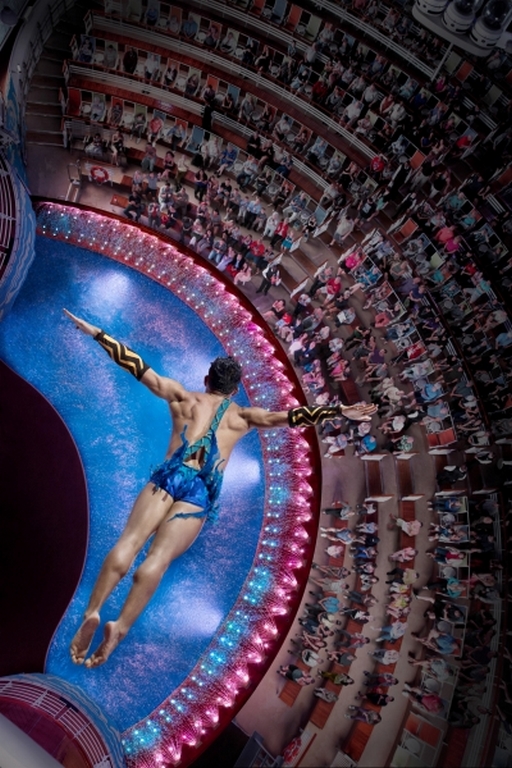 One of the main fixtures we created for the AquaTheaters was a clear-stream arching jet. It's special because it has the longest throw of any jet of its kind, approximately 40 feet in the air and 30 feet across, without the 1 1/4-inch stream breaking up. There are 14 of these jets on each venue, four on a 60-degree angle and 10 oriented at 80 degrees. Each one has an individual variable-speed drive pump, which enables us to create waving effects.
Back in 2007, dry decks were relatively new, but Royal Caribbean was already thinking in that direction and decided that they create a leaping deck jet area in an elevated deck in front of the pool. For that application, we developed vertical jets mounted in ovular plate with two LED lights and a Choreoswitch ™. There are 96 in each theater, which can be used to create the spectrum of effects we've come to expect from programmable vertical sequencing jets.
The client wanted fan jets that could also be choreographed. The original concept was for sheeting fans of water, but we soon found that there was no good way to create the desired effects using that form of display. So, we went in another direction and created finger jets where instead of a continuous nozzle opening, we create a series of individual streams that together form a fan shape, all of which can be separately controlled, enabling a wide range of choreographed movements and patterns.
On the two outside lifts on either side of the main pool, we installed a modified version of a fixture we call the "gargoyle nozzle." It was named when we developed the nozzle for an unusual installation known the Crown Fountain in Chicago's Millennium Park. (link to original article). In this case, we had to develop a special pneumatic raisable mounting, so the nozzle would break the surface when the moveable floor is only a few inches below the water's surface.
Finally, we developed a rain curtain feature that is installed in a bridge that spans between the two dive towers. It includes 1,400 small nozzles that create fine wall of water that works like a moving theatrical backdrop.
SHOW CONTROL
The different ships each program their AquaTheaters' a little differently, so there's a great deal of flexibility in the system.
Being able to control all of the fountain effects from the show control booth may not sound like a big innovation from a 2021 perspective, but back in 2007, it was something very new. Up to that point, the controls were all industrial in design and operation. We were one of the first to take it from a theatrical control standpoint, using DMX technology, which has since become the standard for theatrical fountain control.
That evolution took place at a time when color-changing LED lights were just starting to come on the scene, which lend themselves to the kind of sequencing control afforded by DMX systems. The original specification called for traditional incandescent lights, but we were successful in pushing LED technology, which has since taken over all aspects of the lighting industry.
As we've worked on each successive ship, we've made incremental improvements, particularly on the control and Choreoswitch™ systems. From the audience standpoint, you wouldn't notice any difference. The changes have all been under the hood.
Now with more than a dozen years of operation and nearly 15 years of work on these special venues, the AquaTheater's have become a mainstay of the Royal Caribbean cruise experience. For us, we've learned all about developing equipment for use in a marine-grade environment and the highly disciplined and large-scale world of ship building. We've spent countless hours in product development, team meetings and overseeing the installation process.
It's certainly been an exciting ride.
George Ayer is Crystal Fountain's director of supply chain. He is a licensed engineer with over 30 years' experience creating and leading innovative product design. His focus has included new product development, integrating mechanical systems, electronics and control. Many of the products he has worked to create have been patented.
---
[LSC1]Not accurate. Please remove.