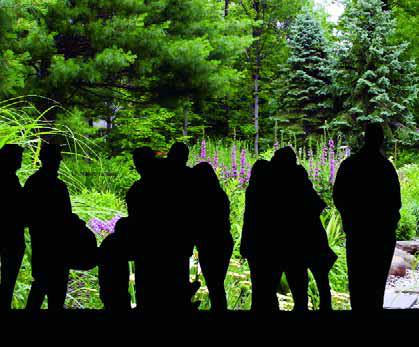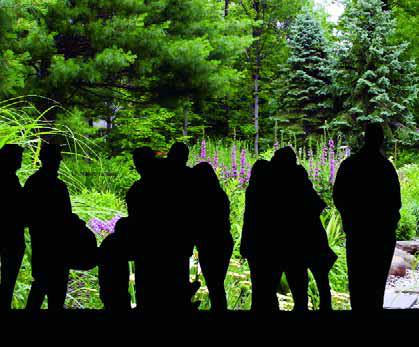 With spring upon us, calendars of local events are filling up with garden tours of all shapes and sizes. From large estate tours and special events at botanical gardens to tours of wonderful neighborhoods staged by local garden clubs, there's much to be seen while wandering through the grounds and yards and viewing the work of other designers and architects.
I've always enjoyed these tours and learn something from each and every one, whether it's about a new plant or plant combination or an installation technique shared by a generous designer or installer who's on hand for that purpose. On a completely business note, I also have to say that some of my best-ever
referrals to contractors have come through contacts made at these tours.
A while back, I mentioned my fondness for these forums to another landscape professional, and I was taken aback when she informed me that she didn't like going on tours because she didn't want to see and be influenced by what everyone else was doing. I found this a bit odd, as it has always been my belief that viewing the work of others is generally inspirational and filled with lessons I can adapt and apply on my own.
In plain terms, I don't attend these events to be entertained by beautiful landscapes. Instead, I see them as opportunities to gain insights on current trends, evaluate other professionals' work, see new plants and connect with others who may make significant contributions to my work in one way or another. To me, garden tours are less an option than an absolute requirement.
GOING ON TOUR
The first such tour I ever attended was arranged by a local garden club in a fairly exclusive neighborhood in Los Angeles as a benefit for a local hospital. (Perhaps because it's the way I started out with them, but I've always liked events related to philanthropic causes: Participating makes me feel good at the same time I get to learn.)
This particular tour exposed me to a wide variety of landscape styles, including an amazing succulent garden on a large piece of property that at first glance looked just like an English garden. It was obvious the homeowners had invested many years and many dollars to establish this unusual space, and I must say that, to this day, it is one of the best-designed and best-tended gardens I have ever seen.
Other gardens on this circuit were in traditional, contemporary and experimental styles, and I walked away from each feeling motivated to get to work and apply elements of what I'd seen. I took away a long list of plants, researched them and subsequently used them in my own designs, considerably expanding my palette and discovering interesting ways of arranging various plant types into more interesting designs.
In the 18 years since that first circuit, I've been on dozens of garden tours, have attended events sponsored by the Garden Conservancy and been to numerous events at prominent local sites, including the historic Virginia Robinson Gardens in Beverly Hills – an historic site that hosts an annual benefit tour I try never to miss. And wherever I travel, close to home or abroad, I always do what I can to tap into local resources and see as many great installations as I can.
The main value for me is always the recognition of design variations and palettes required by the specific locations of these gardens or by the local availability of particular plant varieties. I also look at installation practices and at the ways topography and local traditions influence design. As I've observed many times in these columns, what grows in one place may not thrive even a few miles away, so the palettes and consequently the lessons to be learned expand exponentially with greater distances.
What I seek are basic concepts that guide the local approaches. If I keep my mind and eyes open, I can take ideas from a garden in Italy and apply the principles and arrangement styles I see while using plants available to me where I'm working. Just as human cultures vary throughout the world, the same is true in the world of plants.
GAINING INSIGHT
I make such a point of seeing gardens when I travel because I never know what I might learn while wandering down one path or another. It may be just a simple concept or idea that makes me think differently about how I might approach a certain design, or I may come across a distinctive look I can incorporate into other designs. Simple or grand, I know that it only takes a single thought to influence my course in a positive way.
I tend to believe that there are no new ideas, just variations on old themes. But sometimes, the simple assembly of new combinations of plants is enough to freshen a repertoire and may even spark a whole new design style that will then be copied by others – and the cycle of our design tradition rolls on.
I sense that this assimilation of ideas from disparate locations is what stylistic and design evolution is all about. If all we ever did was reproduce the same design over and over again with the same planting patterns, the same installation techniques and the same materials, the results would eventually become boring, dull, shopworn and stale.
With that in mind, we all need to do what it takes to keep ourselves fresh – and to me, participating in tours and events at prominent gardens is just about the best available solution.
As you all know by now, I'm a big advocate of education, reading and networking as avenues for professional improvement, and I'd like to add garden tours to that trio: I believe we all should attend at least two tours a year (one in the spring, another in the fall to see how nature balances itself) as part of our continuing educations. And the fact that most of these events happen over weekends makes them easy to add to our schedules – no excuses!
As for finding tours, there are numerous ways to go. The calendars of the big trade associations (the American Society of Landscape Architects and the Association of Professional Landscape Designers, for example) are filled with relevant events, and garden publications and trade magazines post these dates as well.
Local garden clubs often have newsletters that promote local happenings, as do the garden sections of local newspapers. Your nursery probably has some sort of bulletin board on which flyers are posted for tours and shows, and I've often heard about great events from other landscape designers and contractors.
And of course, there's always the Internet. By Googling "Garden Tours" and "your city" (using quotation marks to narrow the searches), you'll find a plethora of options, from tours down the block to special garden-related events around the world.
RUBBING ELBOWS
After so many years of practice in a single (but large) geographic area, I've become skilled at figuring out which local tours will hold the most interest for me. Many are annual, and if I've run into a good one, I'll make note and watch for announcements about it at a certain time each year.
Again, I go to all this effort because these events are incredibly helpful to me as a professional. They inspire and motivate me, and if I'm on the road and can't find an organized tour, I'll even go so far as to stop at nurseries and inquire about good neighborhoods in which I might walk on self-guided tours. Yes, it's better to have company and be surrounded by other professionals with whom I can share thoughts and ideas, but these opportunities to see what's going on in other places are simply too valuable to waste.
Left to my own resources, I can still evaluate things on my own – critique them, size them up, figure out what makes them succeed or fail – but I must say that my strong preference is to be in a crowd with fellow landshapers: It deepens the experience by letting us all share ideas and insights and learn how others perceive the same space I'm examining.
Even if the exchanges are highly critical of plant choices, hardscape materials or installation techniques, it's all part of the process. You might be surprised to find yourself thinking in new ways about what you do – and changing the way you approach your work as a consequence. The possibilities are endless.
I even enjoy spending time with "civilians" on these tours: Their untrained eyes see things in ways mine don't, and I find distinct value in hearing what the "person on the street" thinks about the landscapes we're exploring together. In other words, rubbing elbows with fellow garden devotees of all types can provide you with access to new ideas and pathways to creative inspiration and expression.
So if you're like my old friend and can't stand the thought of looking at other people's work, I suggest you think again and take a closer look at how open and creative you're allowing yourself to be. You may be happy in your isolation, but are you serving your clients as well as you might?
Stephanie Rose wrote her Natural Companions column for WaterShapes for eight years and also served as editor of LandShapes magazine. She may be reached at [email protected].