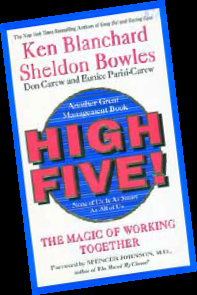 I've always been one those who finds useful parallels between business and sports.
In fact, I think it's something that applies especially well in a field such as watershaping, where successful results require coordination of distinctly different activities unified by shared goals and objectives. For those reasons, High Five!: The Magic of Working Together by Ken Blanchard and Sheldon Bowles (Harper Collins, 2001) is superb fuel for watershapers – and anyone else who makes their living working in cooperation with others.
I first discovered the book because of my son Trey's soccer career. He started when he was all of four years old, and I signed on as the coach.
If any of you have ever watched four-year-old boys play soccer, you know that teamwork is an abstract concept rather than anything that happens on the field unless by accident. At first, I coached on my own, but as the years passed and the kids grew up, they became too rambunctious and difficult to handle.
Before long, I enlisted the help of a couple of the other parents, and I soon found that we were able, collectively, to get a handle on the situation and do the boys some good. After reading High Five! some years ago, I started applying some of its lessons with the kids and my assistant coaches. By the time our involvement with the team ended (we moved to another area), they had made unmistakable progress on the teamwork front.
When Trey signed up for another team in our new neighborhood, he was coached by a fellow who knew tons about soccer but almost nothing about teamwork. They needed help, and when the coach learned I had coaching experience, he asked me to sign on. I re-read High Five! to refresh my memory of its basic tenets and started to build a team from a cluster of headstrong individuals. Once more, the group moved in a positive direction and distinctly improved their team play.
A funny thing happened through all of this: Without thinking much about it, I began to apply the same approach to working with other "team members" on my watershaping projects and witnessed a similar level of improvement in our field of play as well.
The book is a simple story about a guy named Alan who loses his job and turns his attention to helping out his son's last-place hockey team. Alan brings in another coach, a Ms. Weatherby, who teaches everyone to work together and ultimately raises the level of performance on the ice to a point where the team competes for the championship.
It's just a simple story with a basic message, and it's fast and easy reading at just 200 pages. In its simplicity, however, are some terrific examples of things you can do to improve how people work together. It's all about setting shared goals, providing people with the information they need to improve their skills and the power of positive reinforcement – and all boils down to the concept that none of us individually is as smart as all of us together.
In our firm, we've started applying those lessons in simple and important ways. For example, we've started showing photos of finished projects to our subcontractors so they see that their work is part of something beautiful and exciting. I've personally learned to spend more time working with subcontractors and their crewmembers in correcting problems, explaining both the positive things they're doing and suggesting areas where things need improving.
The books has served as a useful reminder to me (and others here) to take the time to make sure everyone from top to bottom understands his or her role and how individual effort improves the entire process.
As I witnessed with both of my son's soccer experiences, there's an important shift that occurs when individuals see themselves as part of a team and start thinking beyond their own roles to find ways to help the group reach is it's ultimate aims, whether it's scoring goals or building beautiful watershapes.
Mike Farley is a landscape designer with more than 20 years of experience and is currently a designer/project manager for Claffey Pools in Southlake, Texas. A graduate of Genesis 3's Level I Design School, he holds a degree in landscape architecture from Texas Tech University and has worked as a watershaper in both California and Texas.