The Magnificent Mighty Mo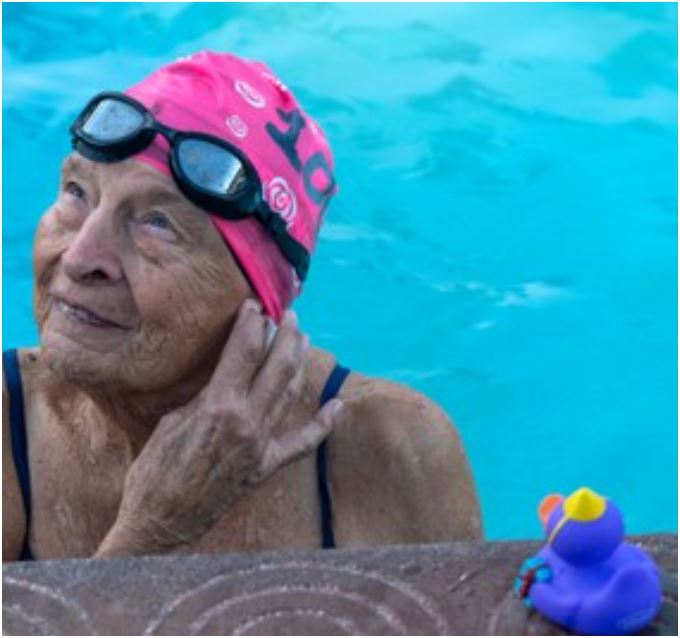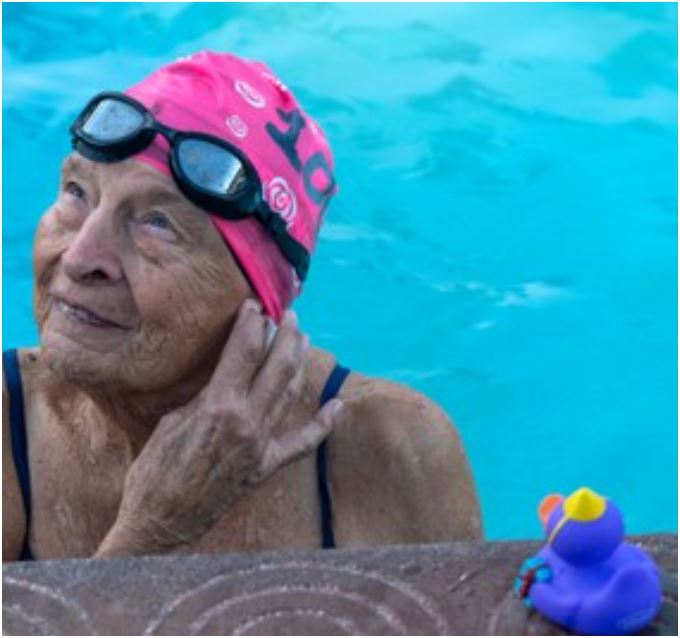 One of the world's most extraordinary athletes is 100 years old, and she's a swimmer. Maureen Kornfeld, aka "Might Mo" continues to compete as a master swimmer, set records for her age bracket, and inspire nearly everyone she meets – living proof of the power of spirit and the value of swimming.
By Eric Herman
For those who promote the benefits of swimming and other forms of aquatic exercise, there may well be no greater living testament than Maureen "Mighty Mo" Kornfeld.
A resident of Hollywood, Calif., Kornfeld celebrated her 100th birthday Nov. 27, 2021 doing what she does better than anyone her age, swimming. She took a poolside bow at the Rose Bowl Aquatic Center as her fellow swimmers, friends and the press cheered and chanted her nickname. "Thank you, all. Thank you, all," she called out. "Thank you, swim friends. Thank you, all!"
Kornfeld is a longtime master swimmer who continues to break records and set new milestones. She currently holds 34 world records and shows no sign of slowing. Her records include freestyle, fly and backstroke in distances from 50 to 1000 meters, making her not only unprecedented for her age, but also her versatility.
According to SwimSwam.com, Korneld's 90-94 800 free SCM USMS record has been on the books since 2011, when she swam a 18:38.69. "Mighty Mo" is not limited to distance freestyle, as she currently holds the 95-99 SCY free records from the 50-1000 range. She also holds USMS records in back, fly, and IM. Kornfeld already holds 10 individual Masters records in the W100-104 age group, along with 6 Masters World Records in the same age group.
She is by all measure a truly elite athlete, and more important thriving in a life awash with love and admiration. Her fellow swimmers hold her up as a treasure and inspiration. "She's just amazing. She's always looking out for other people and what matters to them," Susan Gold, a public relations consultant told the Los Angeles Times. "She's really thriving, really living. It feels like she is aging backwards. It's a kind of elfin magic."
Kornfeld swims regularly at pools in Glendale and Sherman Oaks, along with the Pasadena masters team, which she competes for in meets around the world. Swimmers at each of those pools claim her as their own.
Her workouts begin at dawn, a daunting ritual for some, but Kornfeld says, "It gets the cobwebs out of the brain." Backstroke is her favorite, because she enjoys looking up at the sky and the birds. Most of all, she loves her fellow swimmers. "We all tend to gravitate to one and another, maybe because we know the same struggles."
Kornfeld didn't take up serious swimming until she was 60. A native of Great Falls, she grew up enjoying hiking and the outdoors. After earning a bachelor's and master's degrees in sociology she moved to Los Angeles enjoyed a long career as a social worker, working with the L.A. Unified School District and Cedars-Sinai Medical Center, among others.
Then she discovered swimming.
Now competing in the 100 to 104 age brackets, she sets records nearly every time she competes. She currently swims at pools in Glendale and Sherman Oaks, while competing and traveling to meets with the Pasadena's master team.
Surrounded by friends at RBAC, Kornfeld was moved by the tribute, saying, "I have everything I need."
Photo by Francine Orr, Los Angeles Times | Shutterstock