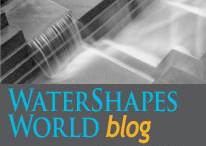 I've done an awesome amount of painting in the past six months – two bedrooms, two hallways, a den, a kitchen, a utility room and our living room as well as the outside of the front door. I won't count the two bathrooms, because I painted them last year: They looked so good that the pressure mounted to bring everything else up to speed.
I learned two invaluable lessons along the way.
First, having the right
tools for the job is essential. The results of my work on all of those polychrome rooms wouldn't be nearly so positive had I not invested in brushes, rollers and masking tape of premium quality.
Second and far more important to my personal well-being, I am profoundly grateful that I had a hot tub to retreat to at the end of those many long weekend days through which I pushed myself beyond common sense to get one task or another done. I'm no longer a spring chicken, after all, and I found both comfort and recovery in the warm, bubbling water.
I've written before about how important having a pool and spa in my backyard has been to me through the years, and I've edited and read countless articles in which designers and builders have discussed how they help their clients think about their immediate needs while also advising them to recognize that those needs will change over time.
I'm all for the thoughtfulness that drives those conversations, because I know for a fact that the ways we value our pool and spa change almost daily. In the past 25 years, I watched three young girls learn to swim and then dominate pool time with each other and their friends. Now the nest is empty, and my wife Judy has become a near-daily fair-weather swimmer and I find myself firing up the spa on a much more regular basis as well. A good soak, in fact, has become my ritual reward for putting in long, focused days with a brush (or a mouse and keyboard) at hand.
This train of thought about needs assessment rolled through the other day when I received a note from a friend – a long-time resident of Manhattan who recently left New York behind to take a new position in the wilds of Kansas.
His new home, he wrote, came with a hot tub on its deck, and his original plan to fill it with manure and turn it into a planter was somewhat compromised by the fact that he and his wife were managing to use it for its actual, intended purpose just about every day.
I never faced his quandary, not for a second. I love pools and hot tubs of all shapes and sizes, and I can honestly say that I've never had a bad time in one or the other of them, even if my purpose for being in the water was a serious matter of therapy or rehabilitation. It's been fantastic in particular to have had a hot tub in my own backyard for so past many years now, ready for use whenever it might please me or the need might arise.
As my friends in Kansas are discovering, there's something wonderful about ready access to hot, bubbling water. I like to think in their case that their tub will help ease what will certainly be an interesting transition from the hubbub of ultra-urban Manhattan to the slower pace of ultra-rural Kansas.
I like to think as well that once they've made this initial transition in the comfort of their new hot tub, they'll find other reasons to love being in hot water. I can't count the number of different ways my own has served me and how well it has adapted to the changes in my needs. I'm certain my friends are resourceful enough that they'll figure out fresh ways to enjoy the hot tub life as they settle in, their routines evolve and the joys of a good soak take hold.
Let's find another place for a manure-filled planter: Life is just too good when the water's hot!