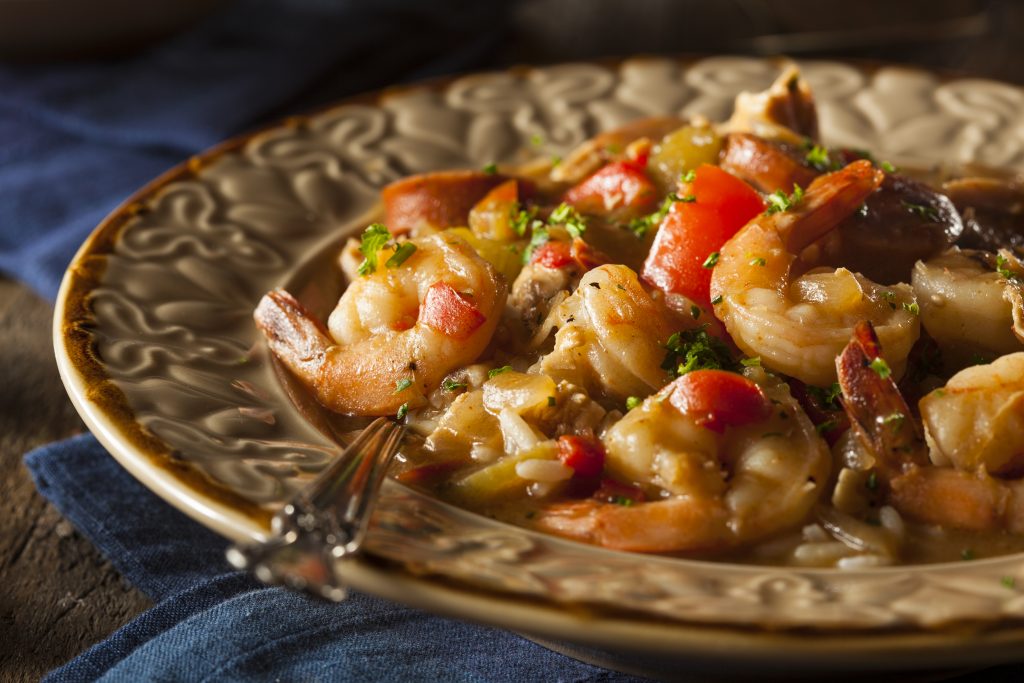 Great food served with love is one of the most enduring and universal cornerstones of the holiday experience. For Eric Herman, culinary traditions are both literal and symbolic of the qualities that define a life well lived, and sometimes all it takes are some finely chopped onions, celery and green peppers.
By Eric Herman
In Cajun cooking, many of most common recipes – such as Etouffee, Jambalaya and Gumbo – include what my relatives in Louisiana refer to as the "holy trinity," a combination of finely chopped onion, celery and green peppers. Combined with roux and lots of garlic, the trinity serves as the foundational flavoring that gives these soulful dishes their character, a baseline of culinary happiness. The trinity makes everything taste delicious.
I'm a particular fan of gumbo, for a variety of tasty reasons and have made many different versions over my many accumulating years of kitchen experience. It's a family of dishes that is meant to be a little bit different every time you make it. You can use almost any kind of vegetable, seafood or sausage, often depending on what you have available. And not only is every pot of gumbo its own adventure, indeed, every spoonful is unlike the last.
Gumbo is an ever-changing mixture that in many ways is like life itself with recognizable individual elements that conspire to create the experience in the moment. But the holy trinity is always there to enhance and enliven all the other ingredients. It's fun to think about it that way, even more so when hot pot of gumbo is there to nourish the weary soul on a cold winter's night.
When I consider what it takes to make a happy life, a similar principle applies, the elements are ever shifting, but there are unifying ideas and values that serve as a baseline that give everything else their fundamental essence. In my case, I have my own holy trinity upon which everything I think, say and do is based – gratitude, compassion and kindness.
These are the ingredients that I've come to believe inform all aspects of life in a positive way. They are my true north and the more I embrace these ideas as guiding principles of thought and daily practices, the better all other aspects of life function and feel.
Starting with gratitude, being gratefully puts everything in perspective. Life at work might be challenging, for example, but when feelings of gratitude for the work you and career you build are foremost in your mind, it's much, much easier to make adjustments and face challenges because you have the bigger more positive picture in mind. And from a purely critical-thinking standpoint, it's self-evident that gratitude leads to better decision making.
I like to say that gratitude is the currency of happiness, the more you gratitude you have, the happier you become.
Compassion is equally important and a direct result of being grateful. I like to think of it as the basis for the Golden Rule because when we have genuine compassion for others, we inevitably treat them as we would treat ourselves. When applied to all relationships, be it family, friend, co-workers or even clients, compassion elevates all involved, to those demonstrating and practicing it and those receiving it. Compassion reveals the best of our character and can profoundly improve the quality of our lives and those around us.
As for kindness, it is the direct result of gratitude and compassion, the outward manifestation of valuing ourselves, our lives and the other humans with which we share this world. When your thoughts, words and actions are informed by a sense of gratitude and compassion, kindness becomes the inevitable result. Not only is that true of how we treat others, it also applies to the way we treat ourselves. When we eat right, get enough rest and exercise and take time to enjoy life, all are acts of inward kindness, all aspects of our lives are elevated.
The beauty of the gratitude/compassion/kindness triumvirate is it never grows old, applies in virtually all situations and is the rock-solid basis for happiness, or at least a dramatic reduction in emotional suffering. Of course, deploying those principles is easier said than done. It takes practice and the willingness to stop and see the world around us and how we interact with it through this positive lens. When life offers up stress in the form of conflict, illness and uncertainty, that is when this perspective is the most useful, yet also the most difficult to find.
Time and time again, we've seen examples of our fellow humans can turn adversity into gold by way of these practices. I think of the cancer patients I've known who are grateful for being alive, or the grief-stricken turning their attention to the suffering of others as a way to heal themselves, or just the random acts of kindness we all can practice. If we look with the right eyes, we see these examples everywhere.
Where we find the inspiration that drives gratitude, compassion and kindness can be very different. Many people find it in their faith, or the love of family and friends, others in observing nature and others still simply within themselves, or any combination thereof. And hopefully, we all find added inspiration during the holidays.
I personally believe that when we embrace this trinity with an open mind and an open heart, as we grow older, we become more of how we are. That is my holiday wish for everyone, may it last all year.
Bon appetite!
Shrimp gumbo photo by Brent Hofacker | Shutterstock