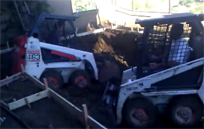 For a long time now, I've specialized in working with upscale clients along the coast of Orange County, Calif., a place where access is often restricted and where construction can honestly be described as challenging – lots of hilltop work above steep, fragile slopes.
My history with these projects has prepared me for just about anything new jobs can lob my way, so much so that I now take in stride things that once made me scratch my head or question my sanity in getting involved. In addition, I've learned that my clients appreciate my past work and take comfort in knowing what I've tackled before in my lengthening career as a watershaper.
In recent years, I've taken to videotaping some of the more interesting passages in my projects and posting them on YouTube. When I meet with new clients, I guide them to these videos as a way of educating them about some of the details that may be involved in their own projects, whether as a result of limited access, for example, or tough soil conditions or the need to work around existing structures.
In this and future newsletters, I'll share some of these videos and will, without the background I've offered here, let them speak pretty much for themselves. My clients see them as reassuring, and I hope you'll find them to be informative and maybe even entertaining.
For the first of these – about racing Bobcats and extraordinarily tight site access – click here.
.
Randy Beard operates Pure Water Pools, a construction/service firm based in Costa Mesa, Calif. He may be reached at [email protected].