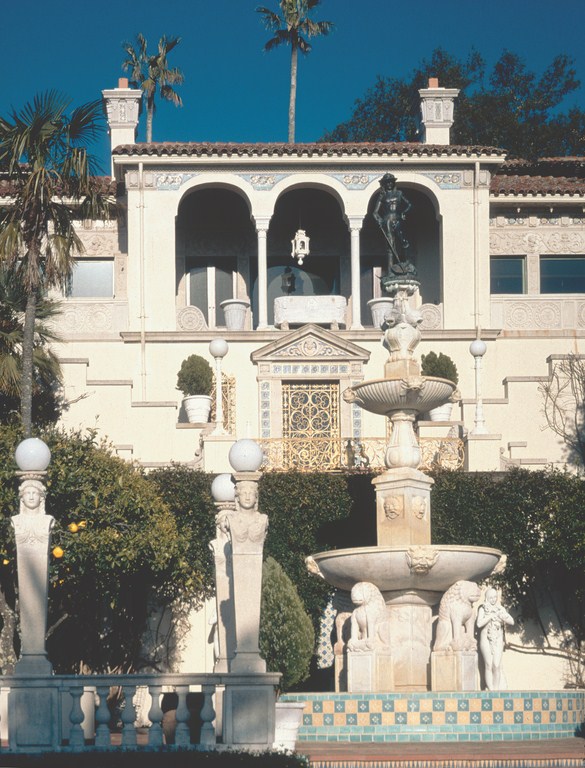 Visiting Hearst Castle is an experience that sticks with you. Long before I became a watershape designer, I know that my childhood visits to this hilltop in Central California inspired and affected my thinking about art and architecture and the creative use of space long before I had any professional interest in those subjects.
Every time I go – which is as often as I can – I'm impressed by a collection of art and architecture so rich and varied that I always find something new.
For years, I've been amazed by the castle's two pools and their beautiful details, incredible tile and classic style. More recently, however, I've started paying closer attention to the other ways in which water is used on the property – and my appreciation for what I'm seeing grows every time I stop by.
A BIT OF HISTORY
William Randolph Hearst inherited the 250,000-acre ranch on which the castle was built from his mother, Phoebe Apperson Hearst, in 1919. The remote property hadn't seen much development to that point, but he soon began transforming it into a monument to American ambition and his passion for collecting and displaying art.
The majority of the complex was completed by 1947, although construction continued until Hearst's death several years later. While he lived, the castle played host to the rich and famous and was, among other things, the inspiration for Xanadu in Orson Welles' classic film, Citizen Kane. It may be gaudy to some and over the top to others, but even its critics regard Hearst Castle as one of the greatest achievements in American architecture of the 20th Century.
The statuary incorporated into many of the Hearst Castle watershapes reflects the eclectic tastes of the man who collected them. The Grecian Pan Fountain (left) graces the esplanade between the Casa del Mar and Casa del Sol guesthouses. The Byzantine Lion Fountain (middle), with its rich red Verona marble, offers a dramatic touch to the sweeping stairway behind the Casa del Sol guesthouse. And among the oldest artifacts found in the entire facility are the black granite Egyptian sculptures of the Sekhmet Fountain (right), whose components date back as far as 1600 B.C. (All photos by Victoria Garagliano, copyright Hearst Castle/California State Parks)
Designed by architect Julia Morgan in collaboration with Hearst, the estate's structures and landscaping sprawl over 127 acres dotted with gardens, terraces, walkways and watershapes – and nearly every square foot has something worth seeing, from great architecture and huge art pieces to beautiful grounds and spectacular views.
In my case, however, thoughts about the place begin and usually end these days with the castle's spectacular and sublime uses of water.
The incorporation of water into key transition points is a hallmark of spaces set around the estate. The fountain known simply as "Girls with Dove" serves as a starting point for one of the facility's several tours, while another, known as "Girls with Goat," has been enclosed in a sinuous outdoor stairway.
It's no surprise to me that tours of Hearst Castle also begin and end with water: Guides organize visitors at the foot of stairways decorated by small fountains and, depending on which tour you take, lead you first to the outdoor Neptune pool while saving the spectacular indoor Roman Pool for the grand finale.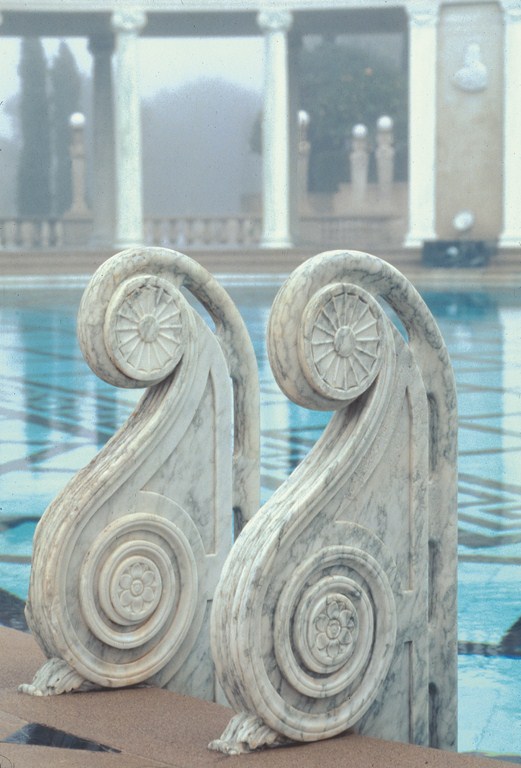 Architect Julia Morgan was a demon for details in assembling all of the components of Hearst Castle. The much photographed handrails on the Neptune Pool are no exception: Their elegant edges are punctuated by slots designed to serve as handholds for bathers pulling themselves from the huge pool.
These familiar pools are unrivalled in their beauty, but the castle's other watershapes deserve attention, too, for the ways in which each defines its special space with the cool, soft sounds of flowing water.
These fountains were assembled using statuary and architectural details Hearst gathered in his travels around the world. No two compositions are alike, and what strikes me is that all the water effects, though interesting, aren't what you'd call dramatic. Instead, I'd call them modest and understated.
Given the surroundings, you'd almost expect Versailles-like geysers, but what you get are careful, slow-flowing, tasteful waterfeatures that offer gentle, soothing, sophisticated commentaries on their sculptures. It's not like being in a museum at all: The sounds and gentle flows produce supremely inviting spaces, and I can only imagine that Morgan and Hearst knew exactly how much more inviting these spaces and pieces would become through the addition of water.
PROFESSIONAL PROPS
The casual visitor might not see how important a role water plays around the estate, but for the watershaper, Hearst Castle is a sensory feast that serves up a dizzying array of styles, influences and artistic statements.
Each time I go – and I've been there 10 times in the past few years – I find new ideas that I can translate to my own projects. True, not many of my clients will be carting home 3,000-year-old Egyptian sculptures for me to set up as fountain art; even so, visiting Hearst Castle inspires me to consider possibilities that run well beyond my usual frame of reference with respect to materials of construction, the interplay of water and art and the use of water to make its own subtle statements.
As dazzling as everything about Hearst Castle can be, nothing quite prepares the visitor for the two swimming pools: the outdoor Neptune Pool and the indoor Roman Pool. From the drama and grace of the Birth of Venus in the spillway of the Neptune Pool to the amazing diving platform high above the Roman Pool, Mr. Hearst's friends and business associates – not to mention modern visitors – are treated to watershaping of the highest and most opulent order.
It's for these reasons that my Genesis 3 partners and I take students in our Level I course to Hearst Castle as part of their studies. As we walk the grounds and talk about this or that detail or some bit of tile work or a particularly nice use of statuary, the usual comments run toward how much farther we all have to go to reach this level of design excellence, craftsmanship and sheer quality.
Given the prominence Hearst Castle had among all the most influential people of its generation, there's absolutely no doubt in my mind that this one facility has influenced and inspired swimming-pool and fountain construction globally through all of its 60 years. In fact, I think it's fair to say that the development of modern swimming pools for homes and resorts around the world can trace its development right back to Morgan, Hearst and this castle.
It's a creative incubator of the highest order, and that's what keeps me going back for more.
Skip Phillips is president of Questar Pools, a high-end swimming pool design-and-build firm based in Escondido, Calif. He started his business in 1975 as a service/supply/repair operation ,moving quickly into renovations and new construction. Now a veteran designer and builder of high-end, custom swimming pools, Phillips has won more than 100 local, national and international design awards. His reputation is tied closely to hillside pools featuring vanishing-edge designs; he is one of only two U.S. instructors currently teaching classes on vanishing-edge pools and has written and participated in numerous magazine articles on the subject. Phillips is a past president of the National Spa & Pool Institute and co-founded the Genesis 3 Design Group.