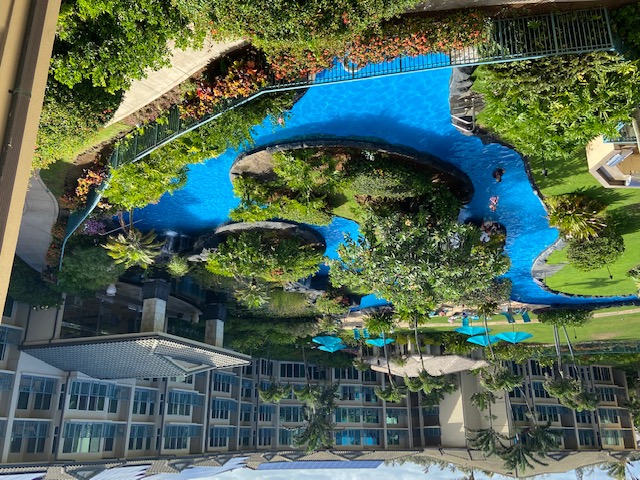 Lazy rivers have become a mainstay in countless waterparks and resort pool facilities. As Eric Herman points out here, it is vitally important that when properties advertise the presence of a lazy river, that it actually fits the definition. As he recently discovered, it's a surprisingly big disappointment when that turns out to be untrue.
By Eric Herman
I recently had a strange experience while vacationing in Hawaii. I was there with my family at a beautiful resort property on Kauai. One of the many amenities advertised was a large and elaborate pool area with a "lazy river," or so were led to believe. My sister booked the stay and chose the property largely because she and her family absolutely love lazy rivers, and judging from the photos, this place had a beautiful one that meandered through a lush manicured tropical landscape.
The only problem was the river wasn't actually a river. Instead of forming a circuit where water gently flows round and round, this vessel simply went end to end with no current of any kind. It was, in effect, a really long channel pool. This came as a big surprise and a disappointment to my family members who were really looking forward to time floating along in a gentle current. Instead, we were left to enjoy as best we could the long narrow channel.
It was impressive in many respects. It was easily 500 feet long (my rough estimate), it had multiple waterfalls, a sandy beach entrance, two large waterslides, tons of rockwork that mimics the local lava rock formations, three large spas with sandy bottoms and it also featured a striking bright almost florescent-blue polished aggregate finish.
The resort was also nestled on a beautiful stretch of beach that was beyond compare. Suffice it to say, we didn't suffer, but the absence of the lazy river was something of a vacation buzzkill. Interestingly, the two ends of the "river" were only about 50 feet apart. I was left wondering why on earth who ever designed and built this thing just didn't close the loop and create a true lazy river? Given how elaborate the whole thing was, it seemed odd that they would pull up short when it came to finishing the river.
I asked the managers if they could put me in touch with the pool builder, but to no avail, they couldn't or wouldn't provide that critical piece of information. So, I was left speculate about the strange disconnect.
I left Kauai with the mystery of the non-lazy river fully intact. It does lead to an interesting set of takeaways. First, the situation is a prime example of how popular these watershapes can be. We did, after all, choose this particular property based largely on the presence of the river. Given that level of importance, it also speaks to the value of being truthful in advertising.
Perhaps the marketing experts weren't familiar with what a lazy river actually is designed to do. Or maybe they simply thought it was okay to play it fast and loose with the language. Either way, it's a disconnect, literally and figuratively, that will cost them our future patronage, and I did write a Yelp review pointing out the deception.
I can't help but wonder how many other guests have had the same disappointed reaction. I did speak with some others using the pool who shared our dismay. "I thought these things were supposed go in a loop," one woman said to me. I confirmed that was my understanding, as well.
Next time we go to a place that claims to have a lazy river, we'll be sure to confirm that said feature is, in fact, what they say it is. Because who wants to be let down when they're anticipating the joy of floating aimlessly beneath the tropical sun.