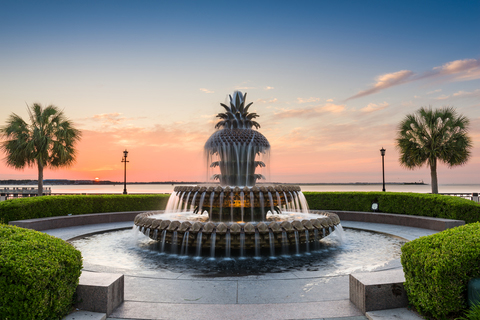 It's been many years since I spent any time wandering in the mid-Atlantic states, but I warmly remember multiple visits to cities from Washington, D.C., all the way down to Savannah, Ga. – mostly related to business but with generous helpings of great food and southern hospitality added in for good measure.
I particularly recall a couple days I spent in Charleston, S.C., in 1996, while drumming up business for magazine I'd just started. Our contacts were spread out all over the state, but the flights were in and out of Charleston: The way the schedule ultimately worked out, I ended up with two full days there on my own – an unexpected late-summer break of which I took full advantage.
I'm always drawn to water and therefore spent most of my time near the harbor formed by the confluence of three big rivers. Fort Sumter is there, which was of interest to me as a Civil War buff, but I also found myself in Waterfront Park, which offered a good walking/people-watching space quite close to my hotel.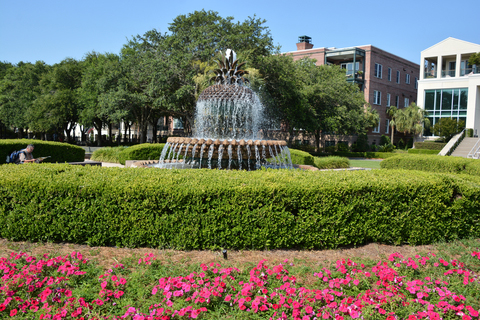 It's not an old park; in fact, it was just a baby when I saw it – and was doubtless a welcome change from all of the dilapidated, burned-out buildings associated with an old wharf and maritime center. The space was designed by Stuart Dawson of Sasaki Associates, the renowned Boston-based landscape architecture firm, and opened in the spring of 1990.
It was quite beautiful when I saw it six years later, and it's now part of the National Trust for Historic Preservation, so I have every sense that it's still as special today as it was when I spent my time there.
I have particularly fond memories of the Pineapple Fountain. Located near the heart of the park, it has a big basin in which children can (and do) find relief from the day's heat. It also has intensely crenellated bowls and sharply articulated details, so the flow of water across its various surfaces not only cools the space but also fills it with cascades of sound that make sitting there an unusually meditative experience.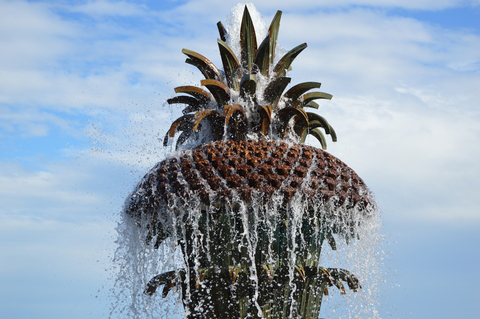 I haven't been able to discover who designed or produced the fountain itself, but it's a bit of perfection in my book, like a fine piece of furniture with just the right proportions, an approachable scale and engaging visual dynamism.
I've always loved artful treatments of pineapples, both because I like eating them as well as for the fact that they've been used to symbolize hospitality for hundreds of years. Indeed, for a while after we were married, Judy and I spent some time assembling a small collection of unusual pineapple décor items for our first home. Most are from the 1920s and '30s, including several that sit atop a table in our living room to this day.
The welcoming message works just as well in our home as it does on the waterfront in Charleston. So the next time you visit South Carolina, do stop by, enjoy the park and the fountain and think about the true meaning of hospitality in a place where it's embedded in the culture.
Pineapple daiquiri, anyone?