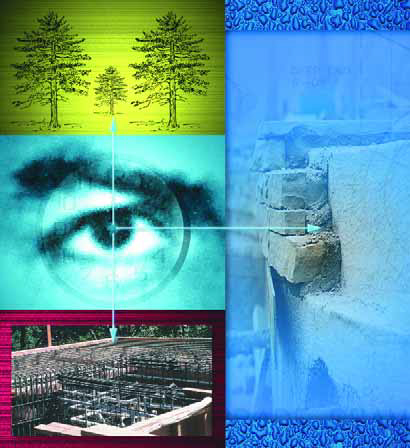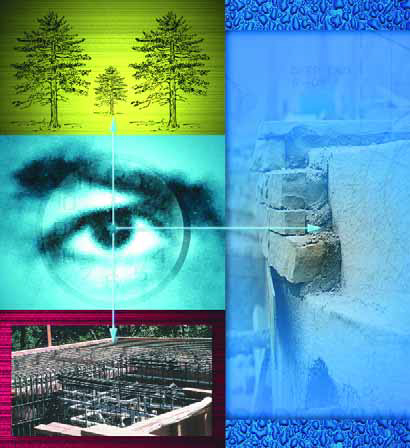 In the past few issues of WaterShapes, I've used this column to share some very specific construction techniques with you – each one a special detail that I've used to add value and interest to my work. Before I did the first in the series, however, I probably should have laid down an important ground rule: Everything that you've seen in this column – and in the other articles and columns I've written and will write in the future – requires both constant and competent on-site supervision.
It's a fact of life: The best design feature in the world isn't worth anything if it isn't executed properly. And no matter how good your in-house staff or subcontractors are, they need guidance when it comes to the nuts-and-bolts work of getting the job done the way its designer intends. (Subcontractors may have superior knowledge of their specific trades, but they are not designers.)
This challenge isn't isolated to watershaping: In any of the construction trades, problems arise through inadequate or inaccurate supervision and communication. You have salespeople who talk to sales expeditors who talk to field superintendents who talk to field supervisors who talk to foremen on the crews of workers. By the time the information is handed down, there's little or nothing there to go on.
But when you have good, tight supervision provided by a knowledgeable overseer working with good crews and a good set of plans, anything is possible. Without those fundamental elements, failure is, to some degree, almost certain. Supervision is all encompassing: It's the difference between building quality and building junk.
ON THE SPOT
Whether you're talking about high-rise buildings or swimming pools, weekly or even daily meetings are required to make certain something that was designed by one person and is being built by another is going to be consistent with the initial design.
Nature loves chaos, and an unsupervised construction project is going to fall off track somewhere along the line, sooner or later (or sooner and later). Problems will start to be built into the jobs in one phase and reinforced or accommodated at each subsequent step of the way. And this can happen when there's good documentation on a job (because not enough people can read the drawings) and with good crews (when they're left to make specific decisions about how to do things on their own).
When you compound all of this with initial designs that aren't all that specific or have been created by someone who doesn't know enough about what he or she is doing, consistency from design through to finished product is almost impossible to achieve.
Let me get brutally specific: I've worked at many levels in the construction business, but I'll single out the pool and spa trades here only because it's what I know best. All too often, what I've seen here is the desire to make a sale, install the pool quickly and get out as fast as possible – a chain of events that all too often leads to inadequate supervision.
In fact, good supervision begins with the sales process. Whether you call him or her an architect, a sales engineer, a sales rep or a design artist, the person working to obtain customers' signatures on the dotted line should have detailed knowledge about the construction process. In many jobs, the breakdown in supervision intrudes right from the start, when a salesperson who knows nothing about construction sells a watershape based on unrealistic promises for a quoted price.
All over the map, you find people selling watershapes who have never worked on a construction job or attended a builder-oriented class of any kind. But as much as anyone actually working on site, salespeople should know the specifics, such as how to run a gas line or what happens to its cost when you run it under the house. They need to know how differing soil conditions will affect costs or the plumbing required to set up a waterfeature or a vanishing edge.
Without observation, experience or education, what you find all too often is a salesperson who doesn't know the first thing about how to plumb a sixteen-jet spa with proper hydraulics, for example – but is more than willing to include one on a job for the sake of closing the deal. It's crazy! I've seen classified ads in the industry's trade magazines that read, "Wanted: Pool Sales Rep. "Will train in two weeks." What that person will learn in two weeks is how to get the customer to sign on the dotted line. It's impossible to know anything about construction until you've been educated either on the job on in the classroom or both.
The point is, when plans are generated by informed salespeople who have a realistic understanding of what it costs to do things right, then all of the oversight and supervision that follows can do some good. In fact, it sets things up so a project can come together beautifully.
ON-SITE OVERSIGHT
In terms of what actually happens on site, there are two key requirements for proper supervision: You have to plan for the time it takes and devote someone to the task; and you have to have someone with the know-how to do it. And by know-how, I don't mean anything superficial: The supervisor needs to know construction processes inside out, how each step influences the next and how every phase of the operation needs to come together.
In my company, that person is me. Almost every single day that I have a crew working on a job, I'm there checking some aspect of the construction and directing the crews in the details. In other companies, that responsibility may fall on a project manager. All too often, however, the person in charge on site has never even talked to the designer about the job – and that's where breakdowns can occur.
The first point in the process where physical supervision becomes crucial is before the tractors arrive. In my own business, the process actually starts at least a week before excavation in a meeting that includes everyone involved in the project: the landscaping contractor or designer, the irrigation contractor, the arborist, the geologist, the homeowner and anyone else who is involved in the project each should provide input. This helps prevent problems right from the start.
Where It's Due
Through the years, I've assembled what I believe is the finest team of subcontractors anywhere in the world – the best I've ever seen, and the people who bring to life the details I describe for you in this column.
I'd like to express my heartfelt thanks to mason Kenny Palmer; woodwork and framing specialist Rick Shevitt; excavator Juan Castanon; plumber Johnny Rodriguez; electricians Russ McFadden and Chuck Succa; steel man Jim Pope; tile specialist Willie Villanueva; gunite applicator Jim Manning; and my team of plaster and pebble specialists, Tony, John and Luis Marquez.
— D.T.
If, for example, the excavation subcontractor comes out and just starts digging without proper inspection and planning, they might accidentally crush or tear out the roots of major trees or dig up a gas line or undermine or directly damage existing slabs. Coordination and preplanning eliminate these fiascos.
Knowledge of available local resources and codes is essential. In Southern California, where I do most of my work, we have a public service known as Dig Alert, an organization that locates underground utility lines before construction begins to prevent disaster. Other parts of the country aren't so fortunate, which means that knowing what's going on in your own area is crucial.
Again, it's common sense. If a tractor comes out and hits an irrigation line, no big deal, it can be fixed – but at what cost in terms of dollars and customer satisfaction? With proper supervision, the excavator doesn't hit the irrigation line, so the homeowner doesn't stand there watching a geyser. So before the surface is broken anywhere, locations of irrigation, gas and plumbing lines are staked out; the locations of the tree roots should are identified and proper clearances set; and planning for the delivery and removal of heavy equipment has been choreographed.
A good supervisor thinks all of these things through and directs the action before any damage can be done. During construction, he or she cannot focus on the things that are going right: The objective is to look for mistakes, inadequacies – things that aren't right. For this person, the satisfaction comes with the end result, not with the little victories along the way.
As the hole is being dug, there should be someone on hand to ensure that the excavation occurs in the right place, with the correct shape, the right dimensions and the proper depths. Site grading for adjoining decks or waterfeatures should be checked for elevations and dimensions as well. Quality really is Job 1, but it's also Jobs 2-102.
FROM START TO FINISH
After excavation, the forming starts. Again, we're talking about nothing less than establishing the dimensions for the structure of the watershape. In my book, the forms must be set at the right elevations and must allow for the dimensions of a properly designed bond beam or raised spa or edge spillway or vanishing-edge trough.
If the forms are set too high, you'll see companies out there jack-hammering away yards of gunite to hit the correct levels (provided they catch the mistake at all). And the vessel itself isn't the only problem here: Improper form elevations can lead to improper drainage on adjoining decks – and you may have a costly situation where water drains into a room of the house.
These elevations are critical: They must be represented properly on the plans, and they must be checked and rechecked in the field.
It's easier, of course, to fix any problem by shooting elevations before anything is built – but it's a living hell if you're answering angry homeowners' questions about why the runoff from a small rainstorm ruined their expensive carpets and furnishings (or washed out their neighbors' expensively landscaped slopes). Supervision prevents those problems; a lack of it invites them.
From start to finish, what all of this boils down to is communication – which generally means you need to work with people you trust. When I started my company, I looked for the very best subcontractors I could find. No matter how small the job was, I met them on site every day and paid them for the work that they did. Through the years, I've built incredible relationships with these people. I'm proud of the fact that most of them are like brothers to me. We work hard, laugh, do great work and enjoy the fruits of our labors.
Make no mistake, these subcontractors know what they're doing, but just the same, I need to supervise them, the reason being that no mater how good they are, they still can't read my mind. They can build exactly what I tell them to, but if I don't tell them, they're going to use their own judgment – and if that judgment is wrong, it's my fault, not theirs.
I work with the best, but even my subcontractors aren't geologists or structural engineers or architects or designers: They're craftspeople, and they need to be guided. When you let them make critical decisions of craft or construction, then you've lost control.
PERFECTION IN STEPS
I could go on and offer hundreds of examples and anecdotes where supervision will make or break a project. I won't belabor the point; suffice it to say that excavating and forming are just two of the areas where hundreds of details can get off track is someone isn't there to control the process of making them happen.
For example, if the steel is set wrong, the vessel will have an incorrect shape or one that is not as structurally sound as it should be for the site. Never make the mistake of thinking that following trade will compensate properly for errors made upstream: You cannot assume, for example, that the gunite contractor will fix things!
Similarly, if the forms are set incorrectly or move a bit during steel work, the shell could be shot to an incorrect thickness. If you're working in acidic soil and the pool is shot with Type 2 concrete when you should be using Type 5, then the structure is going to be vulnerable to chemical attack by the surrounding soil.
Without proper supervision, decks could be installed over inadequate or incomplete conduit runs needed for lighting, remote controls or an alarm system. In the finish phase, the transitions between different materials could be handled incorrectly, leaving gaps between things like pre-cast coping and stone decks.
By contrast, with proper, competent supervision, each phase of the process can unwind and flow smoothly, with no need for adjustment, alteration or reconstruction. And if things do crop up along the way, it helps everyone's morale and the bottom line if it's an isolated thing that doesn't give anyone a sense that the process is spiraling out of control.
To make this all work, a good supervisor is always asking questions. Have we left enough room for the deck, and is it at the right elevation? Is there proper waterproofing around those boulders and in places where different structures interface? Does the work meet local building-code requirements?
The questions that come up from job to job are always different. No two homes are identical, no two lots are exactly the same, every customer is different, the ground is different, the trees are different, the materials will probably be different, you may be working with different subcontractors and your luck will be different. Fact is, you must treat each project as an original – and supervise accordingly.
Call it quality control, attention to detail or perfectionism, there's no substitute for supervision. It has to be there, every time, all the time.
David Tisherman is the principal in two design/construction firms: David Tisherman's Visuals of Manhattan Beach, Calif., and Liquid Design of Cherry Hill, N.J. He can be reached at [email protected]. He is also an instructor for Artistic Resources & Training (ART); for information on ART's classes, visit www.theartofwater.com.