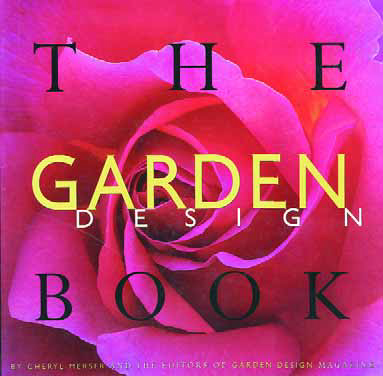 For watershapers looking to grow into broad, integrated exterior designs that extend beyond the water's edge, The Garden Design Book (compiled by Cheryl Merser and the editors of Garden Design magazine) is a great place to start.
Published by Harper-Collins in 1997, the book draws on years of articles published in the magazine, a wonderful publication for both amateur and professional gardeners. Throughout the 300+ beautifully illustrated pages, Merser and company offer a huge stock of valuable information for those in quest of complete environments.
Merser is not a designer, and one of the things I like most about the book is that she amasses and presents information without apparent stylistic bias. Instead, she covers a broad range of garden types in four major sections that illustrate and advocate basic garden-design principles.
The first section has to do with designing for the senses. I found this particularly refreshing because, too often, discussions of garden design are confined to the visual. Instead, Merser selects articles on designing for touch, smell, sound and taste that should be of particular interest to watershapers, given how interactive and dynamic water is across all the senses.
The second section covers a garden's major design elements (other than plantings). These include water, pathways, structures and boundaries – all of them critical to the infrastructure or "bones" of a garden – as well as arbors, pergolas, gazebos and porches.
This section also digs into garden ornaments, including birdbaths, sundials, urns and statuary – all with an eye toward integrating these elements into the complete garden design. It's just the kind of broad information that can inform and inspire watershapers who might tend to focus on a single element to begin to integrate their work into overall settings.
The third section is all about plants – a tough subject because plantings are so tied to climate and geography. To dodge that problem, Merser and staff looked instead at fundamental aesthetic issues of color and texture and at broad classifications, such as climbing vines or plants used for ground cover. For people who want to get into planting plans or simply have a greater understanding of garden flora, the book does a nice job of demonstrating how various types of plants can be combined in different ways.
The fourth and final section of the book offers case studies across a range of garden types and styles – each one described in great detail with plan views and lots of photos. The range here is broad, from courtyard gardens to huge estates. What I appreciate most here is how the articles demonstrate ways to transition from one style to another within a single project.
For those who want the Big Picture on garden design, this book carries my highest recommendation. Two others come to mind as well: The Book of Garden Design by John Brookes (Doring Kindersley Ltd., 1991) is extremely useful in understanding highly formal designs, while Bold Romantic Gardens by Wolfgang Oehme and James Van Sweden (Acropolis Books Ltd., 1990) offers vastly useful coverage of gardens in a range of styles. Although more than a decade old, these texts are both available on the Internet and in technical bookstores.
Mike Farley is a landscape designer with more than 20 years of experience and is currently a designer/project manager for Claffey Pools in Southlake, Texas. A graduate of Genesis 3's Level I Design School, he holds a degree in landscape architecture from Texas Tech University and has worked as a watershaper in both California and Texas.