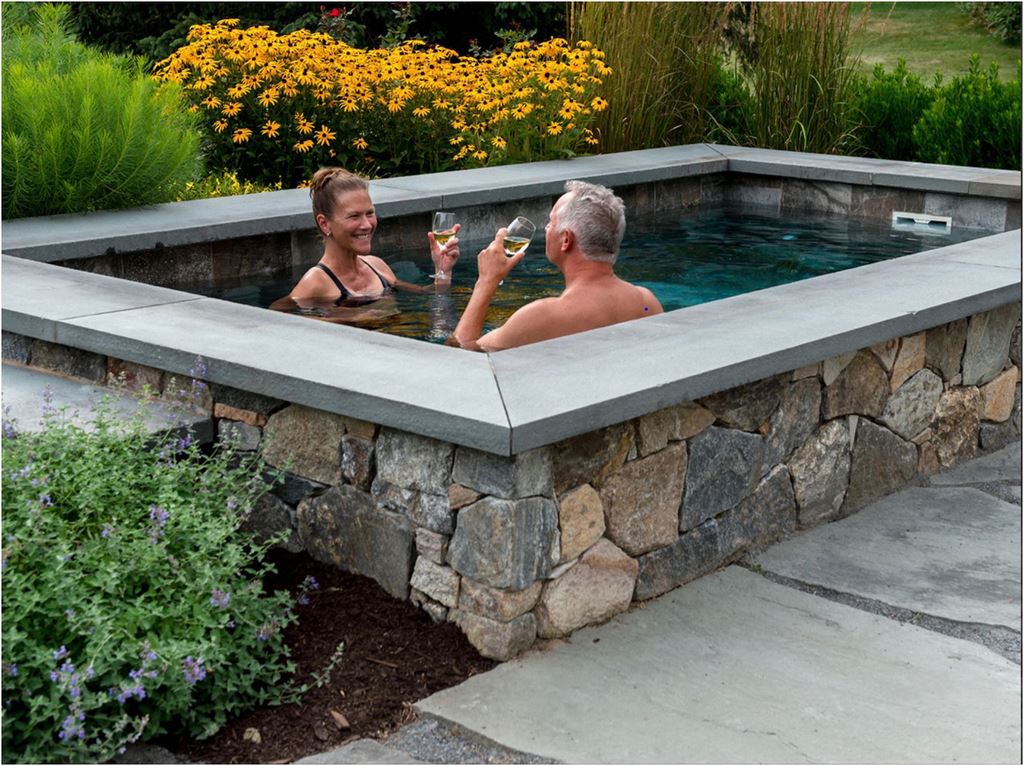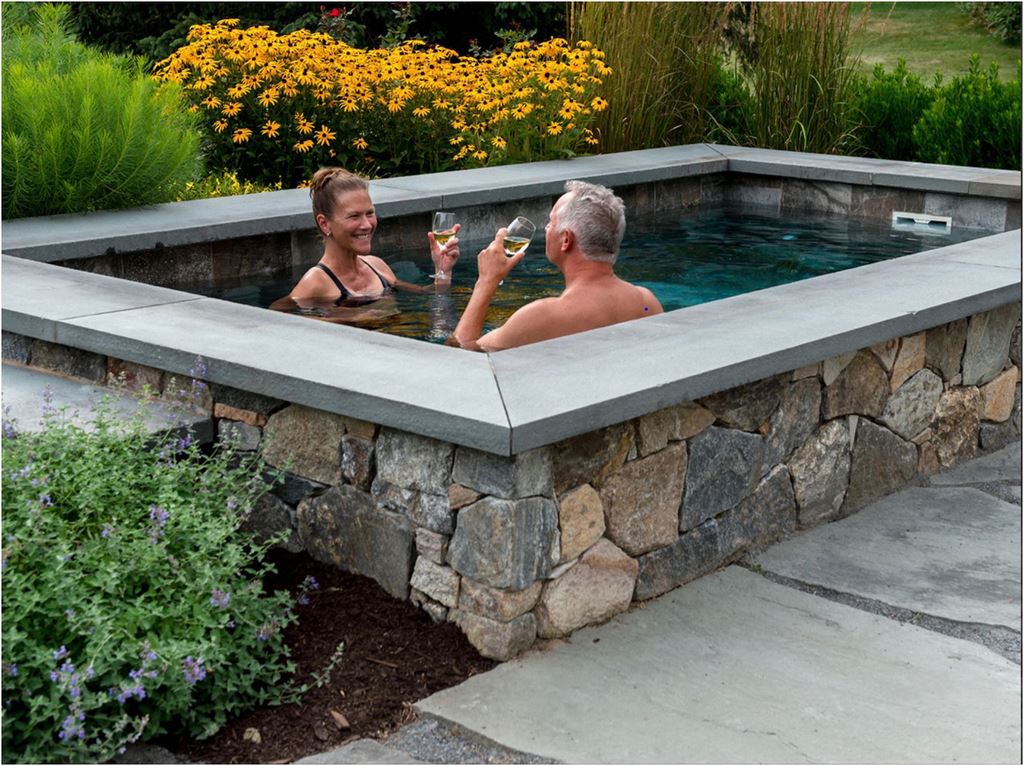 The enjoyment of soaking is universal, say Karen Larson and Brian Larson, or at least it has that potential. The founders of New Hampshire's Soake Pools set out to offer a concept that combines the health benefits of immersion in hot or cold water, with the convenience of compact, pre-manufactured concrete pools, a business concept that has steadily gained momentum over the past seven years.
By Karen Larson and Brian Larson
The old adage is true that sometimes big things come in small packages. That's certainly been the case with our business, Soake Pools in Pembroke, N.H., which provides pre-cast "plunge pools" for residential clients. The pools may be small by comparison to many, but the benefits and advantages are impressive nonetheless.
When we started the company back in 2014, we had no pool-industry experience and were looking for a product that didn't yet exist. We found what we were looking for on vacation in Vermont, where we experienced a small warm-water, all-tile "plunge" pool. We thought how much we'd like to have a pool like that in our backyard. But when we called pool builders in our area here in New Hampshire, no one was willing to build a small pool. It seems the economics of constructing downsized vessels was unfavorable from a builder perspective.
That was both somewhat surprising and frustrating, so we set out to design a pool that would meet our needs and provide the type of relaxing, soaking we had experienced on vacation. We worked with a team of engineers in the design process, and installed the in our own backyard, both for our own personal pleasure, and to prove the concept.
BIG POTENTIAL
We let our own design preferences be our guide, which is what we encourage our customers to do. For example, we really like the large-format porcelain tile as a finish. It's durable, beautiful and makes a strong stylistic statement and it is available in spectrum of sizes, patterns and colors.
Building our own pool to our exact tastes was easy, but when we looked at this from a business standpoint, it was far more challenging. Our basic concept is to create plunge pools, which we call "Soake Pools" that are small in comparison to a more standard swimming pool and can be run either with hot water or cold water. Our pools are made of precast, reinforced concrete, premanufactured and delivered to the site ready to install, dramatically reducing both the cost and the time it takes go from concept to a fully installed pool.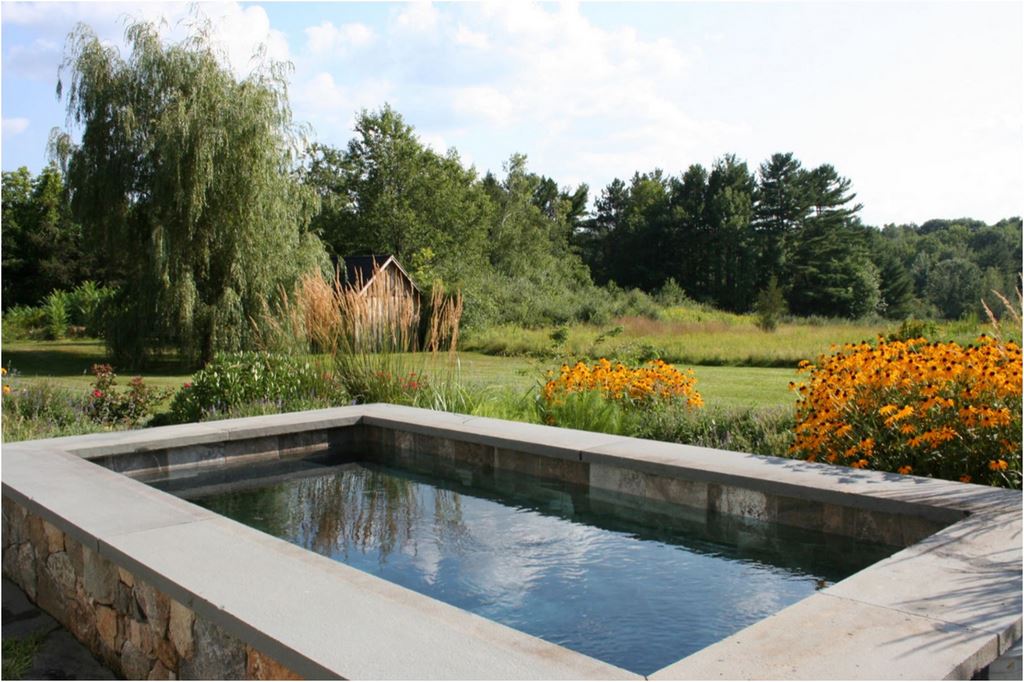 There were many sources of inspiration that drove our interest in this business. Roman baths, for example, are an ancient and much larger version, but based on the same idea of soaking in different water temperatures to experience a spectrum of health benefits. Also, capturing the beauty of those pools but in a smaller setting was a big part of our motivation, and why we gravitate towards quality finish material, like tile and stone.
We were also inspired by the European and especially French countryside plunge pools, which are common across the Atlantic. Some of the earliest plunge pools were naturally formed, in places like Spa, Belgium (where the term came from) and have been in use for centuries with all sorts of colorful history and cultural significance. We're working to bring that tradition to the U.S. market
We had a lot to learn about the industry and we knew it would be a process to gain people's trust. Pre-manufacturing concrete pools represents a dramatic departure from the standard industry practice of building vessels on site using multiple trades and subcontractors, and there was a need to demonstrate that these pools are properly engineered and constructed.
Even with the initial reluctance and skepticism, our pools were successful from the start. Most people we've encountered both on the professional and consumer side seem to really appreciate the idea for a variety of important reasons. Still, building that initial portfolio of projects was key in helping other people connect the dots and see the value. Fortunately, we worked with some terrific installers and great clients, and the end product in the settings looked great.
CONTROLLED CONSTRUCTION
By premanufacturing the pools, we're able to remove a great deal of the variability and possibility of construction defects from the construction process. Pre-casting is common across wide spectrum of products, and because it's done in controlled and engineered manufacturing environments, the products are extremely reliable. Frankly, it's been easy to find pre-casters that do a great job.
We like the fact that concrete is durable and can be made free-standing with the correct structural design, and lends itself to aboveground, installations, as well as partially or completely inground. Concrete is also the best substrate for tile, and all the creativity and aesthetic possibilities you have when working with tile finishes.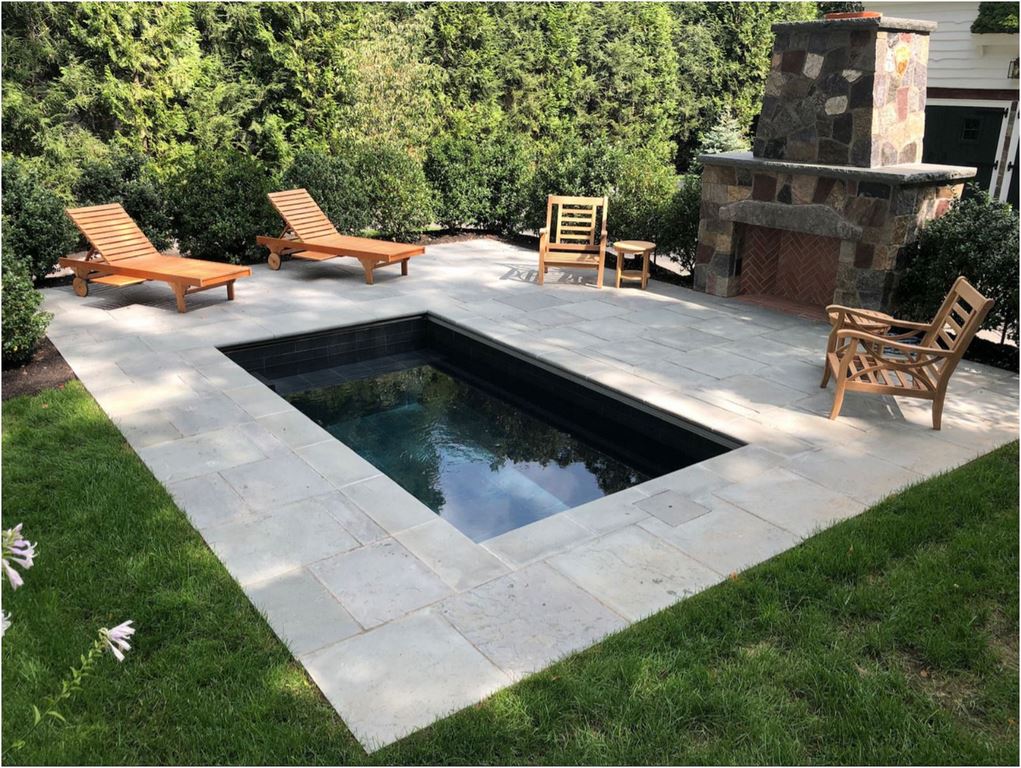 Because we're building small vessels that can fit on a truck, we saw an opportunity to serve the market in a way that's different from gunite builders, who are interested in larger project because of the economics of working on a bigger scale.
Soake Pools are all rectangular and come in three sizes: our most popular model, the Full Plunge, is 13-by-7 feet (inside) with a depth of 4-feet 11-inches. The Medium Plunge is 10-by-6-feet (inside) and 4-feet/11-inches deep. And the Petite Plunge is 8-feet/9-inches-by-5-feet (inside) and 5-feet deep. The walls are 4 inches thick with a 6-inch floor.
They are pre-cast with high-quality concrete in an NPCA Certified plant. We've admittedly over-engineered the rebar so the vessels can sit above ground in a deck scenario as well as in the ground.
We have a couple of fantastic pre-cast partners that manufacture the vessels. We provide the form, or the "cake pan" and they bake the cake for us. Then we bring the pools into our facility where we do the tile work and we use different methods of waterproofing, which includes an admixture at the precast plant that makes the concrete more resistant to moisture intrusion, and then we roll on a membrane inside the pool beneath the tile thinset.
We use porcelain tile, which is durable in varying temperatures and it has a very low absorption rating, and we use epoxy grout. It all adds up to a system that is very robust and resilient in a submerged environment. For aboveground installations, the outsides of the vessels are finished with a variety of stone surfacing materials. Between the variety of the interior and exterior finishing, the pools can visually harmonize with virtually any design style.
The plumbing penetrations are handled in-house prior to installation. There are some options for locating the skimmer and the number of return jets. All our systems are engineered to maximize hydraulic efficiency, and they arrive on site ready to install.
HOST OF BENEFITS
Certainly, the benefits of soaking are well-known. Warm-water soaking will relieve stress, relax muscles, help you sleep, relieve pain, burn calories and according to recent research improved insulin sensitivity, which helps combat diabetes. Soaking in cold water not surprisingly helps you cool down, especially when overheated during the summer months or after a vigorous workout. It also reduces sore muscles, has been proven to combat depression in some people, can improved your immune system and fights inflammation.
Not surprising, we have many customers who prefer the warm soak in the winter and cooler temps in the summer. We love the fact that many of our clients enjoy comfortably experiencing nature, especially when it's cold outside. There's something about sitting in warm water beneath a clear winter sky that is both inspiring and relaxing.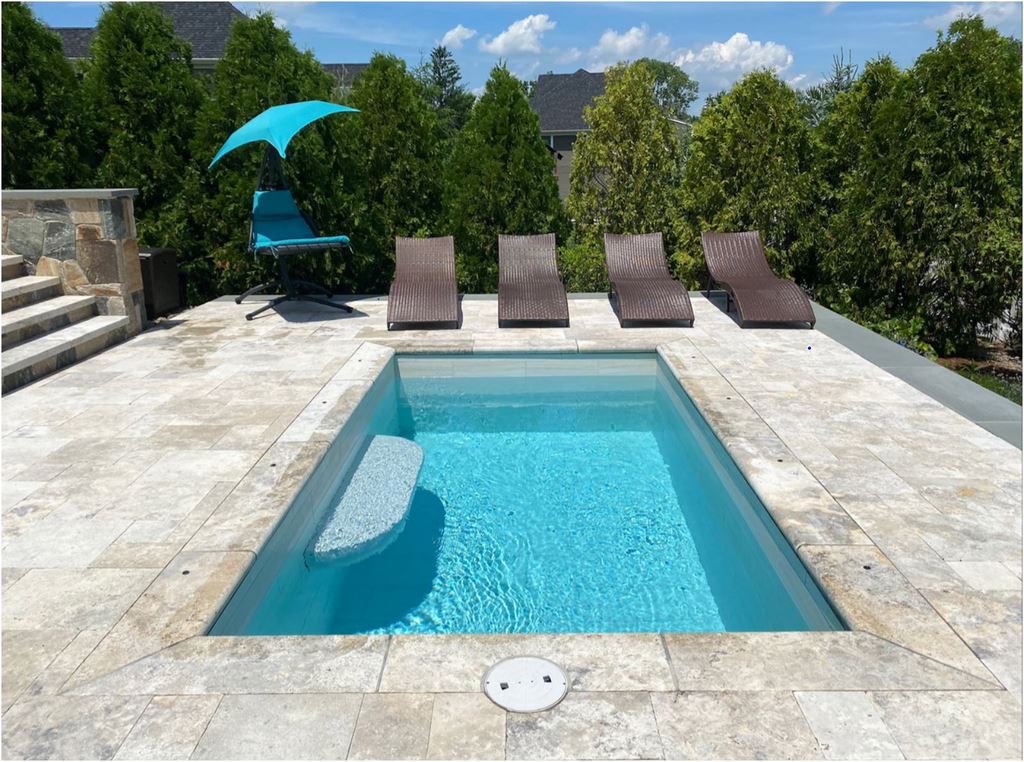 We've found that silence is valuable in these settings, where you're looking at the stars and want to hear the subtle sounds of your environment and not be distracted by the noise made by the vessel you're in. While we fully appreciate the benefits of hydrotherapy jets used in hot tubs, there's beautiful psychological aspect to the quiet of soaking.
Our pools also offer a range of practical benefits outside of the health advantages. The appearance is easily customizable with a variety of interior and exterior finish materials. Because they're pre-manufactured and smaller than other pools, the construction cost is lower and installations are accelerated. They save space, increase property values, are energy efficient, conserve water, and are easy to maintain. They can be used year-round with the hot-water and cool-water operating modes.
Standard features include:
Fully tiled interior, chosen from our selection of approved tiles
Salt-water sanitation
Variable-speed pump, and filter
LED pool light
Engineered and reinforced concrete shell
Automation-control from smart phones or computers
Optional features include:
Propane or natural gas heater
Custom seats
Lockable pool cover (We recommend preferred covers, based on local code requirements)
Custom tile designs
THE JOY OF SOAKING
We've found that both homeowners love Soake Pools for many of the reason described above. We've created a beautiful canvas with all of the different tile and exterior-finish options that enables to client to have the pool that best fits their taste and their home.
We're also thrilled that the expediency of Soake Pools has enabled our dealer/installers to meet the surging demand in a timely fashion. Our hope is that as more people experience the joy of soaking in one of our pools, the word will spread and the powerful benefits will become more widely available to those who enjoy soaking their way to a more enjoyable lifestyle.
Brian Larson, co-founder of Soake Pools spent 30 years in high tech sales and marketing before developing the first Soake Pool in 2013.
Karen Larson, co-founder of Soake Pools, has a background is in textiles and interior design. She enjoyed working in the interior design field and even owned a chocolate shop at one time.