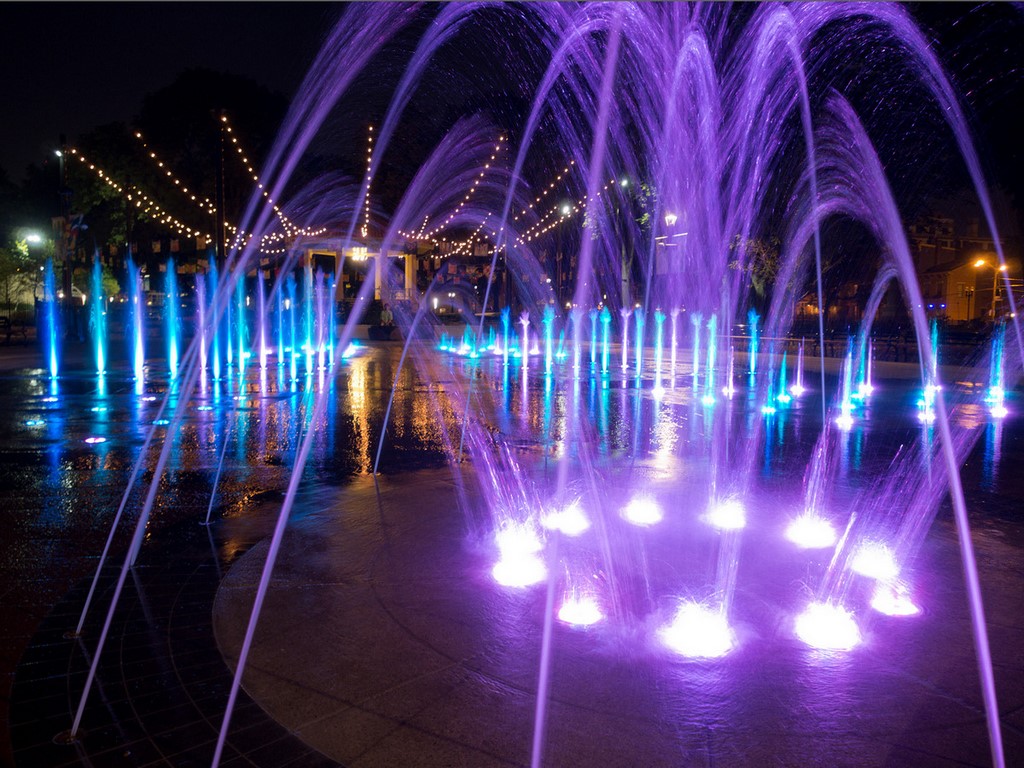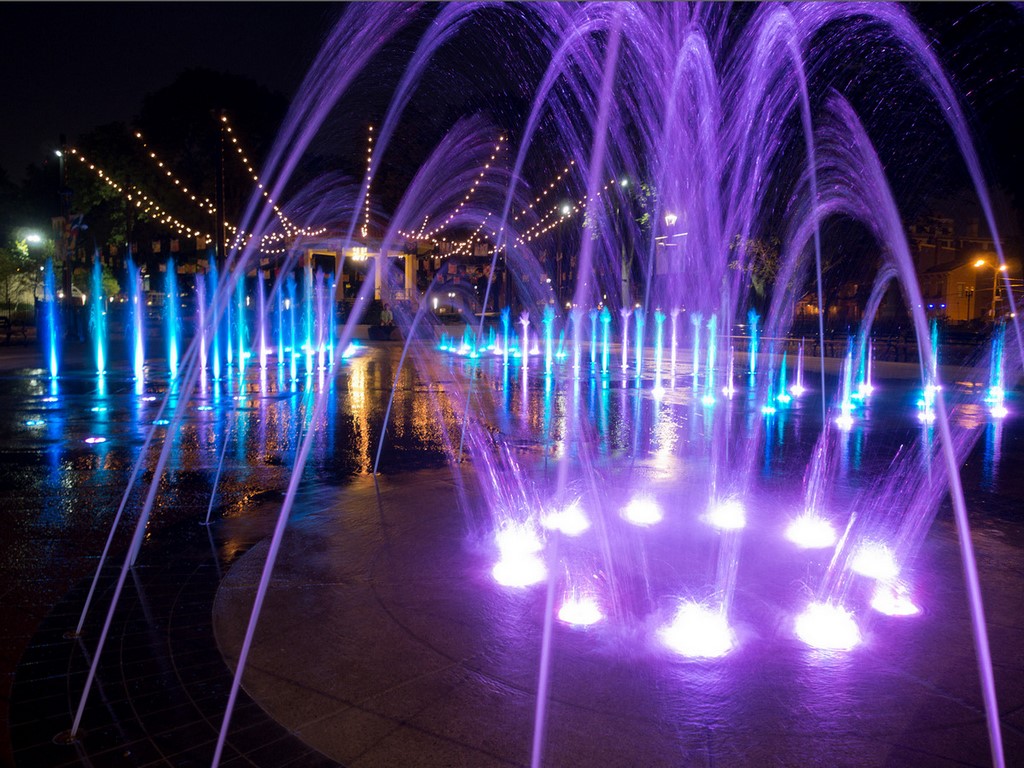 Picture this: A seaside fountain in which jets of water are arrayed and programed to emulate a Pacific Ocean swell. It's designed as a mirror to existing conditions, using real-time ocean-observation data to determine the exact timing and height of the fountain's jet sequence.
Or this: An installation scheduled by its managers to function as an interactive-play fountain at certain times of the day when children are likeliest to be present, or as a musical/performing fountain in the evenings or at other times when the property owner's desire is to entertain and help people relax.
Or this: A fountain that dances in response to a piece of classical music – any piece of classical music – without the need for tune-specific programming. The system "listens" to the music's beat, volume and intensity and immediately interprets what it hears with varying levels of jet activity. At night, the lighting system responds in the same dynamic way – and, completing the sense of involvement, the control system allows visitors to choose the musical selections using their own smartphones.
All of this is happening with fountains these days, and the great thing is that older, existing control systems can be reworked to allow for the same kind of multi-function flexibility boasted by brand-new installations.
DESIGN SPECTRUM
Before we consider technological details, let's focus on the most fundamental decision in fountain design – that is, whether the waterfeature is intended for interactivity or for performance or, alternatively, takes a hybrid form encompassing both play and display.
Interactive fountains – the sort in which children get soaked and cool off on hot summer days while moving through arrays of deck-mounted jets – are increasingly popular these days because they encourage broad-scale participation and lure the public, especially families, to recreational and social hubs.
By contrast, performance fountains are meant to seen, with dazzling displays that make them dramatically attractive in public spaces. These installations frequently appear within basins or in larger bodies of water that in some way separate the public from the jets.
Washington Park
Cincinnati, Ohio
Employing our systems, downtown Cincinnati's Washington Park fountain plays a music selection once every half-hour, with chimes announcing songs the same way patrons are ushered back into symphony hall seats after an intermission. In between these spontaneously choreographed musical performances, the system cycles through a routine of sequences intended for play.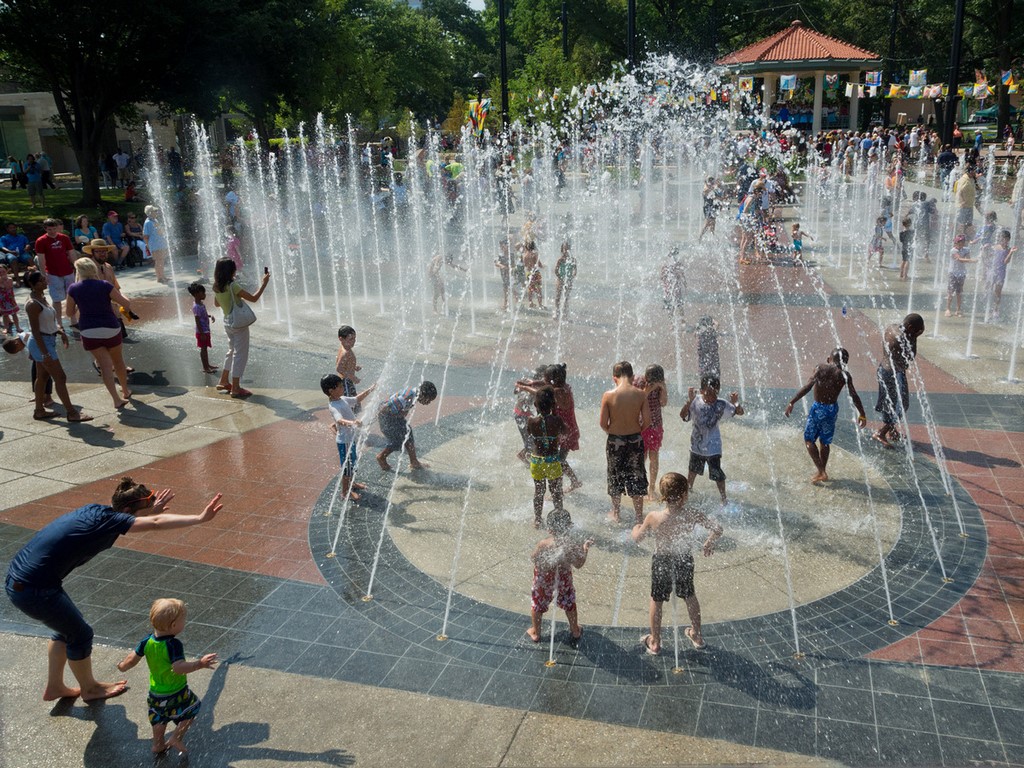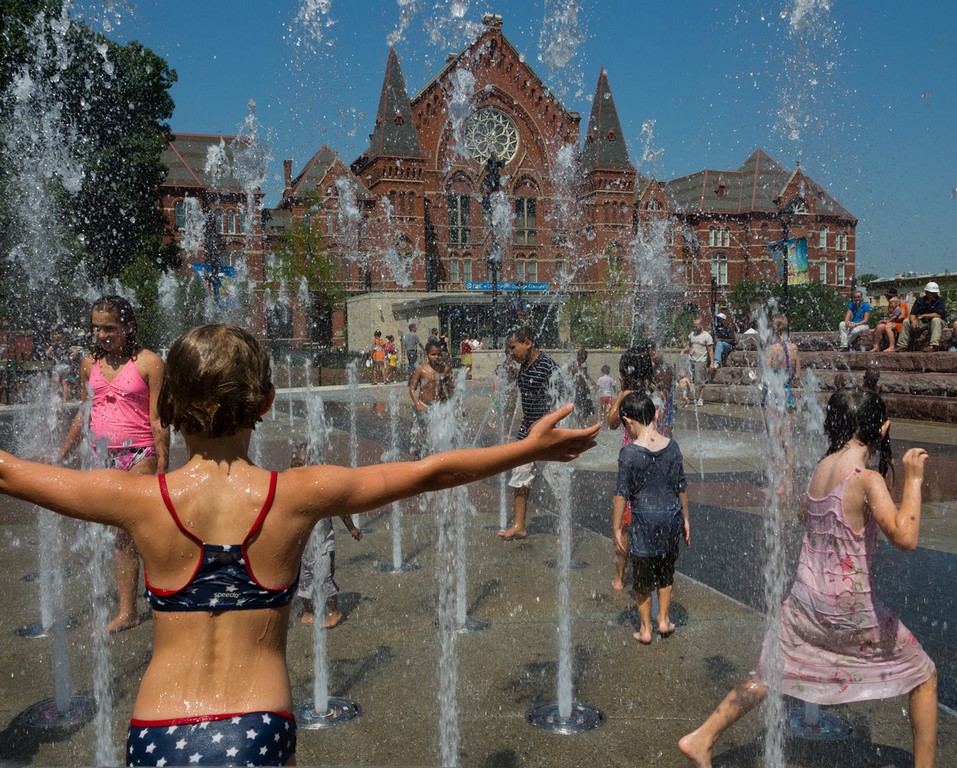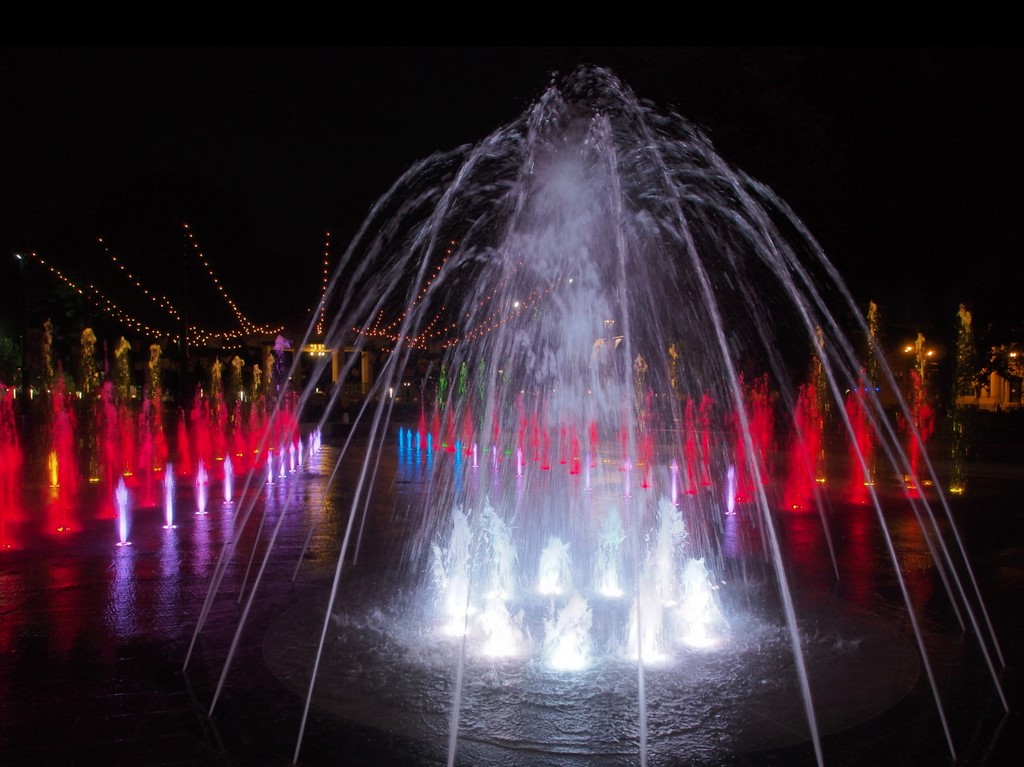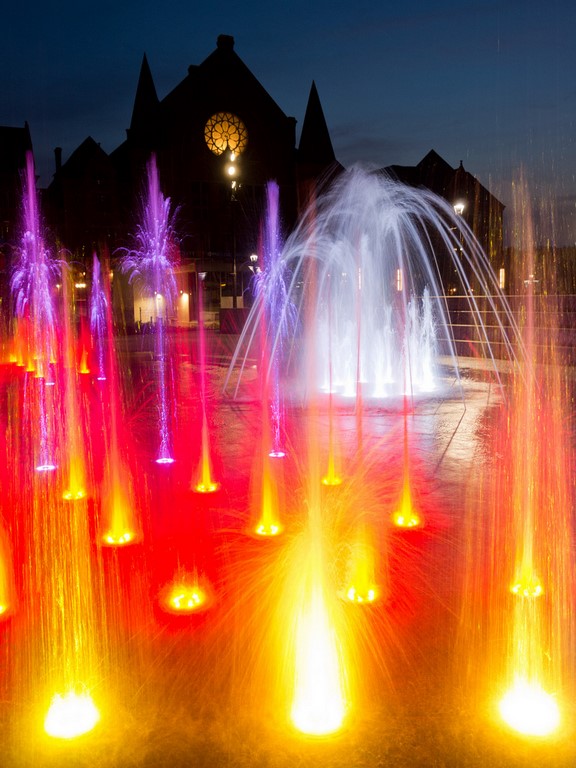 Park visitors with Wi-Fi devices have the ability (and privilege) to select among recordings recommended by the American Classical Music Hall of Fame, which is located across the park next to the Cincinnati Music Hall.
The system features 108 individually-controlled Choreoswitches (provided by Crystal Fountains, Toronto, Ontario, Canada) driven by seven pumps, giving our system ample opportunity to generate dynamic shows.
To see a video of this fountain in action, click here.
That point about separation underscores a general distinction between these two fountain types: Interactive fountains typically use flat decks with jets of relatively low power and height as a matter of public safety; by contrast, display fountains tend to use basins and have larger-bore, more powerful jets that send water much higher into the air, thereby attracting the attention of even distant observers.
As examples of these concepts of interaction and performance, the Fountain of Rings in Atlanta is generally referred to as a purely interactive fountain, while the Fountain at Bellagio is seen as purely a performance fountain. Despite the distinction, however, these fountains have something important in common: Their jet arrays dance in time to music!
My company, H2Oarts of Santa Paula, Calif., typically operates at this musical intersection of play and display, using what we call our "spontaneous choreography system" to control both new and existing fountains of all types – interactive, performance or hybrid combinations of the two.
The Shoppes at Westlake Village
Westlake, California
This dramatic fountain runs a routine loop of scenes and sequences until audio from the venue's music server is directed to our show-control computer, which then automatically switches to spontaneous choreography mode.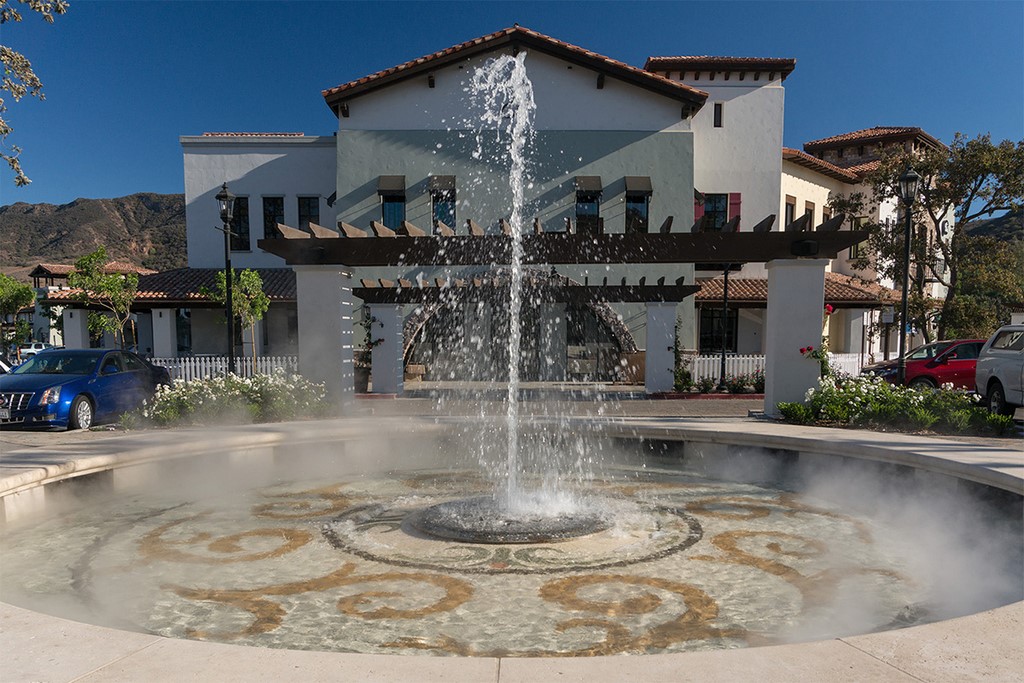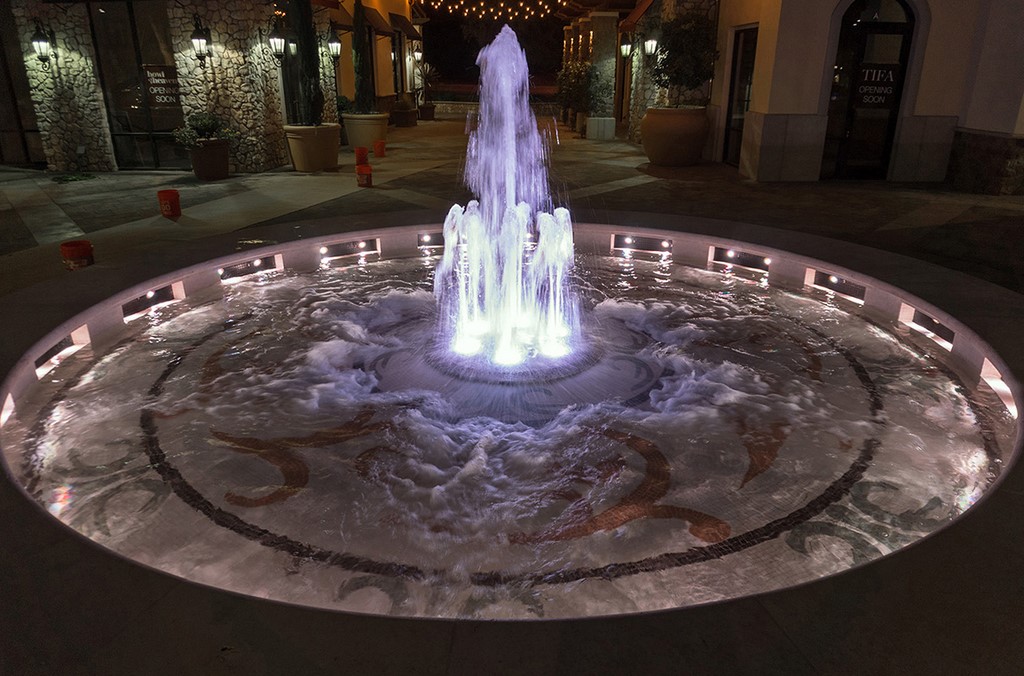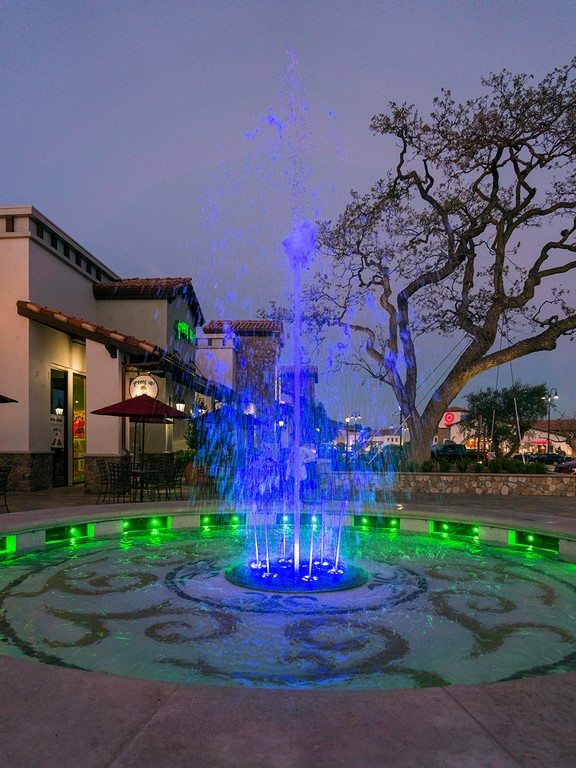 The fountain features a wave/surge effect, fog, arcing jets and a large bore "geyser" – all lit by RGB LED niche fixtures.
To see a video of this fountain in performance mode, click here.
I started working with fountains in 1998 after having spent many years in multimedia design and production for various installations and web sites. I had just completed work on a large-scale, multi-screen video array at the MGM Grand Hotel in Las Vegas when I was approached about a dancing-water project at the facility's entrance.
At the time, well before we developed our current system, programming a large-scale dancing fountain was a tedious exercise. I spent days next to the MGM fountain – late at night in the middle of winter – waving my arms around and trying to convey my vision to a lighting-board operator whose constant question was, "Is that what you're after?" My answer was almost always "not quite," and we'd head back through the same process all over again.
Programming anything by successive approximation is never much fun, and I knew there had to be a better way.
CUTTING A PATH
Eventually, I developed a software package that applied to fountains what I'd learned through years of working in multimedia production. My earliest attempts were mostly about finding an efficient way to complete the programming tasks. As time passed, however, simplicity and economy both became part of the picture – a good thing given the fact that most systems available at that time were relatively inefficient as well as complicated and expensive.
The key in all of this for my clients is that the automation system is user-friendly. That in mind, the end-user interface is mainly a grid of buttons for use in manually overriding the pre-programmed, completely automated, easily scheduled operation for the purpose of maintenance and special events. That's all there is to it – pretty much on or off.
Hilliard's Station Park
Hilliard, Ohio
Running from Spring through Autumn, this city park's fountain plays multiple roles. In early- to mid-morning, our automation system runs pre-programmed, low-key, non-musical ambient sequences.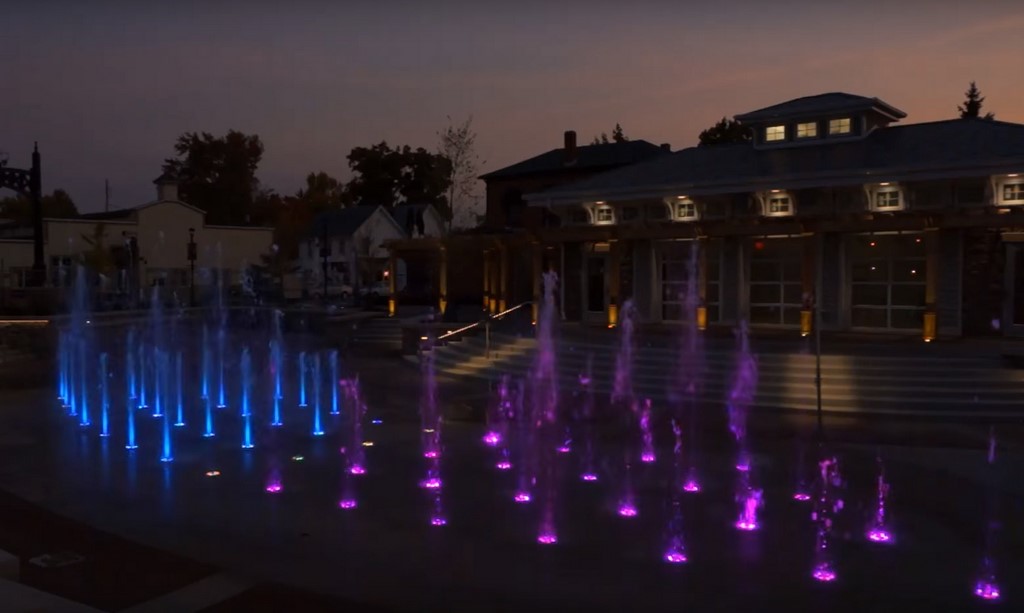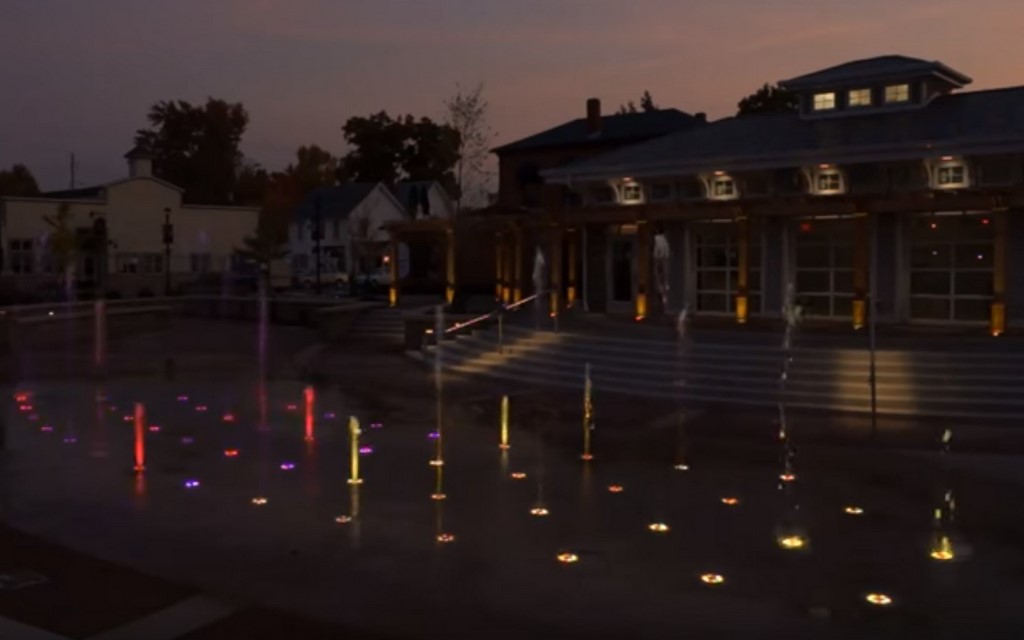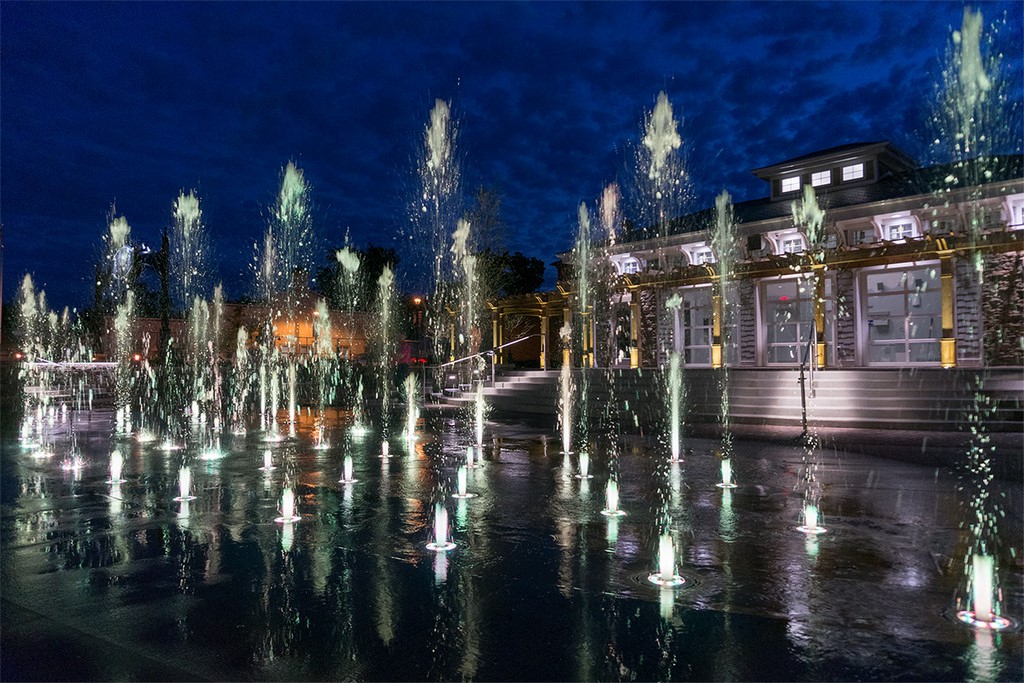 As the day heats up, the system runs dynamic play sequences – and, when Hilliard's Parks Department staff activates the Pandora music server, usually in the evening, the fountain automatically switches to spontaneous choreography mode.
For a brief look at an evening musical show, click here.
We program in all of the response levels for the fountain jets and light fixtures, tailoring water heights and pacing and lighting color and intensity to respond to any musical selection. We also establish seasonal lighting modes (red, white and green lighting for the Christmas season, for example) and provide overlays for special occasions (such as patriotic imagery and intensity for the Fourth of July). So all the venues' managers really need to do is see to it that a proper audio line level is delivered to the control interface, which analyzes and responds to the sounds heard at the fountain zone's speakers. We've done the rest for them.
Some management folks are more interested than others in having the ability to change shows and modes, but the maintenance people in either case have little trouble figuring out the interface and delivering desired results. And if the need arises, we at H2Oarts can always access the system remotely and take control.
Casino Del Sol
Tucson, Arizona
The "play" aspect of this atypical fountain extends from the fact that it shares space with the resort's swimming pool. At scheduled times in the evening, the poolscape transitions to become a show fountain in which 18 of Crystal Fountain's laminar leaping jets are driven by two pumps – one on each side.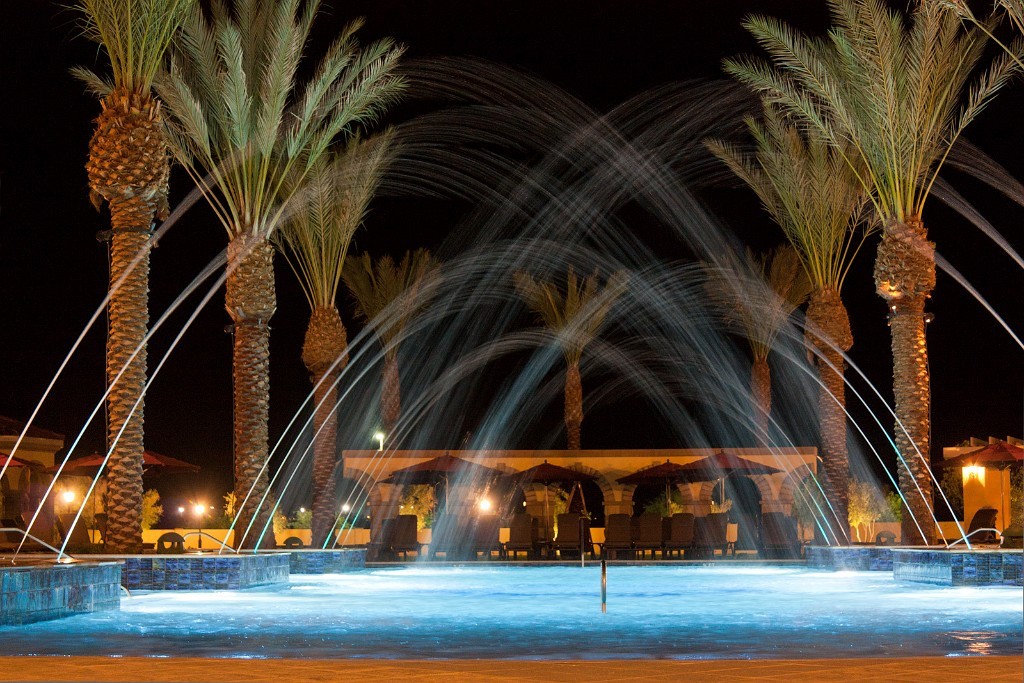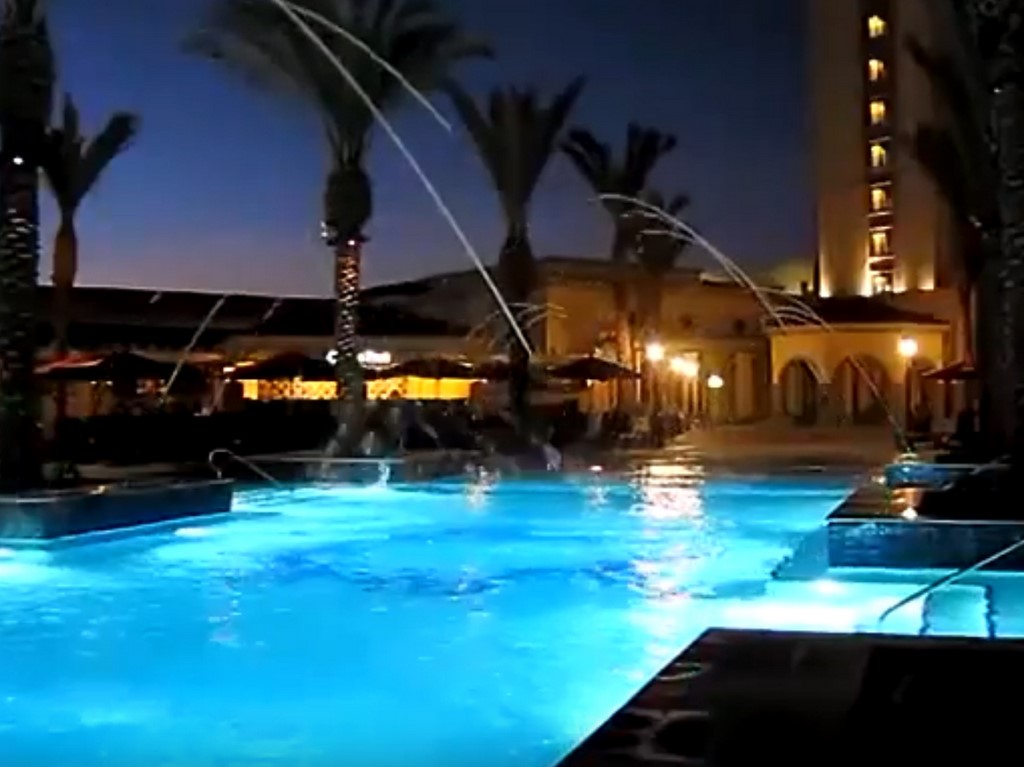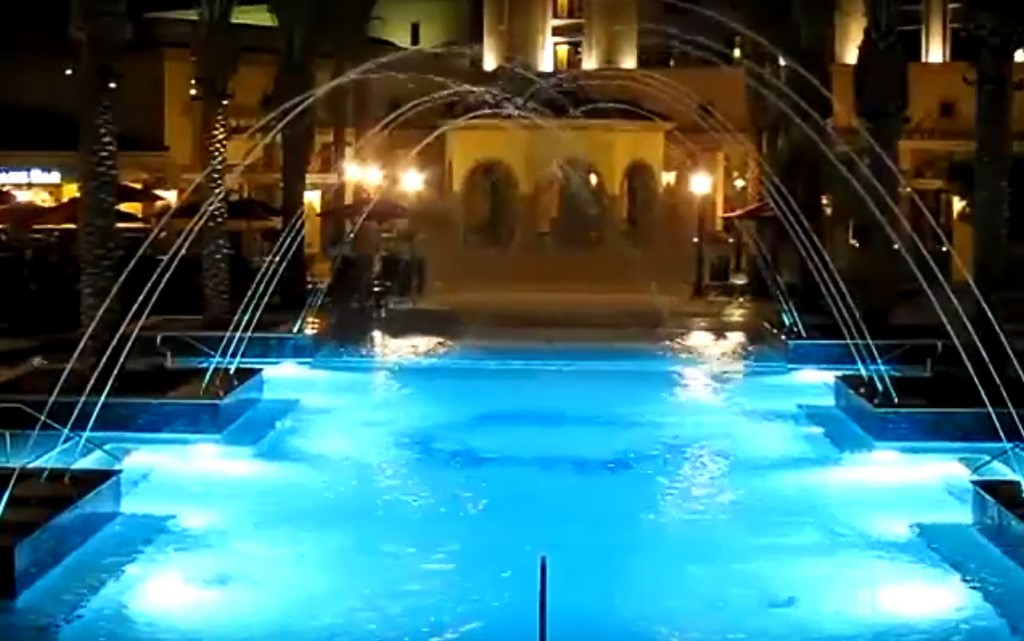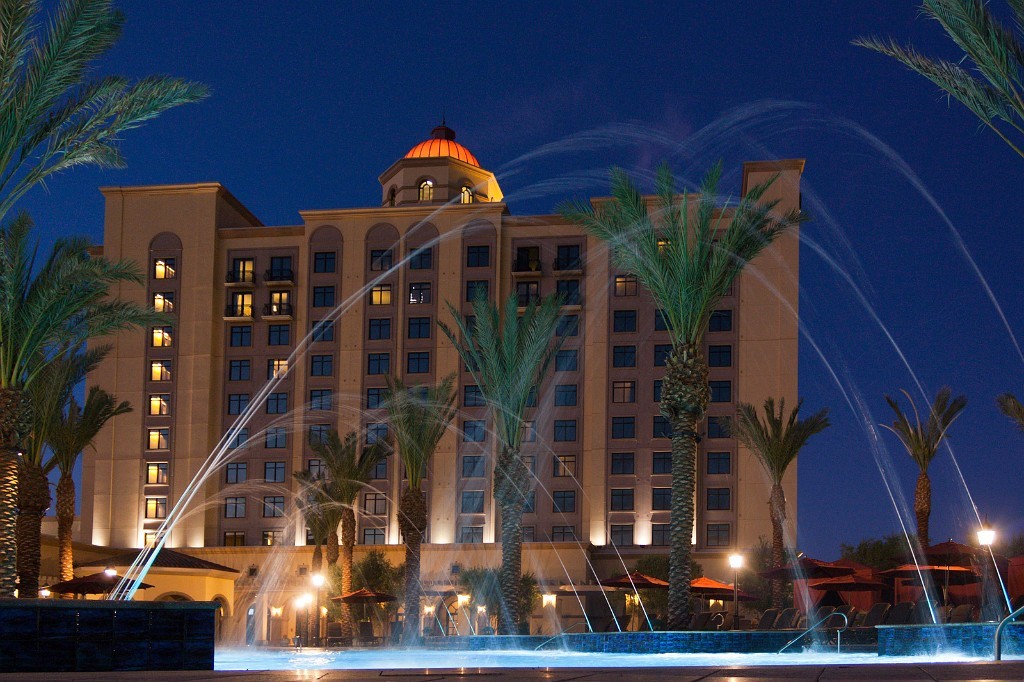 It's one of the rare instances in which a fountain with a basin is suitable for play!
To see this unusual fountain in action, click here.
In my presentations to various decision-makers, it's clear that the flexibility and responsiveness of the systems I'm proposing are crucial. These owners and managers are usually familiar with elaborately programmed options that use individualized, song-by-song choreography that severely limits the ways fountains can be used with respect to playlists as well as ease in transitioning through seasonal or event-oriented options.
The thing these folks crave most is a what-you-see-is-what-you-get approach to fountain automation: They don't like depending on outside resources for more than routine maintenance, nor do they enjoy the ongoing expense of bringing programmers on site to make changes, work with new songs or deal with system issues. Our spontaneous choreography system offers them a simpler path, whether they're planning a new fountain or updating an existing one.
River Heritage Park
Florence, Alabama
Located on the banks of the Tennessee River, this large-deck waterfeature lends itself to big play, with powerful pumps and eight tower-mounted RGBW LED fixtures, but it also transforms into a dynamic musical show for up-close viewing as well as from the nearby 26-story Renaissance Tower.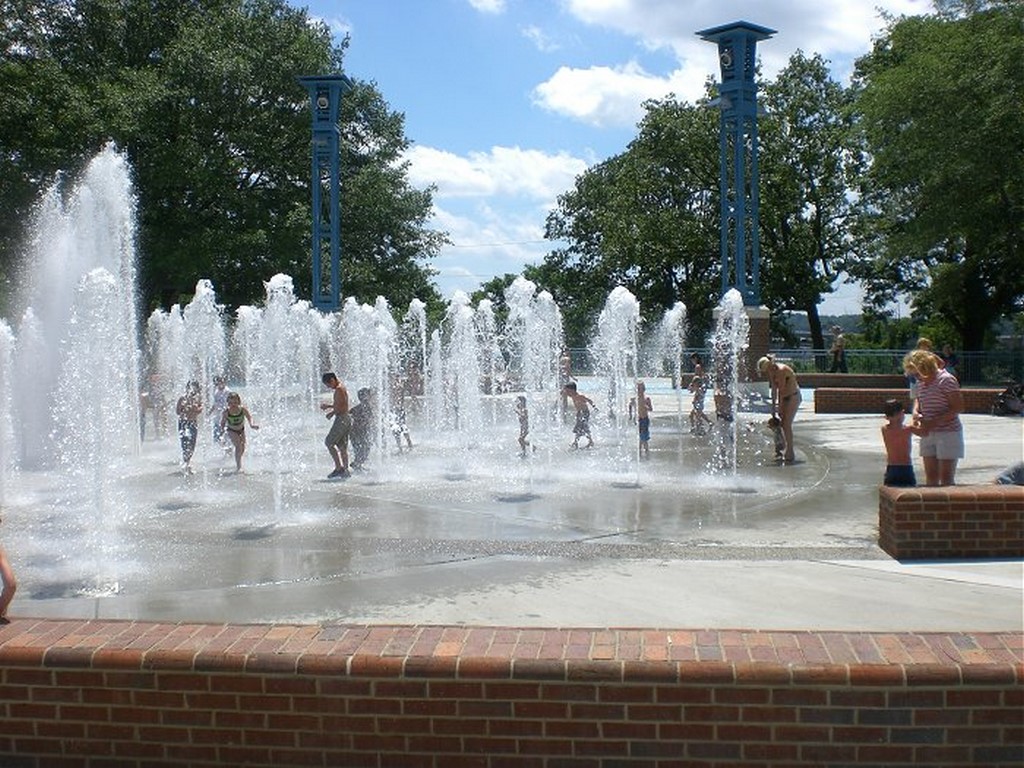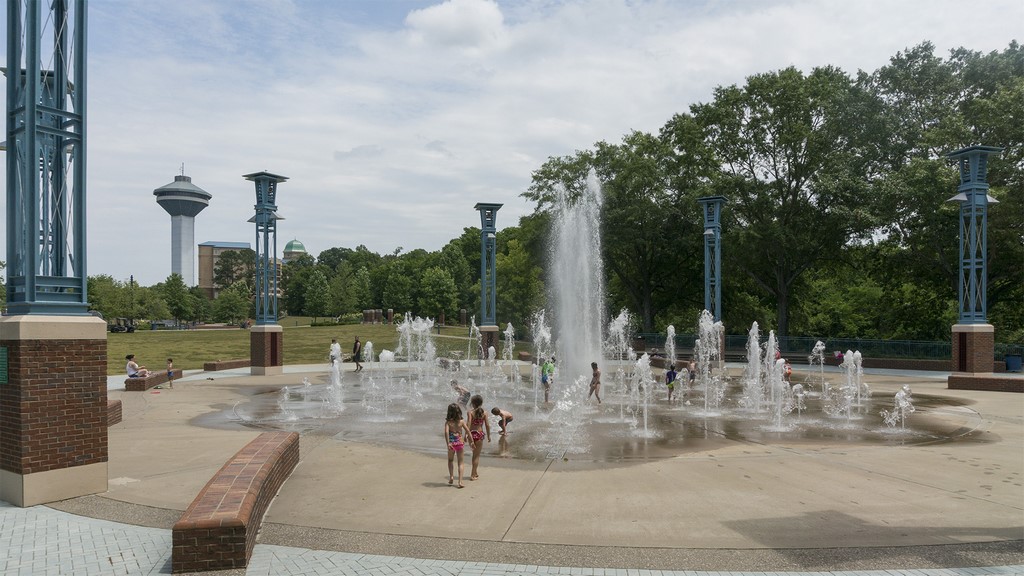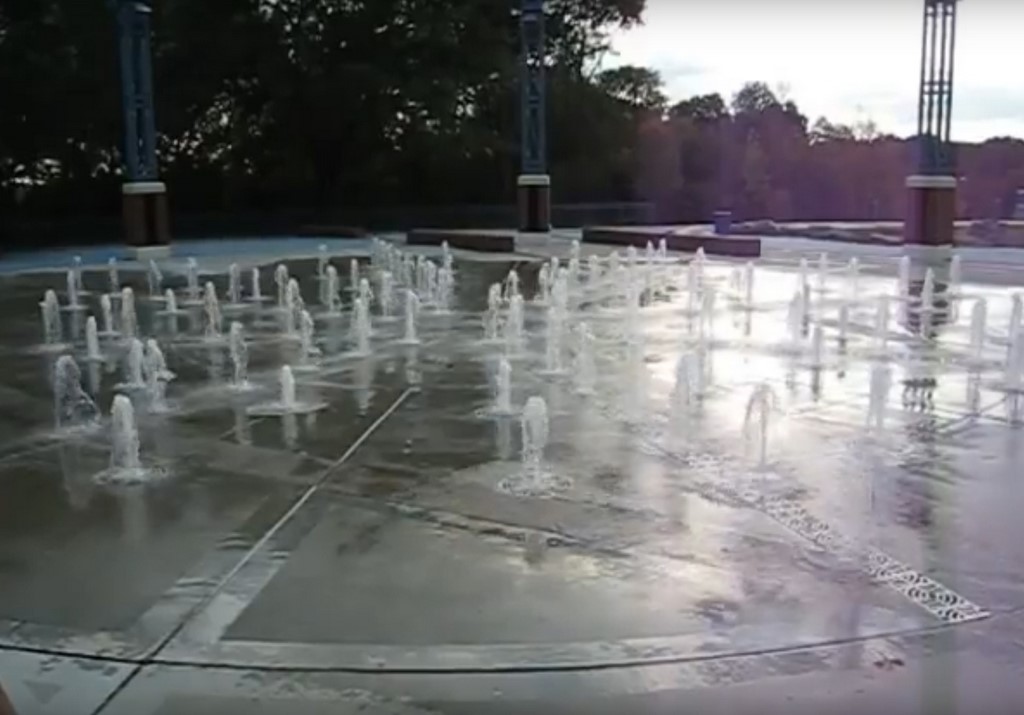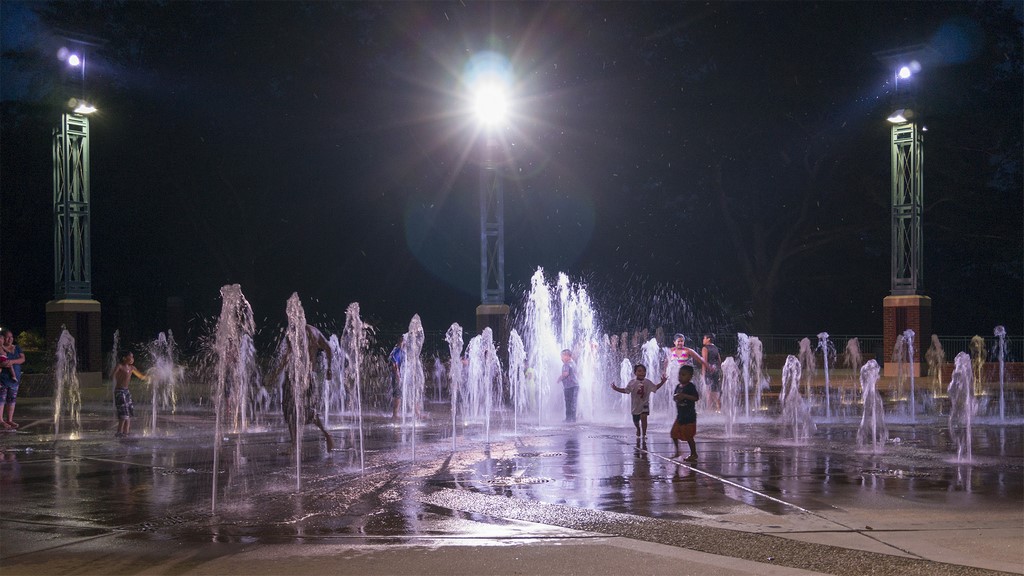 We provided the systems for musical automation for scheduled playback as well as spontaneous choreography.
To see an amateur video of this park in non-musical mode, click here.
For the most part, the water features we work with are public and involve us with real-estate developers, architects and engineers – and to date, most of the design-side decisions have been made well before content (that is, our programming) gets any consideration at all. By the time we arrive, in other words, the physical characteristics of the feature are set in stone, and all we're tasked with is adding brains to the system.
On occasion, however, we've been brought in early in the design stage, usually at the recommendation of a company we've worked with before that knows our capabilities and how versatile and dramatic different layouts, scenes and sequences can be if the dynamics of the control system are considered in the design/development stage. These days, fountain projects involve so many disciplines up front that there's some resistance to adding another chair to the table, but we're being seated there more and more often – and that's a huge advantage on multiple levels.
SIMPLE CONTROL
The issue with many fountains – specifically those for which control and choreography are afterthoughts – is that they tend to be laid out on a grid or in some random pattern, with all jets of the same specifications driven by very few pumps. Unfortunately, this does not offer us the most direct path to offering the range of looks and sequences demanded by a good musical performance.
Between Times
In many cases, property owners we work with want to separate shows or play times with lower-key fountain operations, whether it's to ease off on energy consumption or create anticipation among viewers or participants. Rather than turn a fountain off completely in these intervals, we set them up at what we call ambient levels, with no choreography or music and reduced flows with limited variation in jet action.
In effect, the fountain becomes a background visual in this mode – still attractive, but not nearly as dynamic or exciting as it is in interactive or performance mode.
Many existing waterfeatures are exclusively of the ambient variety, and the cool thing about our control system is that it can bring vigor to these fountains by adding speakers and a control system that put music to work in public spaces. And if the owners want things quiet, the system can be set up with no music at all: We just patch songs through the controller to drive a lively fountain dance in which only splashing water is heard.
— S.P.
But even here, there's still much that can be accomplished, simply because the control technology is versatile enough to bring variety and interest even to a small fountain with relatively few jets. The performance dynamics face limitations, of course, so the focus will generally lean more heavily toward play rather than display in mind – little surprises, trackable patterns…the sort of play elements children enjoy most.
Back when I started working with fountains, getting things done with any sort of waterfeature involved trial, error and adjustment that, in time, produced desired results.
Happily, that slow processing is a thing of the past, with simulation software having reached a point where developing full, complex suites of responsive visual effects takes hours rather than days or weeks.
But not every idea flies straight and true once we get involved. The wave/swell system mentioned at the outset, for instance, was developed but then dropped because the owners changed course and wanted to put the emphasis on play rather than such a subtle form of display.
We were disappointed, of course, but quickly changed directions and set up an interactive system with surprising jet activations and interesting, repeating patterns for players to figure out.
Either way, display or play, it's all fun and all interesting: Let the dancing begin!
Scott Palamar is principle for H2Oarts, a waterfeature design/automation/programming firm based in Santa Paula, Calif. He began working with water in 1998, dedicating himself to developing an optimal technology for maximizing the aesthetic and interactive potentials of fountains. For more information, visit www.h2oarts.com.