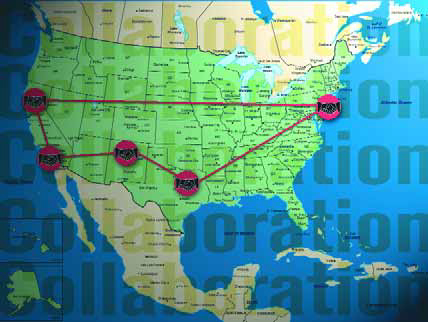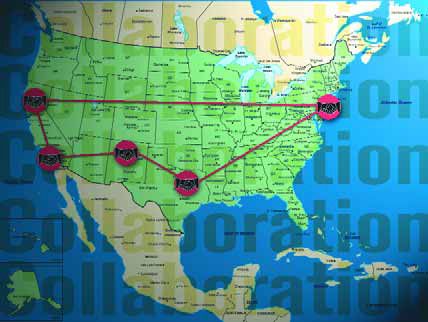 On several occasions during the past few years, I've had the privilege of working with talented professionals who have made it possible for me to operate comfortably far from my home base on what have often been extremely ambitious projects. In fact, I've found some of my most exciting and rewarding recent jobs have been the result of these collaborations with other watershapers.
Although working with them is different from my usual way of doing business and running projects – and the relationships I've built with each of my collaborators is different from person to person – I've found that there are points of commonality that are crucial to making things work: trust, control, knowledge and friendship (not necessarily in that order).
In my case, my colleagues and I are not figuring out how to build watershapes; instead, what we're exploring is a shared desire to tackle challenging jobs and take what we do to higher levels and in exciting new directions. We each bring what we know and what we do to the table, and when things click, the whole truly is greater than the sum of the parts.
BY TRAINING
My experience with collaboration began in college, when I was working on my master's in industrial design at California State University, Northridge. I had a wonderful instructor, Gil Rios, who divided a class into three groups of four. Each group was given a project with a two-day deadline, and even though the results were disastrous in some ways, the experience was invaluable: I learned a lot about the fun and challenge of working with strong-willed, talented people each of whom had definite ideas about how things should be done.
First, I learned that when you go into a creative situation with a group of egos and outsized personalities of any number, you all have to be on the same page right from the start about issues of control, areas of responsibility and the structure of the process. I also learned that every design project needs a leader and that he or she must understand both design and how things actually come together. As Gil told us, someone who sits in an office all day and does nothing but draw does a disservice to a project and everyone involved.
(He also taught us – and I believe it profoundly – that design by committee is death. But that thought is probably fuel for another whole column, so I'll set it aside for now.)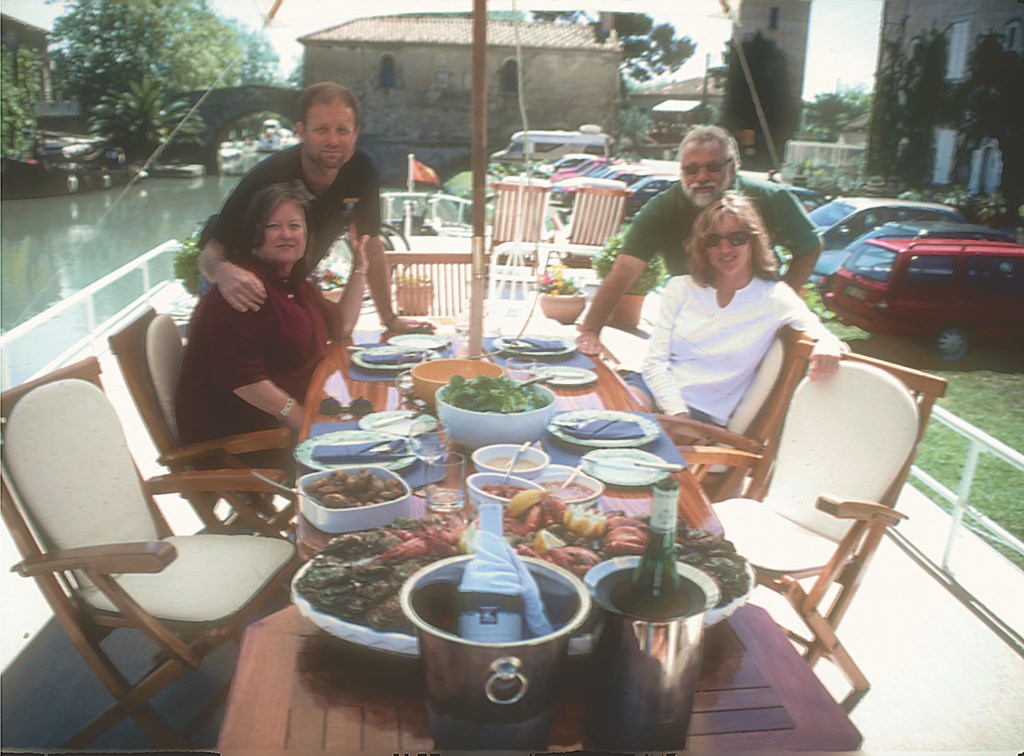 Barging in southern France: Randy and Martha Beard (at left) join me and Lisa for an al fresco meal.
As watershapers, we encounter strong personalities all the time: architects, landscape architects, interior designers, general contractors – even homeowners. To get the most from the collaboration with them, we must know who on the team makes the final decisions and will be following through as questions and challenges unfold during the design and installation processes.
This isn't about control of the project or of being controlled; rather, it's about defining a pecking order in the decision-making process, setting up areas of responsibility, establishing time frames and fortifying lines of communication.
Certainly, this doesn't mean much if you and your collaborators aren't operating on a high level. These days, I don't take people at their word when they call themselves "designers" or even "architects" in some cases, because there are simply too many charlatans out there who abuse those terms. I am extremely careful to work with people (watershapers included) who are not only demonstrably capable and professional, but who also have won my trust and often my friendship. What we have in common, deep down, is a passion for creativity and quality – not to mention an awareness of the importance of constant job-site supervision.
This last item is a big one for me, because if there's one paramount factor on every custom watershaping job I've ever tackled, it has to do with changes and adjustments that must be made on the fly. Frankly, I cannot understand how anyone can create a plan, maybe visit the site a time or two during construction and then just let things go without further input. As much as I value beautiful renderings and presentations, there is no escaping the fact that these documents are only the barest beginning of a process that unfolds throughout the course of a project.
The point is, every one of the people I'm about to discuss intuitively understands the need for close supervision. They may have differing levels of knowledge and expertise and idiosyncratic management styles, but the fact that we mesh on this important philosophical foundation is a key to our working relationships. Even more important, they want to work with me, and I want to work with them.
MY MAN IN JERSEY
For the past 18 months, my closest collaborator has been my New Jersey business partner, Kevin Fleming. We started our company, Liquid Designs of Cherry Hill, N.J., to bring a new potential for high-end custom work to clients in the northeastern United States.
I don't want to overgeneralize, because there are good people doing good work in that market area, but what I've found is that local watershapers – and people in the northeast's swimming pool industry especially – are very, very reluctant to cooperate with one another or share any information. In all my 25 years in the business, I've never encountered such a level or sense of competitiveness, and it has been eye-opening (and disappointing) to say the least.
Unlike so many northeastern watershapers, Kevin is perfectly open to cooperation and collaboration, and we've developed a nicely complementary working relationship: I take care of design and the up-front negotiations, while he manages operations and takes care of our clients as projects unfold. I travel to New Jersey twice a month for stretches of four to six days each time. Whether I'm there or elsewhere, Kevin and I talk five to ten times a day, six days a week, and the discussions are wide open.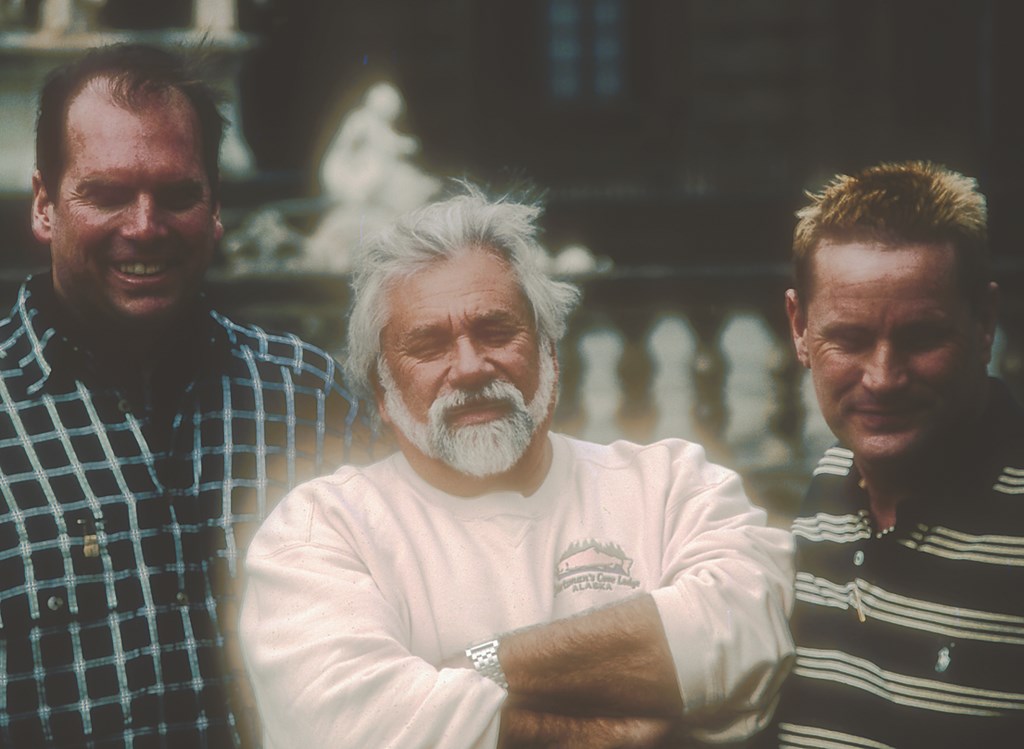 On the road in Italy: Kevin Ruddy (left), Paul Benedetti (right) and I pause in front of a courtyard fountain.
For his part, Kevin respects the fact that I do not compromise on quality and will walk onto a job site and point out problems and imperfections that must be addressed. For mine, I appreciate his suggestions, value the fact that they are based on personal observations on site and couldn't be happier that our conversations, which sometimes get tense or even heated, enable us to deal with specific issues way before they become problems.
Many of our projects are large and complex. In some cases, simply securing the materials we need is a huge challenge, and without Kevin being on the spot and aware of what's happening, none of what we're doing together would be possible.
In sum, Kevin is an east-coast guy who understands the nature of the business in his area. By combining his experience, savvy and skills as a project manager with my design skills and extensive background in construction, we've been able to perform at the highest professional level even when I'm not on site daily.
Sure, getting to this point has been difficult and filled with risk, especially since we were introducing an ultra-high-end product to a marketplace where someone is always telling our clients that they don't need what we have to offer or that they can get or do things cheaper – and often get in over their heads because they don't know enough about construction to see why we do things the way we do.
So far, however, the gamble is paying off and there's more demand than we can cover. Best of all, Kevin and I have forged a close and rewarding professional and personal relationship based on trust and a common understanding of our roles in the process.
THE OTHER COAST
A good collaboration doesn't necessarily entail starting up a business venture. In fact, one of my current "partners" has a business of his own that builds high-end, custom watershapes for affluent clients in the well-heeled communities of Orange County, Calif.
Randy Beard is indeed an extraordinary contractor who has shaped a dynamic niche for his firm, Pure Water Pools of Costa Mesa, Calif., by working with top-flight designers and architects in creating beautiful swimming pools and backyard environments.
He's never claimed to be a designer, but he's about as construction-savvy as they come and does fantastically sensitive work for an extremely demanding clientele. He understands what it is to use quality materials, build in challenging settings, deal with difficult clients and, best of all (and like Kevin Fleming), manage a project on site with the highest possible standard for quality.
Travel Time
It's not a prerequisite for working with me, but it's probably not too much of a coincidence that all of the people mentioned in this column have at one time or another been my traveling companions on trips to Italy, France, Spain and various other spots around the globe.
In Randy Beard's case, the fact that he and his wife Martha joined my fiancée Lisa and me on a barging trip through southern France gave us an opportunity to get to know each other in ways that just aren't possible in the workaday world. The fact that we spent relaxed time together watching the French countryside go by deepened our friendship and built a foundation for trust that will pay dividends for years to come.
I've had similarly positive experiences with Gerald Hermanson in Alaska and David Schneider in Spain: Travel creates a special environment in which all sorts of good, productive things happen.
It was a trip to Venice and Florence with another Genesis 3 participant, Kevin Ruddy of Omega Pool Structures in Toms River, N.J. (along with Paul Benedetti and their wives), that I had a chance to listen to Kevin and learn in detail about the art and science of dehumidification. As a result, I knew to call him in on an exquisite, grand-scale, all-glass-tile indoor pool project Kevin Fleming and I are preparing to build.
What their willingness to travel tells me is that these are my kind of people: passionate about learning, interested in seeing historic or significant places with their own eyes and capable of having a good time on the road. This kind of travel doesn't happen only with me tagging along. Indeed, you can rest assured that, even without me, you can get out and see the world, absorb ideas and let them inspire your work as a watershaper.
Just pack a bag and go: It'll do you a world of good.
— D.T.
We came together recently when I jumped into a radically complex project on the bay next to the Newport Yacht Club in Newport Beach, Calif. The existing home was to be knocked down and rebuilt, but the owner had wanted to salvage an old pool in the front yard. With my input, the old pool is history and will be replaced by a new one that will be tucked up under the home. The result will be a spectacular entryway with large stepping pads leading to the front door over a shallow portion of the watershape.
I knew right away that this was a project that had captured my interest, but I also knew its location in south Orange County would make it advantageous for me to find a local collaborator with local contacts.
As I mentioned above, I see no good to come of throwing a set of plans at a project and walking away, particularly given one of this complexity and difficulty and the ongoing requirement there would be for on-site analysis and adjustment. So I contacted Randy, a Genesis 3 participant who became such a good friend that he and his wife, Martha, joined me and my fiancée on a trip to France not long ago. (For more on travel's role in sealing these relationships, see the sidebar above.)
Our friendship gave me the opportunity to learn how he thinks and works, and I applied what I knew in suggesting a working relationship. Ultimately, we decided that this project would involve some of his crews and some of mine and that we would work very closely together in executing the complex design.
At this point, we're dealing with myriad structural issues, but we're also discussing aesthetics and the kind of palette we need to develop to complement the home's proposed variety of pinks, yellows and beiges. Among other things, we're looking at an interior pool finish in a vivid, blood-red plaster. (As this one progresses, it's likely to be the subject of future "Details.")
BROADER HORIZONS
I'm currently working in a similar relationship in northern California with Paul Benedetti of Aquatic Technologies in Morgan Hill. In this case, I was asked to design and – just as important in this case – build a pool for a winery in Calistoga, Calif., owned by a San Francisco-based art collector. (I'd been referred to the client by three other builders.)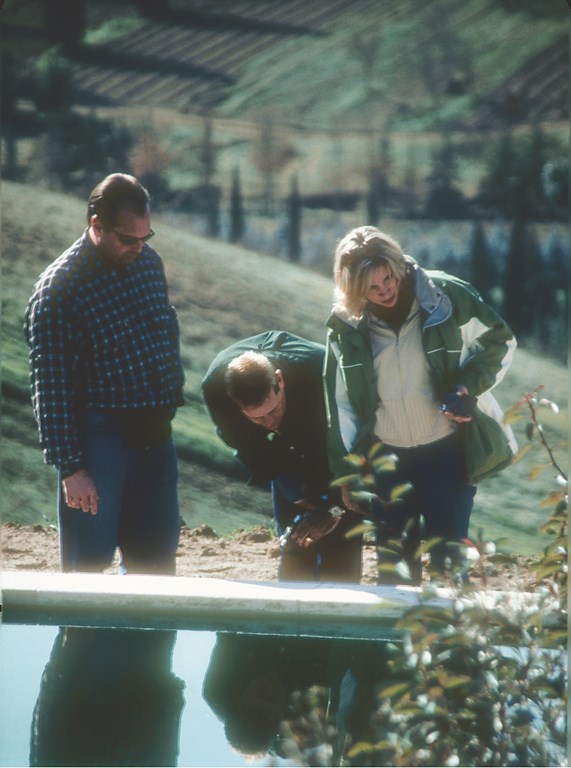 Working vacation: When I'm on the road, I encourage my companions to join me in seeking out watershapes and concepts we can translate to our own projects.
The project couldn't be much grander. It includes two parallel, 70-meter vanishing edges that terminate in a third edge that stretches 30 meters – that's about 180 feet of vanishing edge – as well as a slot-overflow detail on another edge. The whole composition rises substantially above grade, and a large, luminous sculpture by a well-known artist will be mounted on four pilasters to stand at one end of the pool.
At a minimum, the project will require close collaboration of the owner, sculptor, general contractor, structural engineer, mechanical engineer and two watershapers, a cause toward which Paul and I have formed a joint venture. He's another Genesis 3 participant, I know his work, he's become a friend and, as anyone who has talked with him for more than 30 seconds knows, he has amazing passion, great intensity and a total commitment to quality.
Over in Santa Fe, N.M., I was asked to consult on and build a 24,000-square-foot pool (designed by the world-renowned architect Tadao Ando) for a wealthy client. I called Gerald Hermanson of Hermanson Construction in Albuquerque and David Schneider of Nature's Creations in Santa Fe (another pair of Genesis 3 participants) to lend their expertise to the project. Again, I looked for accomplished professionals in the local area, and in this case, we're working our way toward forming a three-way project partnership.
The entire plan is now back with the architect for review and revision and few details have been settled, but I'm delighted to have made these contacts in such a promising market because there will always be future opportunities we can discuss and pursue as a team.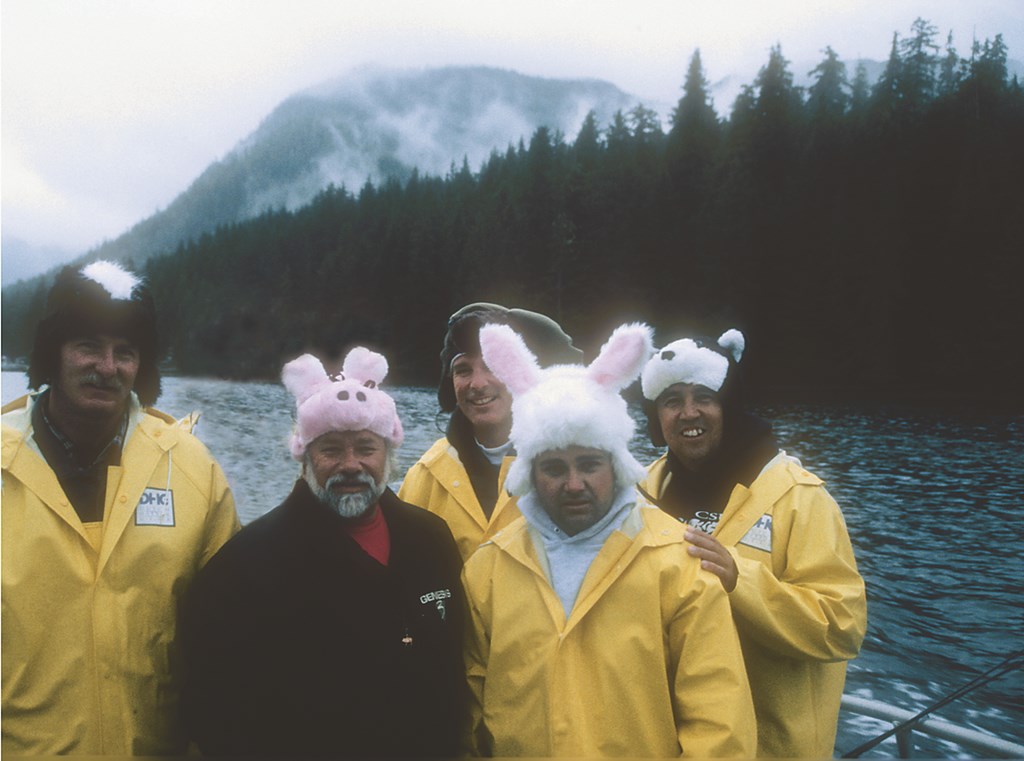 Fun at sea: The sense of camaraderie experienced in fishing trips has forged friendships that have carried over to watershaping projects. In this case, Steve Dallons (left) and Kevin Fleming (second from right) were among those who joined me on one of my many visits to Alaska.
I'm also doing a project in Fort Worth, Texas, that includes a 4,000-square-foot swimming pool in a setting that features, among other elements, a pair of all-glass-tile changing rooms in a Gothic ruin set partly in, on and around the pool (basically to exploit great reflections), a long vanishing edge, a slide incorporated into a tree house, a diving well and platform, thermal ledges and a massive set of stepping pads. The plan also includes a volleyball area and a separate spa.
In this case, my construction supervisor will be my friend of more than 15 years, Michael Nantz of Elite Concepts in Denton, Texas. We've worked together several times before on projects in Mexico and on a huge job in Dallas. This time, I'll handle the design and call the aesthetic shots while Mike will manage things on site with a crew made up of some of my California subcontractors and his local contacts.
A FIRM HANDSHAKE
As I mentioned above, all of the individuals with whom I've formed these relationships and partnerships are very different from one another, each with his own management style and distinctive personality. What they have in common is what's important: reliable knowledge of watershape construction and specific familiarity with the difference between quality and junk.
In addition, they are all people who keep their word, which brings me to a final and critically important point: Trust is everything in these sorts of working relationships, whatever their inner workings.
Every one of these professionals – Kevin, Randy, Paul, Gerald, David and Mike – is someone with whom I feel comfortable in a working relationship. No matter how skilled or creative someone might be, there would be no possibility of doing anything together without that level of trust.
There have been occasions in the past where I've run into someone who has betrayed my professional trust in one way or another, and that is simply not acceptable. High-end watershape projects are so challenging and complex that you have to be able to rely unconditionally on what a collaborator tells you. And when it works, the results are satisfying on every level, personal and professional.
David Tisherman is the principal in two design/construction firms: David Tisherman's Visuals of Manhattan Beach, Calif., and Liquid Design of Cherry Hill, N.J. He can be reached at [email protected]. He is also an instructor for Artistic Resources & Training (ART); for information on ART's classes, visit www.theartofwater.com.