Compiled and Written by Lenny Giteck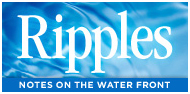 Ripples is pleased to present…
"Wet Lifestyles of the Rich & Famous"

JLo's Toddler Poops in Family Pool
— Resulting Repair Bill Is $6,000

Jennifer Lopez and husband Marc Anthony's 3-year-old son, Max, recently deposited an AFR (Accidental Fecal Release) in the family's swimming pool, which then got into the filtration system, which cost $6,000 to fix.

Anthony spoke about the expensive accident during an appearance on "The Tonight Show With Jay Leno" (JLe, not to be confused with JLo). According to the Web site usmagazine.com, Anthony noted that "[Max] took a $6,000 dump in the pool!"

"In order to potty train them, every time they'd [Max and twin sister Emme] use the toilet we'd give them a lollipop," Anthony said. "Three days passed and we ran out of lollipops. I'm like, 'You should probably get them checked out if they're using the potty that much.'"

The lollipops angle (lollipoops?) makes Ripples wonder just how accidental the AFR really was. Could the adorable tyke have been ticked off about the shortage of lollies and decided to turn his parents into…um…suckers?

A final thought: A $6,000 bowel movement just may be a world record. Contacting the Guinness folks may be in order.


Pool Antics at Letterman's "Late Show":
Bill Murray and Seth Rogen Get Soaked

Speaking of Jay Leno…Ripples, of course, always strives to be "fair and balanced," as the saying goes…even though some regular readers may think this column is fairly unbalanced — not to mention unhinged and unglued.

Be that as it may, we want to give David Letterman equal play — so we offer the following two video clips from his show, both of which focus on wacky swimming pool stunts.

First there's the legendary Bill Murray ("Saturday Night Live," "Caddyshack," "Ghostbusters") doing a belly flop into a dumpster pool outside Letterman's studio. Click here to watch the video.

Then there's comedian and actor Seth Rogan ("The 40-Year-Old Virgin," "The Green Hornet") taking a running leap and cannonballing into a larger aboveground pool (while dressed in a suit and tie), also outside the studio. Click here to watch the video.

Now, that's entertainment! Enjoy!


$1,500 Solar-Powered Bikini
Recharges Electronic Devices

Who says there's nothing new under the sun? Now there's the Solar Bikini – and for a mere $500 to $1,500, sunbathing ladies can recharge their smartphone or media player right from their swimsuit.

The solar bikini is the brainchild of New York-based designer Andrew Scheider. Each bikini — available through custom order — "sports 40 thin and flexible photovoltaic strips connected by conductive thread, which ends at a USB port," according to the technology Web site gizmag.com.

The Gizmag report continues: "As no energy is actually stored in the bikini, the designer says that wearers can even go for a swim while sporting the high-tech bikini, although charging while going for a dip is not recommended. Once back from the water, the Solar Bikini needs to be completely dried before any device is attached, or it won't function properly."

Schneider's next project is the iDrink, men's solar swimming trunks that will be able to power a small cooler to chill beer at the beach.

To order a Solar Bikini (very limited number available), go to www.solarcoterie.com.

Photo: To learn more and see a sunbathing beauty wearing a Solar Bikini, click here.


$10.9 Million Manhattan Townhouse
Has Swimming Pool in Living Room

A townhouse up for sale in the Chelsea area of Manhattan may cost a cool $10.9 — but if it's any consolation, your money also gets you a 30-foot-long, 30,000-gallon swimming pool right in the home's living room. Wait…there's even more! According to dailymail.co.uk, the property also comes with a separate, smaller pool that the current owner uses for her turtles. (After a hard day of counting your millions, what could be better than a steaming hot bowl of fresh turtle soup?)

Photos: To see the townhouse and its centrally located swimming pool, click here and scroll down to view all the images.


Diamonds Are a Billionaire
Pool Owner's Best Friend

And keeping with the theme "Swimming pools you'll never be able to afford in a million years"…

The Web site modernman.com recently spotlighted a number of extraordinary pools under the cheeky headline "Pools You Need to Pee In." (Ripples interprets this to mean that for those of us who are neither rich nor famous, this act of not-so-passive aggression may be the best — perhaps only — revenge.)

One of the pools shown is located in billionaire Israeli diamond mogul Lev Leviev's $70 million home in London. The opulent pad, according to Modern Man, "has a hair salon, gym, sauna, movie theater, bulletproof front door, and most importantly, giant pool with gold-plated mosaic tiles.

"The pool is also a day-into-night kind of deal; Leviev had a retractable cover installed that not only prevents people from tossing pennies into the pool, but also transforms the giant room into a grand ballroom."

Photos: To see this and the other pools, click here and go through the slide show.


Until next time...happy watershaping to you!