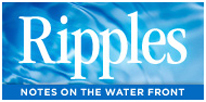 Super Submarine Yacht
Boasts Swimming Pool
Once you already own a private 747 and an enormous luxury yacht, what else could you acquire to make your billionaire friends and neighbors even greener with envy?
That question has plagued Ripples for years — but no longer. According to an article on the Web site dailymail.co.uk, you could flaunt your enormous wealth with a 115-meter-long vessel called Migaloo (reportedly named after an albino humpback whale), which is both a super yacht and a super submarine.
If Migaloo actually is ever built, it would come with — among many other amenities — an 8-meter by 3-meter swimming pool. Notes Daily Mail: "When Migaloo is submerged, all furniture is put away in large storage areas underneath the granite decking while the pool's bottom raises [sic] up to the main deck level."
Ripples should note, however, that another article about Migaloo, on the Web site luxpresso.com, tells a somewhat different tale: "The six-deck submarine-yacht, amongst other things, boasts…a swimming pool that declines into the deck on submersion."
Luxpresso also reports that in addition to the pool, Migaloo would be outfitted with a helipad, "sun lounge, multiple bar set-ups, lounge areas, a two-level owner's suite and eight VIP suites on sub-decks two and three; the yacht also provides for a fancy cinema room, a library, a gym and a gaming room."
The concept for Migaloo was developed by Austrian design studio Motion Code: Blue. A company spokesperson was quoted as saying, "Migaloo was the result of intense research and the firm's excellent knowledge of the current yacht market….[T]he studio's intention was to offer a stunning design concept especially for people who are willing to expand the borders of imagination."
Ripples is confident his imagination could expand sufficiently; sadly, his bank account is a different matter altogether.
To learn more about Migaloo and see renderings of what the vessel would look like, click here.


Now this is a bit more in Ripples' price range...
Ripples Classic: November 7, 2012
The Floating Dutch Treat:
Boat and Hot Tub in One
What could be more relaxing then floating with up to seven of your dearest friends across a lake or down a canal in a small boat…unless it's relaxing in a hot tub, soaking away sore muscles and the stress of the day? How about combining the two experiences? You might just relax yourself into a coma!
Now you can merge the two thanks to a Dutch invention called the Hot Tug, a small boat that can be filled with water to also become a hot tub. According to technology Web site gizmag.com:
It's built mainly from wood, with the [528-gallon] tub itself made from glass fiber-reinforced polyester. The water is heated by a built-in stainless steel wood stove, and has to be drained with a user-supplied submersible pump. The boat/tub…is available in a number of packages that mix and match features such as a Minnkota 2.4-kilowatt electric motor, differing numbers of batteries and the option of using an aftermarket outboard engine.
The Hot Tug costs from $14,793 to $21,252 (converted from euros), depending on the configuration, and can operate for approximately two hours on a single charge of two 12-volt batteries.
Photos: To see images of the Hot Tug with and without water inside, click here.


And with that, Ripples once again says…
Until next time, happy watershaping to you!