Compiled and edited by Lenny Giteck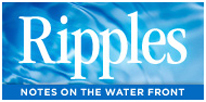 British Freestyle Record-Setter
Guilty of Pool Peeping Tomism
James Mackay, a 28-year-old British swimming champion, has been convicted of using mirrored swim goggles to spy on a woman in a pool changing-room cubicle, the \Web site dailymail.co.uk reported.
Mackay — who set the British 800-meter freestyle record in 2004 and is married — was accused of spying on the same individual on three separate occasions. He reportedly positioned the goggles in a way that enabled him to see what was taking place on the other side of a partition.
The Peeping Tomism took place at Abbey Stadium in the town of Redditch, near Birmingham. According to redditch.whub.org.uk, the facility is home to "a brand-new 25-metre…swimming pool, a newly refurbished fitness suite and a 5-court, multiuse sports hall providing a wide range of activities."
In the Daily Mail report on the sordid affair, Mackay's victim, who was not named, was quoted as saying:
'I was taking my swimming costume off and put my towel round me, and then I heard the door next door. I saw this flash of blue flippers, he had moved next to me. I then noticed the goggles. They were at an angle and looking into the cubicle. I felt uncomfortable but I thought I was being paranoid.'
Once she realized it was not all in her head, she photographed the goggles and lodged a complaint — effectively cooking Mackay's goose. Mackay was brought before a magistrate and found guilty despite his protestations of innocence. Sentencing has been scheduled for May 8.
Given the easy availability of pornography on DVDs and the Internet — or so Ripples has heard — it's difficult to understand why Mr. Mackay had to go to such lengths to be titillated. One is reminded of a line in the Woody Allen movie "Crimes and Misdemeanors": "Human sexuality…it's such a mystery."
By the way, the name Redditch may ring a bell with longtime Ripples readers: Back in February 2011, the town council approved a plan to use waste heat from the local mortuary's crematorium to heat the adjacent community sports center. Or to put it another way, the center's swimming pool — among other things — was to be warmed by the burning of dead people. The proposal raised considerable controversy at the time, but after the system was put in place, the facility won a prestigious award for environmental awareness.
Clearly, Mackay's behavior was extremely disrespectful to the deceased.

Ripples Classic: October 26, 2011
100-Year-Old New Jersey Man Drives,
Works and Swims Laps at the 'Y'
Centenarian New Jerseyan (it seems the term "New Jerseyite" is much hated by the state's residents) Irving Krause is quite an impressive and inspiring older gentleman: Despite having recently reached the century mark, he continues to drive, work as an insurance agent and regularly swim laps at his local YMCA.
(There's a certain irony in the venue: Not only did Krause's status as a young man end many decades ago, he also happens to be an Orthodox Jew.)
In the video linked below, we see the delightful Mr. Krause barely peering over his car's dashboard as he drives himself around town. (Of course, whether he should be behind the steering wheel at his age is another matter.) We also see him at the insurance office, where he works with — and outperforms — his 47-year-old grandson. And we see him swimming laps and lifting weights as part of his exercise regimen.
Ripples would like to believe that swimming is the secret to Mr. Krause's longevity — along with the luck of the genetic draw. But we can't help thinking he reveals another important factor in the video: Asked whether he plans to retire someday, he replies, "I'll never retire. I don't know what my clients will do when I die, because they really need me."
Would that all seniors felt so needed.
Video: To meet 100-year-old dynamo Irving Krause, click here.