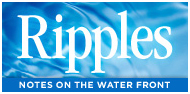 Compiled and Written by Lenny Giteck
Italian Politician Swims to
Sicily to Win Over Voters It's no secret that politics in Italy can be pretty wild: For starters, the country has seen more than 60 governments come and go since World War II — an average rate of about one government per year for the past six decades.
Even by Italian standards, however, political developments before an upcoming (as of this writing) regional election in Sicily have raised eyebrows. One candidate for the Sicilian parliament, Beppe Grillo (identified by businessweek.com as "a former comic turned political gadfly") swam from the Italian mainland to the island of Sicily to show voters…what? Apparently that his Five Star Movement will break from recent governmental economic policies. The connection eludes Ripples, but Grillo seems to think Sicilian voters will get it.

According to the Business Week Web site report, Grillo's party is squarely opposed to the austerity measures Italy has taken due to the nation's (and Europe's) economic mess. The article notes that the 64-year-old Grillo told a rally of supporters in Palermo, the Sicilian capital, "It took me six months of training, but in the end I managed to swim across the strait of Messina in 15 minutes less than what it takes by ferry," Clearly, Italy needs to get better ferries.
On another political front, the center-left Democratic Party is backing Rosario Crocetta, a former mayor of the town of Gela, in the race to become Sicily's president. Crocetta, who is openly gay, won fame for fighting the Mafia while in office. Ironically, he is also the candidate of the Union of the Centre, which has gone on record as opposing same-sex marriage.
Crocetta has pledged to abstain from sex if he wins. From businessweek.com:
"If I were to become Sicily's president, I would say farewell to sex," Crocetta promised in an Aug. 20 interview with news Web site KlausCondicio. "I will consider myself married to my region and its inhabitants."
Vowing celibacy doesn't seem all that promising as a political trend, but candidate Grillo may be on to something by bringing together politics and long-distance swimming. Ripples, for one, can't wait to see New Jersey Gov. Chris Christie swim from Hoboken to Manhattan (or vice versa) in 2016 to show voters he's fit to be president. Good luck, Governor…and start training immediately!
UPDATE: Openly gay candidate Rosario Crocetta was victorious in the October 28 election and became president of Sicily. Now that he's officially married to his region,
he presumably is honoring his vow of abstinence. Ripples is still trying to find out
how Beppe Grillo fared in the vote.
To learn more about the very colorful politician/comedian/swimmer Beppe Grillo — and most important, to see an unforgettable photo of him — click here.

While we're on the subject of Italy…
Mother Nature Transforms Venice
Into One Enormous Swimming Pool
According to nationalgeographic.com, a torrential, 1.5-meter downpour (59 inches!) that hit Venice on Sunday, Nov. 11 turned three-quarters of "The Floating City" into a gargantuan outdoor swimming pool. Reuters reported it was the sixth largest rain in Venice since 1872, when records were first kept.
Despite the deluge, some hearty tourists refused to be deterred from having a good time: They donned bathing suits and floated around an inundated St. Mark's Square. Others, also in swimming attire, reportedly sat at sidewalk cafes with the lower parts of their bodies underwater.
As Ripples likes to say, "When in Rome, do as the Romans — but when in Venice,
do as the fish."
Photo: To see a group of four tourists enjoying a dip in St. Mark's Square, click here.
University Transforms Wave Tank
Into One Enormous Music Maker
A wave tank at the University of Plymouth, in Devon, England, has been turned into an enormous musical instrument that creates haunting sounds — but don't expect any catchy tunes you can hum while leaving a concert. A report on dailymail.co.uk said the music was somewhat reminiscent of the sounds made by whales.
According to the Web site, university professor Dr. Alexis Kirke placed motion sensors over his body, enabling him to control the waves created in the tank; gauges in the tank transmitted electronic signals to a synthesizer, which produced the sounds. In addition, a specially outfitted buoy in the water rang like a bell when it was struck by waves. Four university students provided a drum accompaniment.
The result was a unique musical experience called the Orchestra of Waves. After the performance, Prof. Kirke was quoted as saying,
"The show went very well, and people in the audience were asking whether they could buy the music….You are in a building and hear the noise of the waves… and see them crashing down….There's no way of explaining what it's like to have dramatic sounds synchronized with that."
The concert followed the official dedication of the university's new Marine Building by Britain's 91-year-old Prince Philip. The building cost a reported £19 million (approximately $30 million); the wave tank inside measures 35 meters by 15 meters (115 feet by 49 feet).
Photos and video: To see photos of the event and watch a video containing the sounds that were created, click here. Be sure to scroll all the way down.
While we're on the subject of the United Kingdom...
Londoners Would Be Able to Swim to
Work After Canal Is Converted to Pool
Commuting to work in your car or on a train or bus isn't exactly a great way to get or stay in shape (nor is it the best way to leave a minimal carbon footprint). Sure, you could bicycle, rollerblade, walk or jog — but how refreshing is that? Now the good citizens of London may have another alternative in their future: The little-used Regent's Canal could be turned into the "Lido Line," a more than five-mile-long swimming pool traversing the center of the British capital.
According to thecityfix.com, London design firm Y/N Studio conceived of the Lido Line as part of a "High Line for London" competition, held by New York-based Web site architizer.com. The competition apparently was inspired by Manhattan's enormously successful High Line, an urban park built on an old, unused length of elevated railway.
But what about London's notoriously bad weather? The plan calls for the waterway to be turned into a linear ice skating venue in the winter, so Londoners would be able to speed-skate their way to work (wonderful for the glutes!). Of course, that still leaves months of miserably cold and rainy weather, during which swimmers just might freeze their Speedos off.
Will the Lido Line ever come into being? Ripples plans to ask Queen Elizabeth exactly that question next time the two meet for high tea.
To see an artist's rendering of the proposed Lido Line project, click here.
And on that note of faux name-dropping, Ripples again says…
Until next time, happy watershaping to you!