Compiled and Written by Lenny Giteck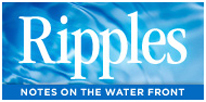 Were the Dinosaurs Swimmers?
Crawl, Butterfly or Backstroke?
Ripples must admit that the question of whether dinosaurs could and did swim is not one that keeps him up at night. He has never paced his bedroom at 3 a.m. wondering, did Tyrannosaurus rex prefer the crawl or the backstroke? Was Stegosaurus partial to the butterfly or the breaststroke?
Still, dinosaurs are enormously fascinating creatures — and not just to kids. So when Ripples came across a blog entry on the Web site smithsonian.com that addressed the issue, he was eager to learn whether the long-extinct giant replies liked to go for a dip now and then.
The article appeared in the blog "Dinosaur Tracking" by science writer Brian Switek. In it, he traced the evolution of paleontological thinking on the question of dinosaurs and swimming.
Switek's analysis is a bit too in-depth to summarize here, so this is the bottom line: The evidence suggests that some dinosaurs indeed could swim, but that didn't mean they spent a lot of time in the water. Switek noted:
As [paleontologist Rubén] Ezquerra and co-authors pointed out, the swimming strokes of these dinosaurs were exaggerated walking motions. The way the dinosaurs moved on land allowed them to be adequate swimmers while crossing rivers or lakes, but, compared with semi-aquatic animals such as crocodiles and otters, no known dinosaur shows traits indicative of a primarily waterlogged existence.
Regarding the question of which other swimming strokes the dinosaurs performed…no one seems to be raising that issue except for Ripples, who has his own ideas about "exaggerated walking motions." Of course, Ripples is not a real paleontologist — he only plays one in this column — so he'll keep his opinions to himself.
To learn more: Switek's article is fascinating (as one might expect from the Smithsonian). Click here to read it in its entirety.


Pedal While You Soak:
Fitness Meets Wetness
What do you get when you put an underwater exercise bicycle (which Ripples didn't know even existed) into a one-person jetted tub? Why, the Jet Bike by FitWet, of course. And why would you want to create that unlikely combination? Here's what a gizmag.com article about this unusual new contraption had to say on that score:
FitWet claims that 30 minutes of Jet Biking is equivalent to two hours on a standard bike. The Jet Bike is designed to work your quads, butt muscles, thighs, abdominal muscles, calves and more, with FitWet claiming it burns up to 800 calories an hour.
Exercising in combination with water resistance has long been a workout staple –— especially for the senior set — but now you can also pedal your way to fitness all the while feeling the relaxing effect of hydrotherapy. In other words, you can tone your muscles while getting them bubbled into oblivion.
Since Ripples has always found walking and chewing gum at the same time to be challenging, he doesn't know if the Jet Bike would be for him.
Learn more: For additional information about the Jet Bike, click here.
In case the Jet Bike seems slightly on the zany side to you, or perhaps not zany enough (these judgments are highly subjective), don't worry…an alternative combo is available from the Netherlands…
The Floating Dutch Treat:
Boat and Hot Tub in One
What could be more relaxing then floating with up to seven of your dearest friends across a lake or down a canal in a small boat…unless it's relaxing in a hot tub, soaking away sore muscles and the stress of the day? How about combining the two experiences? You might just relax yourself into a coma!
Now you can combine the two thanks to a Dutch invention called the Hot Tug, a small boat that can be filled with water to also become a hot tub. Again, according to technology Web site gizmag.com:
It's built mainly from wood, with the [528-gallon] tub itself made from glass fiber-reinforced polyester. The water is heated by a built-in stainless steel wood stove, and has to be drained with a user-supplied submersible pump. The boat/tub…is available in a number of packages that mix and match features such as a Minnkota 2.4-kilowatt electric motor, differing numbers of batteries and the option of using an aftermarket outboard engine.
The Hot Tug costs from $14,793 to $21,252 (converted from euros), depending on the configuration, and can operate for approximately two hours on a single charge of two 12-volt batteries.
Photos: To see images of the Hot Tug with and without water inside, click here.


Japan's Samurai Swimming:
Ancient Art, Modern Sport
Even though the Japanese are no slouches when it comes to the love of gadgets, they might consider the Jet Bike to be emblematic of the softness of Westerners, for whom comfort is of primary importance. Not so for the devotees of the ancient Japanese practice of "traditional swimming," in which participants don a 15-kilo (33-pound) suit of samurai armor before entering the water.
Considered a martial art in Japan, traditional swimming was developed during the 15th and 16th centuries, when samurai fighters were sometimes forced to swim for their lives — without taking off their armor. A report about traditional swimming on japantimes.com quotes one practitioner as saying:
"It's heavy, and it's hot in here…. Fan me hard," Mutsuo Koga, a 27-year-old doctor, told fellow disciples of traditional Japanese swimming at a recent meet. "I'm worried about whether I'll be able to get myself back out of the water. It's been three years since I last swam," Koga said as he readied to take the plunge in a public swimming pool.
Although the skills of traditional swimming were once widely taught in Japanese schools, the report says, that is no longer the case. Ironically, Masahiko Yaginuma, chairman of the Japanese Traditional Swimming Committee of the Japan Swimming Federation, says most new practitioners of the physically demanding art are "women in their 60s or older." Yaginuma explains: "[T]hey see traditional swimming as an extension of the other noble arts a cultured Japanese woman learns — like flower arranging and [the] tea ceremony."
An interesting comparison. As far as Ripples knows, the worst thing that can happen to you during flower arranging is that your thumb gets pricked by a rose thorn. The tea ceremony does involve a certain amount of potential danger, as in, "Oops, I accidentally poured scalding hot liquid into this gentleman's lap." But Samurai swimming holds the threat of nothing less than death — although perhaps elderly Japanese women, keeping the classic Bushido warrior code in mind, are able to overcome that fear.
Photo: To see what one Japanese gentleman looks like in his traditional-swimming samurai uniform, click here.


And with that, Ripples says "sayonara" and…
Until next time…happy watershaping to you!