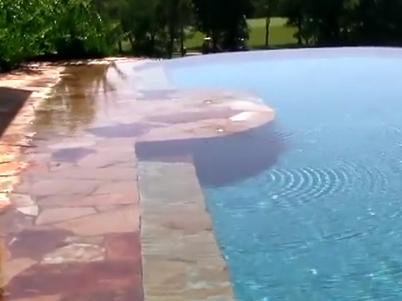 Of all the points that are hard to get across when working with clients on a pool design, the one highlighted in this video can be among the hardest: You can paint word pictures until you turn blue; you can show countless photos; you can even take your clients on tours of completed projects and try to show them what you mean: If they have their hearts set on a colored interior finish (that is, pretty much anything beyond plain white plaster), it'll be difficult to help them visualize how that finish will look once the pool's filled with water.
It doesn't matter if that colorful finish is tile, pebbles, plaster or printed vinyl: As I discuss in the video, there are just too many site-specific environmental factors and variables at work in the typical backyard to carry discussions of color perception to a convincing level of certainty. And it gets even more complicated if you start talking about the ways color perception changes as the water gets deeper!
It was far simpler when bright, white plaster was the number-one option for nice backyard pools. As a result of what can only be called a much-needed, much-welcomed revolution in surfacing options – and this is a key point I don't make in the video – we need to persuade our clients that we have enough experience with the dynamics of color perception that we can help them make the right call.
And don't kid yourself into thinking this decision isn't an important part of the design collaboration. There's nothing quite like disappointment with the way an interior finish looks (or feels, as the rest of the video discusses) when it comes to derailing long-term client satisfaction. Just thinking about this (almost) makes me nostalgic for the good old days when white plaster was the automatic choice!
Click here to see my quick discussion of interior finishes for pools.
Lew Akins operates Ocean Quest Pools out of three offices in central Texas. He started in the pool business in California in the late 1970s, opening his own design/build/retail firm in Texas in 1984. Widely acknowledged as a pioneer of the vanishing-edge concept, he added "design consultant" to his list of services in 1998. He may be reached at [email protected].