Restoring a Treasure on the Hudson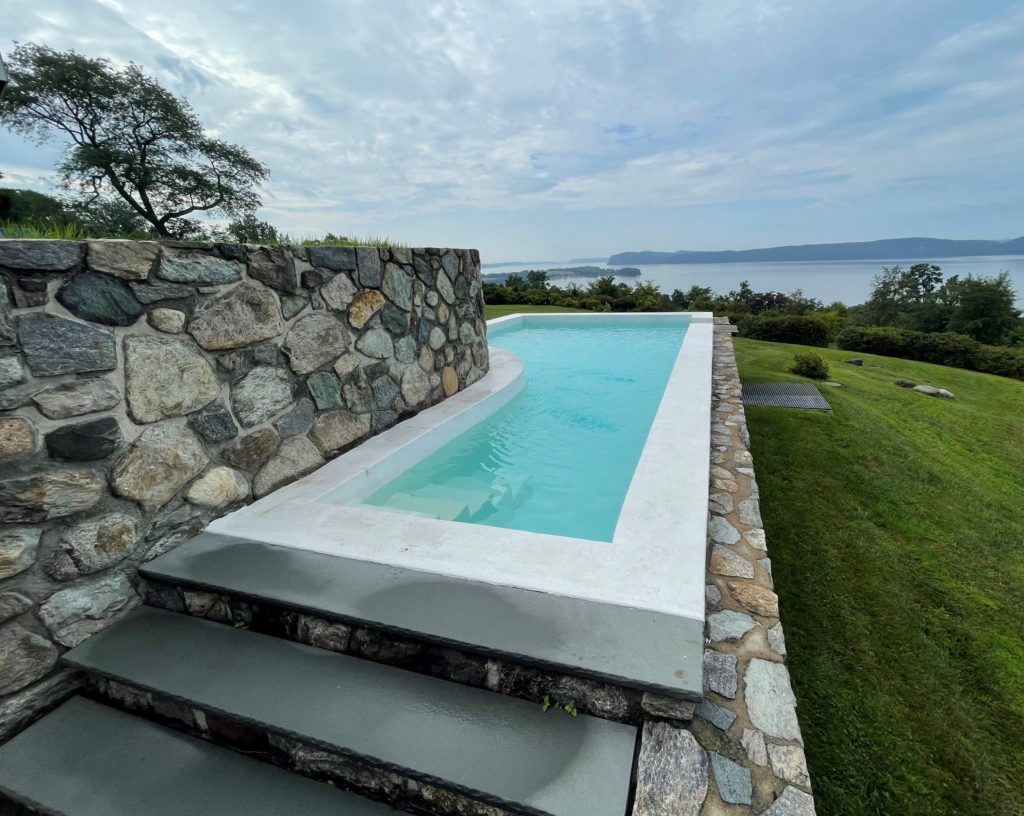 Drakeley Pool Co. takes on a broad range of projects, from massive commercial installations to super high-end residential projects. The company also refurbishes historic watershapes, a discipline that requires careful adherence to the original design. Featured here, Bill Drakeley shares a simple gem of a project designed by 20th Century modernist master, Marcel Breuer.
By Bill Drakeley
Marcel Breuer's Neumann House was built in 1953 for textile designer Vera Neumann, a prominent socialite and friend of the rich and famous. The house is by all measure a masterpiece of the mid-century modern architecture. Our company, Drakeley Pool Co., completed an historic renovation of the swimming pool as part of an overall restoration of the historic residence.
It's located in an upscale neighborhood in Croton-on-Hudson, N.Y. on a ridge overlooking the famed river of the same name. The pool is an artistic statement. As far as we know, it was never used much for swimming, but more of architectural element that ties the landscape to the home's architecture.
The pool was badly in need of repair and upgrading, but at the same time, we had to comply with historic restoration protocols, meaning we had to fix it without disrupting the original design, construction and materials, as much a possible.
Participating in historic restorations of this kind is always interesting and often a point of pride participating in the preservation of the region's proud design history, especially for a company like ours that has been part of the community for seven decades.
RECAPTURING THE PAST
This was not the first time our company has worked on a home designed by Breuer. Back in the early 2000s, we were engaged to take on a remodel of the pool at the Stillman House in Litchfield, Conn., which remains one of our favorite projects.
That project holds great meaning for our family. My maternal grandfather, Joseph N. Scott, Sr., founder of Scott Swimming Pool Co., one of the pioneering pool builders in Connecticut and the broader New England region, built the pool in the 50s, at a time when Breuer was doing pioneering residential design in the region.
Our family is very proud of Joe Scott's legacy. He was WWII vet, fought at the Battle of the Bulge and after the war got into septic system work. It wasn't long before he moved from handling waste water into building swimming pools, which were experiencing rapid growth in the post-war era. He was quite a guy and many, many years ago, I found my own start in the pool industry working for his company.
My grandfather knew how to network and was friends with Breuer, and with legendary abstract sculptor, Alexander Calder. The Stillmans were avid art collectors and commissioned Calder to create a stunning outdoor mural, which was prominently situated at one end of the pool. It was a prestigious project back then, with a renowned architect and world-famous artist. The mural itself is a stirring representation of the surrounding natural landscape.
Fast forward about 50 years and the pool and mural had fallen into decay. In part because our company had a shared history, but also because we were qualified to take on the project, we were hired to renovate the pool, and as part of the work, restore the mural.
The pool was not unlike many other remodels we've done, albeit with the requirements of an historic restoration, but the mural, that was a group effort. We consulted with the Calder Foundation and a host of experts and concerned parties. (See our original WaterShapes article on the project, Artful Restoration.)
In the end the pool looked brand new, as did the mural.
NEW SKIN
During the Stillman project, we came to know the owners, who are active purchasing historic homes, restoring them and selling them. It's a kind of house-flipping on an extremely rarified level.
They had purchased the Neumann house and were in the process of restoring it to its original form with appropriate upgrades throughout the property. We had developed a good relationship and based on our past work together, we were successful in securing the contract.
The pool is nestled in beautiful local granite stone retaining walls and is a terrific example of integrating a watershape into architectural hardscape, which is present on the house and throughout the project. When became involved, the pool was hardly recognizable. It was filled with dirt and debris, and hadn't been used it years. Aesthetically and functionally, it was completely derelict.
We immediately saw the opportunity to reclaim the pool from the ravages of time and neglect. The structure was in disrepair with cracks and deteriorated concrete, it didn't hold water, but we knew it was fixable and didn't need to be completely removed. We were confident we could restore its original form, with upgraded equipment.
Like the house itself, the pool design was minimalist, featuring clean lines, bright white and sky-blue water. It's all shallow, four feet deep, made of cast-place-concrete. And it has a spectacular view of the Hudson River.
We sand-blasted the pool and performed numerous shell repairs, removing and replacing badly decayed material in a number of spots. Obviously, we had to make sure it was waterproof, so we installed a heavy-grade steel mesh, six inches on center and then shot a four-to-six-inch structural interior skin.
It was a wet-mix shotcrete application using smaller-than-usual aggregate stone material, not getting above a quarter-inch aggregate. The largest aggregate used in shotcrete is 3/8th, but we wanted to keep it nice and trim, and paintable, (more on the paint job below).
The wet-mix material was troweled smooth into place. We did have some shrinkage cracks, which were repaired and the old bond beam was renovated with a white cementitious material and vibrated into place.
The new skin did shrink the interior of the pools, but working with the clients and the powers that be, we determined that was the least intrusive way to bring it back to something very close to its original form.
The pool includes an overflow through a scupper-like opening than pours through a grate to a sub-grade catch basin on the downhill side. It's an early version of a water-in-transit design. We refurbished the catch basin and installed new plumbing from the basin to the equipment pad. We also replumbed the suction lines from the pool itself.
A PAINTED FINISH
It was common back in the 50s to finish pools with paint. In this case, the original was done in a white cementitious pool paint, instead of plaster, which hadn't yet caught on in those days. Specifically, this is a dry-gun, troweled, painted white surface.
It's interesting, when you compare the look of the paint compared to white plaster. It's a much softer look that beautifully stands out, especially in sunshine. It's not a look we see very often these days, but it makes a beautiful statement, perfect for a pool of this historic pedigree.
William "Bill" Drakeley is an award-winning shotcrete technologist specializing in concrete science and construction, particularly shotcrete applications, techniques, and standards, with thirty-plus years of experience in shotcrete installation, waterfeature and geotech design and construction. He is co-founder of Watershape University.