PVC Membranes (a neat fit)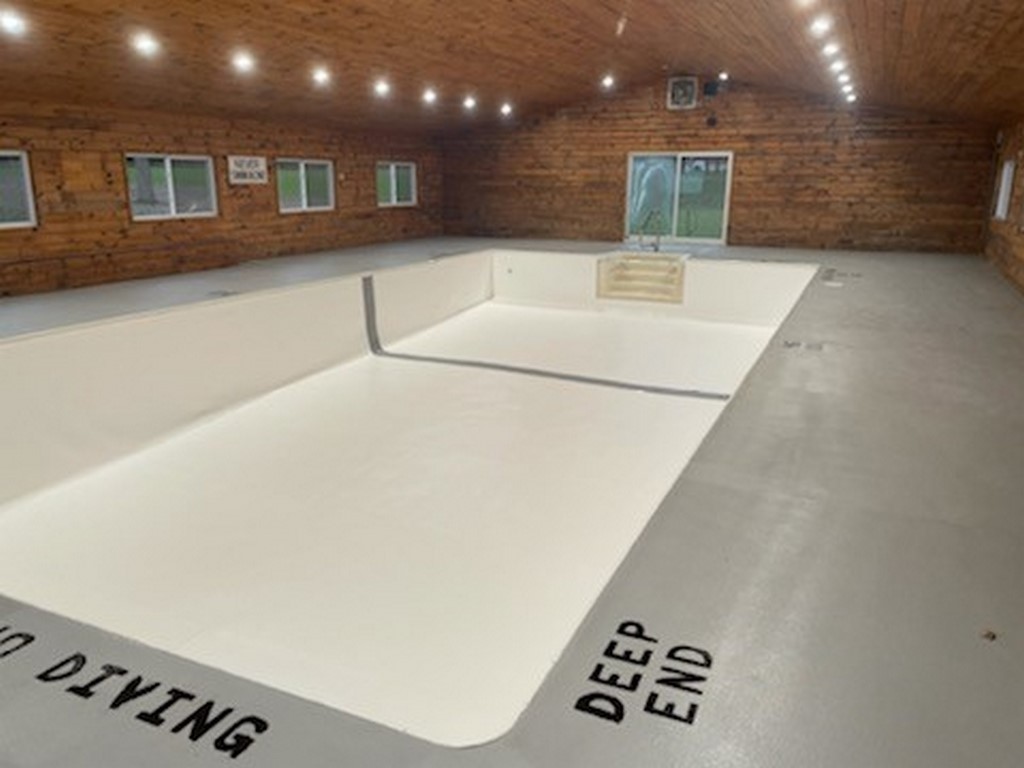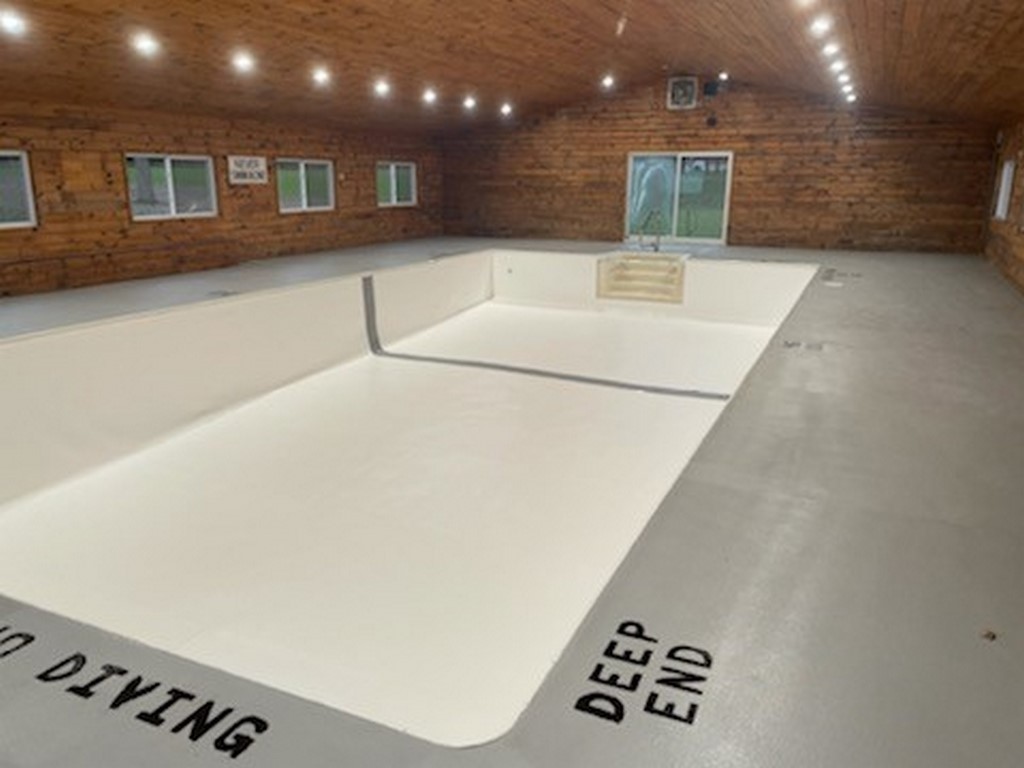 There's no limit to the cost of renovating severely cracked pools. Ontario Pool Coatings recently turned to PVC membranes as a way to control those costs and most important, provide a reliable watertight renovation solution. As company president, Darren Borland, explains, the move into membranes has proved a perfect fit.
By Darren Borland
Doing business in Canada can mean covering a lot of ground, it's a big country. Our company, Ontario Pool Coatings Inc., London, ON., services all southern parts of the province, from the greater Toronto area to Windsor. Not only are we widespread in terms of our market area, we're also expansive in the services we offer.
Over the last seven years, our team has worked hard to become the go-to experts in the province for pool renovation projects using epoxy resin, epoxy paint, thermoplastic coatings, and complete concrete renovations, on both commercial and residential pools.
This year, we added 80-mil polyvinyl chloride (PVC) membranes, from manufacturer Renolit, to our range of services. The reason for the move was simple: we recognized that some projects are best renovated with a membrane. In our first year offering this method of waterproofing, we have completed two commercial jobs and one residential pool.
In these three projects, PVC membrane was the ideal choice. Here's why.
ELEVATED CONDO POOL
The condominium board of the complex had been calling around for a solution to its leaking pool for some time. Located on the banks of the St. Clair River, this condominium pool sits directly above a parking structure, where a leak visibly presented itself. The situation required a long-term waterproofing repair. We determined that a PVC membrane would provide the optimum solution for the problem at hand.
When we inspected the pool, we were confronted by a 20-by-60-foot concrete vessel with a traditional, 30-mil vinyl liner. The liner was not well-suited for this commercial application because of the higher bather loads and increased sanitization levels in the water, which eventually caused the liner to fail.
Although the PVC membrane is not the least expensive option, the condominium board was looking for a long-term solution and were tired of dealing with the maintenance and leaks in this pool.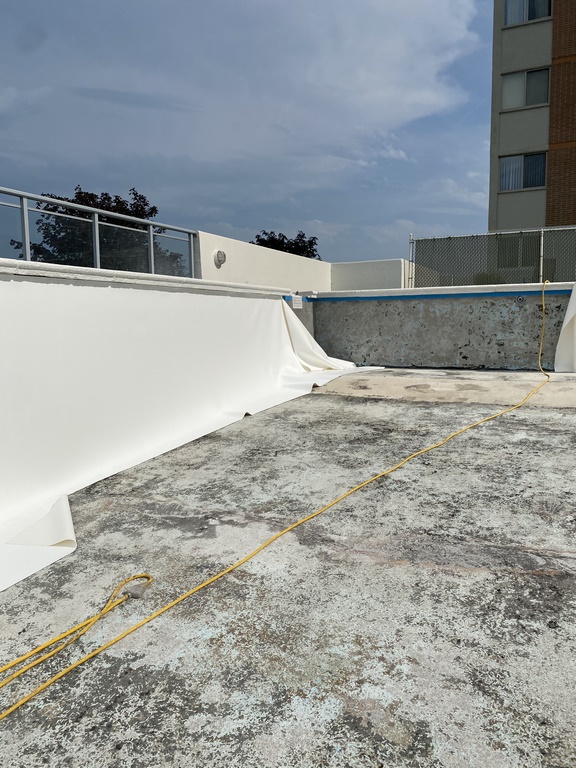 The installation process is fairly straightforward. Before installing the PVC membrane, crews prepare the surface, which can also include repairs. Most pools require a day or less for preparation; but, if a pool is in particularly bad shape, a service professional may need up to a week to patch the pool, fix returns, cracks, and other issues.
It was fairly easy to sell the clients on the savings because of all the time, money, and hassle as a result of the pool maintenance they had been dealing with over the years. The PVC membrane is a complete waterproofing membrane that is guaranteed for at least 10 years, and it is very forgiving. If the concrete shell shifts or cracks, the membrane will hold water regardless.
We've found clients want something long-lasting that isn't going to leak, so they appreciate the additional insurance the PVC membrane provides.
Once our team removed the old vinyl liner, they worked on preparing the surface for the new PVC membrane. In this case, there were so many layers of paint — rubber paint, epoxy paint – 60 years of paint, it was like a history lesson in pool paints of the past.
We spent several days preparing the surface, smoothing it out, and making repairs before applying a glued felt backing. The material, also referred to as geotextile, acts as an anti-bacterial preventing bacteria proliferation behind the membrane to extend the life of the product. As a side benefit, the felt lining provides comfortable footing, which is especially beneficial for bathers using the pool for water conditioning, therapy, or aerobics.
After the geotextile is installed, workers roll out six-foot wide strips of the PVC membrane and heat-weld them together on-site for a smooth finish. They also cut, fit, and weld any steps, beach entries, safety ledges, etc.
In this case, we also ran new plumbing to ensure the pool functioned as new when the renovation was complete.
INDOOR CAMPGROUND
This was another example of a pool proving to be a huge maintenance headache for a local camp.
The pool had some sort of rubber surface, which was chalking in a way so that when you rubbed it with your hand, you would get covered with a white film. It was painted so many times we didn't know what the initial surface was.
After starting the project, we discovered there was a high-water table in the area. We didn't know it at the time, but clearly the high-water table was responsible for a lot of the pool's damage.
Similar to the condominium project, this pool required a lot of preparation. Knowing we were installing the PVC membrane, we could be confident that despite the condition of the structure, we would be delivering a long-lasting, watertight solution.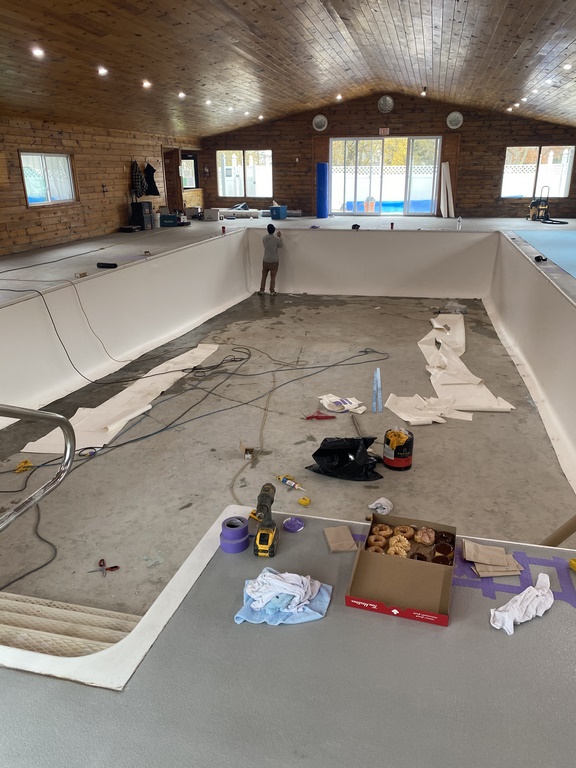 Once the surface was prepared, we installed the felt lining along the floor and walls of the pool structure. Then, we installed a PVC membrane, which was custom welded on-site.
The PVC membrane installed on the campground pool features a slip-resistant, embossed surface, which is generally used on steps, in shallow areas, and beach entries. Black PVC material was also used to create racing lanes, transitions, and depth markers.
The client was thrilled to know they no longer have to work on the pool surface every year, as they were doing so previously. Commercial pool operators understand the value of not having to constantly maintain the pool surface every year, as it saves time and money. Further, a better pool surface is appreciated by residents, campers, and maintenance staff.
RESIDENTIAL INTEREST
This pool was an extreme task. For this renovation project, one of the only ways the customer could fix their pool was to use a PVC membrane or simply fill it in.
When we got into the crack repair, we found a dire situation where hairline cracks hid more cracks within the cracks. That put us in a bind. We originally planned and quoted a standard paint job but once we got started, we. discovered that the cracks were so severe, it would have never held water.
What basically happened was contractors were filling the cracks for many years leading to 200-feet of cracks. It was impossible to give the client the guarantee that painting their pool would fix the problem. We still fixed the cracks, but because we were using a PVC membrane, we knew if the cracks opened up again, there would be no harm.
We told the client they would have to waive all warranties if they wanted to continue repairing and repainting – or they could have a PVC membrane installed with guarantees from the manufacturer, Renolit.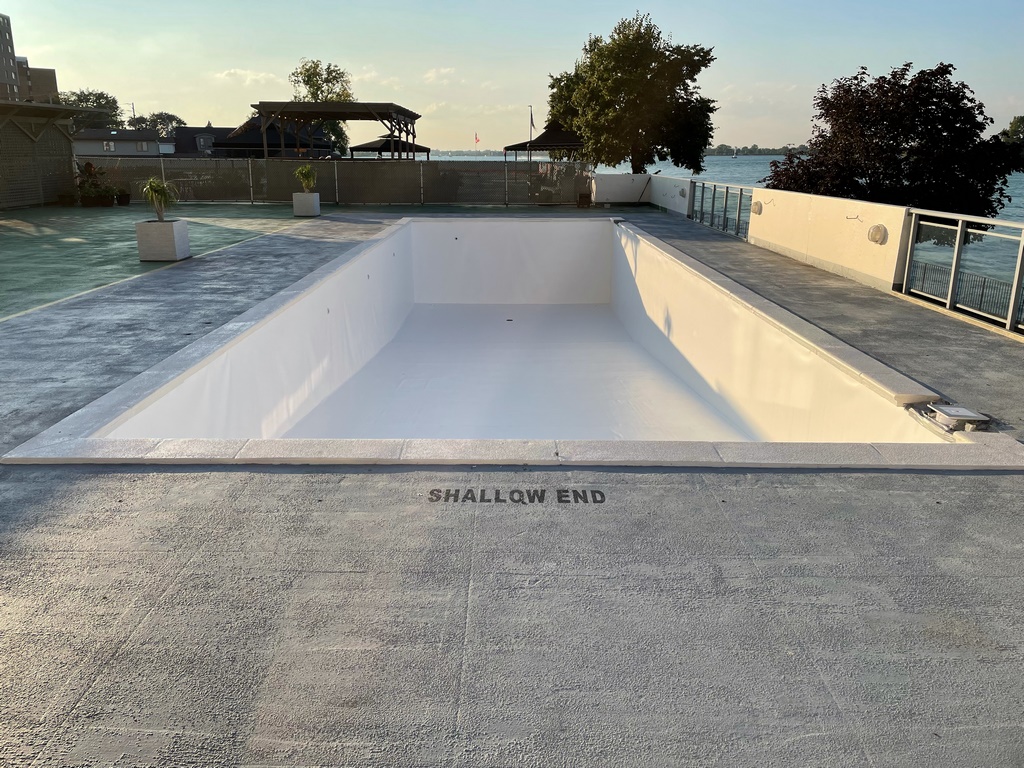 Part of why we turned to membranes was we've been seeing more pools experiencing this type of severe cracking problem. In areas where new condos, big buildings, and other major construction is occurring, we've started to see ground disturbance and drainage concerns in many of our pool renovation projects.
In this case, the home was close to a major new hospital so there was ground movement, new water movement, and water tables rose. It's not the homeowner's fault their pool suffered damage because the water table in the area changed.
NEW COATING OPTION
We find 80 mil PVC membrane to be a complementary product to our existing service offerings. It's a new addition to our toolbox. If a client's pool has a good structure, we can provide a good finish with traditional pool coating renovation solutions.
With PVC membranes, however, we can take on renovation projects that are riskier. We can install it on pools that are not perfectly built, as the membrane is more forgiving to movement and cracking and will still hold water to provide a complete waterproofing repair.
By adding PVC membrane systems to our menu of options, we've been able to take on projects we weren't able to perform previously; further allowing us to expand the business to a larger number of potential clients.
The awareness surrounding PVC membranes is on the rise, especially among commercial aquatic facilities. In fact, many architects and aquatic consultants are starting to request this pool finish option in high-rise structures or anywhere waterproofing must be guaranteed. For those looking to expand their business, PVC membranes might be the ideal fit.
Darren Borland is in his seventh year as the president of Ontario Pool Coatings Inc., a company which he started on his own. His day-to-day tasks include scheduling, managing job-site crews, inventory management, quoting, managing larger commercial projects as well as overseeing the tasks of his staff. He graduated from McMaster University with a bachelor's degree in labor relations and a minor in business and leadership and management, graduating from Fanshawe College with a degree in Human Resources Management. He has worked in the pool and spa industry for 12 years.