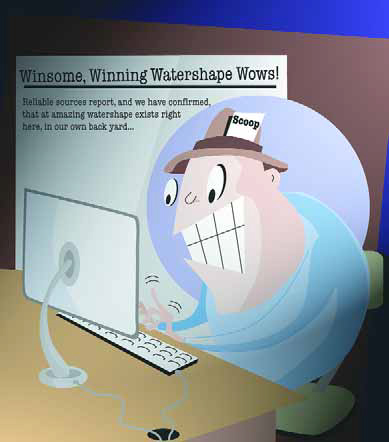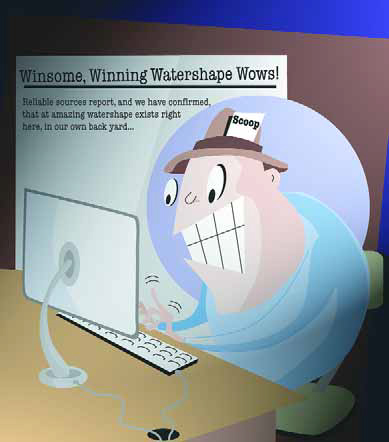 Many have asked me how it is that my work is published so often. I'm not talking about this column, which is about what I do and occasionally depicts my work to illustrate a point I'm making about what we do as watershapers. Rather, the question's about my projects making their ways into books and consumer magazines and other media beyond WaterShapes.
The short answer is that I focus on garnering this sort of exposure and have actively cultivated it through the years. As is the case with anything else you do to draw positive attention to your business, seeking to have your work published in a book or magazine takes time and effort and an understanding of what working with writers and editors is all about.
The benefits of figuring this out and gaining high-profile exposure among an interested audience can be wonderful.
MAKING CONTACT
Exceptional projects for outstanding clients don't fall off trees: You need to reach these people somehow and make your presence known.
There are numbers of ways of achieving this contact, and I'd argue that positive press is far and away the best vehicle for doing so. You might accomplish as much by placing ads in newspapers or magazines, but I've always felt that the person seeing the ad recognizes that you've purchased the space for self-promotion. By contrast, editorial exposure in the same newspaper or magazine is in many ways the equivalent of third-party endorsement of the work you do.
When prospective clients see your work in a consumer publication, they'll interpret the appearance as validation of your professionalism and may be more inclined to seek you out. (The same is also true for a professional audience with exposure in trade magazines, but that's not my focus here.) Consumers will presume that the editor of a house-and-garden/shelter magazine or newspaper supplement has published your work because of its merit and your abilities and not necessarily because you are seeking new clients. It's a wholly different twist on how and why people contact you.
And consider what happens if you gain coverage in multiple publications: This results in clients' telling you that they've seen your work "all over the place" – and that they've contacted you because you seem to be "hot." It doesn't take too many of these conversations to think that time spent on the press-relations front can yield big dividends in terms of building a reputation and gathering leads.
Remember that consumer magazines are extraordinarily powerful when it comes to guiding readers' tastes and desires. Right or wrong, people make a natural assumption that, because you're in the consumer media, your work has merit and you have credibility.
But getting your work published is no slam dunk. Magazine, newspaper and book editors keep their jobs because they perform well in selecting designers and projects that appeal to their readers. This means that your work needs to fit a context and make sense for the publication.
In other words, securing good press is a matter of designing and/or building quality, exciting projects on the one hand and, on the other, of fairly evaluating your own work, seeking evaluations from others – either fellow professionals or, in some cases, savvy clients, and studying what's already being published to see how well your work stacks up.
BE HONEST!
However you do it, this self-assessment process needs to be fair. You have to ask yourself, "Am I good enough? Is my work worthy of being out there for other people to see? Will it stand up to the scrutiny?"
This process of setting your work down next to other projects that have found their way into print and judging your own creations with fresh and relatively objective eyes can be difficult. It takes courage and can be scary, and if you put yourself through this sort of self-evaluative exercise and can't honestly say that your work compares favorably to what you see in print, then my advice is to wait until you have better stuff to show.
Consider: If you try to promote mediocre work as having real quality, you're likely to find more frustration than success in approaching editors and should hold off until you're ready.
If you have work that fits, however, the key to making inroads with editors is being able to speak their language and make yourself heard. This entails expressing what you know about design and construction and doing so with an authority that engages the editor and positions you to talk with a writer and, eventually, with readers.
That means explaining the situation you faced for the project, your vision, and how you executed that vision – all in ways that are appropriate for the audience at hand. Having good pictures is nice, but to make things happen in print, you must be able to share meaningful and relatively detailed information. You must be an authority for anyone to bother reading what you have to say.
I've learned through the years that there's a big distinction between communicating with professionals through trade journals and with consumers through newspapers, magazines and books. In the trades, the information tends to the practical, technical and procedural. With consumer publications, by contrast, the information tends toward the creative vision and how it is exercised. The latter sort of communication generally means throwing more of your personality into the process.
Some designers and builders aren't comfortable with "revealing" themselves in this way, but consumers tend to be more interested in making personal connections rather than professional ones.
IMAGE CONSCIOUS
As I suggested above, having good images of your work is one of the keys to reaching the editors who decide whose work makes it into print.
With some of the larger publications, they'll want to send their own photographers out to get exactly the shots they want, but the fact of the matter is that you usually need to generate good photography on your own just to get a foot in the door.
The first thing you have to decide here is whether you're going to hire a professional photographer or take the pictures yourself. Obviously, hiring a professional is an investment – sometimes a significant one. But unless you know your way around a camera, have a decent eye and possess some understanding of light, angles, depth of field and the characteristics of film, filters and exposures, the images you take will not be as attractive or well-composed as those taken by a pro.
Through the years, I've judged a fair number of design-awards competitions, and I've often been startled by what people submit. Believe me, regardless of how beautiful a design and project may be, if you don't have quality images to demonstrate that splendor, it's not likely your work will be considered seriously for publication.
Just as you need to speak a language editors appreciate, you must also communicate in visual terms they accept. This is why, personally, I call in professional photographers to record my projects to supplement my own picture taking. I have a pretty good eye and know how to use my camera, but I'm no expert.
By the same token, I've learned a lot from watching professional photographers shoot my work and how they approach the spaces I've called them in to record for me.
With watershapes, for example, the water is so compelling that it's easy (especially as a watershaper) to fall into the visual trap of just shooting the water and not the overall environment. My observation of professionals has taught me to step back and take in the whole setting.
In fact, for a great many of the shots I now take, the water is not the focal point so much as it is a complement to and component of the entire space. I also make a point of taking a greater number of photographs from a larger number of angles – not just from different vantage points around the space but also from high and low angles as well as at eye level – to capture visual relationships and more of the "feeling" of the space.
In addition to these wide shots, I've also learned a very important lesson: Professional photographers and editors love shots of details – little spaces where shadows or colors or intersections of materials are compelling or beautiful or were manifestly difficult to execute. I now take lots of these shots myself, something I rarely did before.
NEAT AND CLEAN
When you take your own photographs, observe a cardinal rule of good photography and "clean up" the shot.
I'm stunned when I see beauty shots of pools, spas and other watershapes in which the image is marred, often comically, by the presence of hoses, pool cleaners, garbage, dead leaves and other plant debris, children's toys, flotation devices and any number of other distractions.
Digital Drama
When you take pictures for publication, it's important to understand the requirements the publications have for images. Slides and prints are tried and true – and much appreciated these days by editors and art directors who've had their problems with digital images.
I've spoken with lots of editors, including WaterShapes' own Eric Herman, who are perturbed by the explosion in use of digital cameras: They've proved to be wonderful with respect to convenience, but not enough watershapers recognize that the images must be shot at a reasonable size and resolution to be publishable.
Eric tells me he's had way too many articles fall through when CDs have arrived with hundreds of gorgeous images that are about the size of a thumbnail when viewed at the 300 dpi standard required for printing. Not all digital cameras are made equal: If you use one, shoot at the highest possible resolution – and if your camera isn't able to shoot 5-by-7s or 8-by-10s at 300 dpi, think about getting one that can!
Whatever approach you use, remember that the proof is in the images: In contacting editors, it's always a good idea to have an assortment of photos at the ready – whether on your web site or in a portfolio of some kind – because, ultimately, it's the work that sells the story.
— B.V.B.
Not only should your images be uncluttered by such things, but you should also think in terms of enhancing the image by adding small touches, such as flowers on tables, place settings on patio furniture or extra plants in strategic places (to camouflage unsightly spots).
One of the most important tricks of the photographic trade I've learned through the years is that timing is critical. This is partly a matter of observing the space at various times during the day and taking photographs when the light's at its best, but it's also about being patient and waiting for the right weather – or maybe even the right season or time of year – to make the most of the setting's possibilities.
If you work with a professional, they'll take care of lots of this for you, but that doesn't mean you just sign them up and walk away. You need to communicate with the photographer about the best angles and most significant details because you're the one who's studied the magazine to which you'll be sending the photos.
Even though a professional knows how to capture quality images, he or she may not immediately "see" the project the way you'd like. I always consider photographers to be similar to anyone else who's seeing the work for the first time, and I always make a point of discussing what I'd like them to shoot. They may go beyond my requests and catch something spectacular and unanticipated, but in any event I get the shots I think I'll be needing.
Finally, there is the question of taking construction photos. For consumer magazines, "in-process" shots are seldom of interest, but trade publications (including WaterShapes) may well have a need for such shots. Because I work with publishers on both sides, I take pictures steadily and usually take "master shots" from one particular angle to record progress and the transformation of the space.
For the most part, however, these construction shots and photos of things like equipment sets aren't for publication. Rather, I use them as tools to document how things should be done for the benefit of subcontractors or staff charged with doing similar work on other projects – or to show prospective clients what's involved with the construction process.
WORKING IT
All of this background work and preparation is part of the process of getting your foot in the door with an editor, but there's a lot more to finding your way into print than being ready to have someone take a look. As I mentioned at the outset, working with the media takes time, and you need to be persistent and patient as you demonstrate the value of your work to editors and, as important, get to know them and what they want and develop a rapport with them.
That said, there are some strategies you can use to get your foot in the door.
[ ] There's always the cold call with an unsolicited submission. This involves finding out the name or names of editorial staff members and contacting them with your ideas.
If you're lucky, this may be all it takes – but be sure if you go this route that you have good images together and that you have an "angle" in mind having to do with something particularly interesting or trendy about the project. Obviously, editors and writers have their own ideas about what works for their publications, but when you come to the process with an idea in mind (and thereby do some of their work for them), you're that much ahead of the game.
In this case, it really pays to be familiar with the publication. If you see a fit in your work, play up an angle they commonly take and you're likelier to make a good impression. It doesn't hurt to have something written down to go with the images – either an article draft (if you feel confident in your writing abilities) or a promotional description of a project.
[ ] It's also possible to use indirect approaches. Oftentimes, for example, a manufacturer will seek press coverage directly or retains a public relations firm to spread the good word. If you have a project that demonstrates a particularly creative or exemplary use of such a manufacturer's product, you can submit your images and ideas to that vendor with the suggestion that they pick up the ball and run with it.
At first, this may only result in an image or two winding up in an article or a brochure, but it's a start. And once you're in print somewhere, you can use that exposure to interest other media outlets – sort of like building a referral network.
[ ] One of the most common paths to good press is submitting your work to local or national design-award competitions. I have my quibbles with the dignity of the most accessible of these competitions, but when it comes to seeking the attention of editors, there's little doubt that people in the media will, on occasion, look to design-award winners in winnowing through possible resources. [ ] Perhaps the best strategy is to be an active participant in the industry, either by working with a trade association, various charities, educational programs or a trade show. Involvement in these programs is particularly effective in reaching the trade press, but it can lead to consumer outlets because newspapers and magazines and book editors often call trade editors to get names.
This activity may not result in immediate publication, but it puts you at the top of editors' minds when they're developing content for future issues or have questions about particular stories. If make yourself a ready resource for editorial people when such questions arise, it's far likelier that they will at some point reward that involvement with exposure in their publications in one form or another.
COMMUNICATION KEYS
In my career, I've found that working with editors and writers is not difficult so long as you understand their needs. These people work at collecting and processing content for their publications, and they're always on the lookout for interesting material. When you put your work in front of them – by whatever means – you increase the chance that they'll turn to you for ideas and images.
As a rule, professionals in the communications business – magazine and newspaper editors and writers as well as the editors who put together coffee-table books – have curious minds and enjoy discussing things that interest them. Again, the ability to discuss what you do as a watershaper in direct and intelligent ways increases their comfort with you and the work you offer. It's all about simplifying the process of selecting whose work they publish, smoothing the path and making their lives a bit easier.
Just remember that editors and writers are always living and dying with their next deadline and aren't as focused on you as you might want them to be. In fact, a conversation you had weeks or months ago may have fallen off their charts, which is why I never hesitate to renew contact by phone or e-mail and let them know I'm still available, interested and amazingly interesting.
I've always enjoyed my work with the press, and there's no doubt that the exposure I've received over the years has helped to fuel my business and reputation. It's tremendously satisfying to receive feedback from people who've read articles or columns I've written or that have been written about me, and the circle of these contacts just seems to keep on growing.
One last observation: You might create the most beautiful watershapes and spaces in the world, but if no one knows about them other than your clients, you're selling yourself and your work short. Obtaining good pictures and getting to know people in the press is never a bad idea. Although you can never tell exactly how your work will be received, you'll never know until you try!
Brian Van Bower runs Aquatic Consultants, a design firm based in Miami, Fla.,and is a co-founder of Genesis 3, A Design Group; dedicated to top-of-the-line performance in aquatic design and construction, this organization conducts schools for like-minded pool designers and builders. He can be reached at [email protected]