By Scott Cohen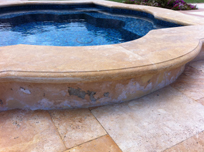 For generations, the rank-and-file of the pool industry has operated under the general assumption that plaster is an effective waterproofing membrane. That's not the case: As is true of all cement-based materials, plaster is permeable — as are concrete shells.

Yes, there are those who say that the higher the density of the concrete the less permeable it becomes, which is true. Unless the material has been applied to absolute perfection under ideal conditions, however, it will invariably be susceptible to penetration from water. In other words, waterproofing is a good idea!

Scenario: Consider this raised spa: It was built without any waterproofing at all, and water moving through the plaster and concrete eventually reached the outer wall, where the stucco surface began to delaminate.

This just shouldn't happen. Whenever you build a raised spa (or any other pool feature where the outer wall is exposed), it is important to waterproof the interior surface before plaster or tile is applied. Failure to do so allows water to migrate through the walls and, in time, undermine the exterior finish. In this case, for example, the stucco was literally peeling away from the spa's exterior wall.

Solution: At this point, the repair contractor might try stripping the exterior wall and applying a waterproofing material labeled for negative-side applications. In this instance, the wall should be pressure-washed to remove all residues of stucco and/or paint — but the chances for long-term success are marginal because the issue of water intrusion has not been fully resolved.

A better solution would involve removal of the interior finish at least to deck level, followed by application of a proper positive-side waterproofing and then refinishing the surface.

Lesson Learned: This one is simple enough: Use proper waterproofing agents first time, every time. As I see it, this is an essential, effective and inexpensive insurance policy.


Scott Cohen is president and supervising designer of The Green Scene, an outdoor design and construction firm based in Northridge, Calif. He provides consultation for clients nationwide and gives seminars on designing landscapes, swimming pools and outdoor kitchens. For more information, go to www.greenscenelandscape.com.