By Steve Gutai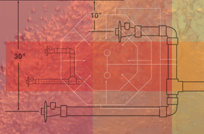 Skimmers are found in just about every type of watershape imaginable, including gunite, vinyl-lined, fiberglass and aboveground pools as well as in-ground and portable spas – not to mention ponds, streams and fountains.
In each case, specific skimmers have been designed to serve the individual applications. For purposes of this discussion, let's keep things simple by sticking to skimmers' most familiar application – in gunite swimming pools.
The main function of a pool's skimmer is removal of debris from the surface of the water. To do so, the skimmer is connected to the suction-side plumbing of the pool's pump and draws water across a weir (or a float) as a result of the vacuum created by the pump. The weir (or float) is buoyant by nature and allows only a thin sheet of water to enter the skimmer throat while preventing the formation of a vortex.
The water then passes through a basket or strainer that captures leaves and other debris before it can enter the plumbing. This stage is critical to the system's long-term performance and serviceability, because it prevents [more]