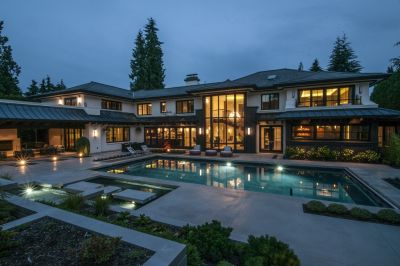 By Carla Sovernigo
Participating in a major project is sometimes like watching a child grow up through various developmental stages: Good things take time!
Our own involvement in one of these endurance tests started when we were called out to a 25-year-old home in North Vancouver, British Columbia, Canada: It was being updated from a dreary, dated style to something modern and contemporary for clients who were all about luxury, five-star amenities and state-of-the-art detailing.
The architect and the home builder were doing their parts, delivering elegance on a grand scale with sleek modern lines and neutral colors highlighted by rich, chocolate-brown accents. We'd worked with the home builder on several past projects and had been asked to join the team to assist in updating the existing pool while also addressing the home's brand-new indoor spa room. Our common goal was clear: deliver spectacular results while keeping up with the clients' evolving agenda.
In part, the pace resulted from the clients' routine, extended trips to China: We knew going in that regular communications with them would not be the norm. Adding to the challenge was the fact that, although it was clear that the clients trusted the assembled team of designers and contractors to complete the work, it was just as clear that they wanted to participate in all key decisions about materials, finishes and details. The upshot was that sometimes we could wait four to six months to get responses to important questions.
This is why, from start to finish, the project took nearly four years.
CLEARING THE SLATE
The existing backyard and watershapes were truly dated – a bit sterile and uninviting – with a raised level beyond the pool that included a concrete sport court. The small spa left a lot to be desired, while the pool had an almost institutional feel with its white plaster, nondescript coping and monotonous field of brick paving. (At some point, the pool had been awkwardly spruced up with fountain jets rigged into the return line. It didn't help.)
As was popular back in the day when the original pool was built, the pool was eight-and-a-half-feet deep at one end. That's not common today, of course, at a time when pool users prefer to bask on shallow lounging areas, wade comfortably in the water or swim laps. So while the existing backyard may have worked for the previous owners, it was painfully obvious the time had come for some serious updating and conversion of the space to meet the clients' desire for an expressive, Zen-like beauty and serenity.
It doesn't take much by way of a critical evaluation to see the shortcomings of the backyard space – or why design-oriented clients with an eye for sleek lines would engage in a grand-scale remodeling project. The existing features were all fairly drab, from the acres of brick decking to the sunken spa and the home's nondescript architecture. And as these images show, add-on fountain jets couldn't liven things up enough to make a difference.
Outdoors, our scope of work was limited to the remodeling of an already-stripped pool and designing and installing new mechanical systems for both the outdoor pool and a new waterfeature. The old spa was edited out of the space, to be replaced by a tranquil indoor spa that included a whirlpool along with a cold-plunge pool.
Before we arrived, the pool had been stripped down to the shell and the old spa had been cut down, filled in and buried. In addition, the outdoor hardscape had been broken out and removed right up to the coping. We started by raising the pool floor and installing new gallery-style steps, adding a bench and setting up new coping to transition to a more contemporary deck.
The home builder did much of the work on the structure for the waterfeature that now rises above the far side of the pool. Our main task here was in designing and installing the mechanical systems as well as supplying and installing the finishes. Adding the waterfeature and the indoor systems to the already-tight equipment room was quite the spatial challenge.
By the time we came on site, the decking had been demolished and the pool stripped. We raised the floor, added a deep-end bench and dressed the pool up with a dramatic entry steps in place of the original wedding-cake approach. We also did mechanical work on the big waterfeature between the yard's two levels and made our mark on it with some expert finishing and tile installation.
Of course, this sort of mechanical-room crowding is fairly common in modern renovations, which so often involve addition of complex new systems and features into existing, limited spaces. But the difficulty of such a task here was compounded by the fact that four separate systems were to be included in the cozy outbuilding instead of two – and five when you consider the pool's in-floor cleaning system.
Through all of this, new or alternative ideas kept flowing our way from the clients. As we aligned ourselves with their vision, we saw that they were fairly reasonable in accepting our opinions and recommendations in order to maintain the overall design style. But overall, things didn't really start to coalesce into truly final form until we were headed toward the final project stages – about three years into the project.
The calming presence of architect Ryan Donohoe, who supplied guidance for the pool revision and designed the waterfeature, was always appreciated – as was the general contractor's support for us at Alka Pool Construction Ltd. (Burnaby, British Columbia).
THE LONG HAUL
Any great work of art goes through its struggles and revisions on its way to becoming a completed masterpiece. There was no exception here, with three years passing before we began operating with a truly final design for the pool and its surrounding environment. And even then, it wasn't exactly clear what we'd be using as finishing materials.
As suggested previously, some of the project's duration was attributable to long-distance and intermittent communications, but some also had to do with the clients' ongoing generation of new, worthy ideas while keeping a sharp eye on the bottom line. This caused additional delays as we researched novel products and design changes in a way that would minimize costs while maintaining high standards for quality.
With the soil gone from the pool's perimeter, we replaced all of the old pipes and ran lines for the pool and the waterfeature over to a small building that would ultimately house mechanical system for those two watershapes as well as the indoor cold plunge and spa and a new in-floor cleaning system for the pool. It all seemed manageable in plan form, but making it work once multiple pieces of bulky equipment were added was a more complicated story.
Watching the clients' vision change with time as they saw their home emerge toward reality and coping with sometimes-sudden changes in direction became part of the process for all of us on the project team – and we at Alka Pool made our share of revisions with the watershapes along the way. But our primary role was with mechanical and hydraulic systems, so what we faced was minor compared to others on site – particularly the home builder, who was incredibly patient and professional through it all.
Sometimes alterations and redesigns had to be done on the fly; other times there were amazingly long periods where work was put entirely on hold as major changes were negotiated and solutions developed. At one point quite late in the process, everything became even more complicated when the home builder's firm went through an ownership change that required all of us to participate in a complete review of the project with the new management to ensure we were all on the same page.
Amid these delays and another trust-building exercise, we were all able to move forward once again, always buoyed by our recognition that this project was something special – a knowledge that kept us focused through long delays, recostings, redesigns and fresh negotiations.
Our work in the backyard was fairly routine compared to our extensive work on the indoor spa, which included both a cold-plunge pool and a hot-water spa. The intimate setting placed an emphasis on precision in detailing as well as a sublime focus on materials, transitions, textures and colors and their role in setting and maintaining a serene mood. (Photo at right courtesy Kingdom Builders, North Vancouver, British Columbia, Canada)
For us, for instance, it was apparent from the beginning that the waterfeature between the upper level and the pool would be the backyard's visual key – a bridge between the revised pool and the new serenity garden that replaced the old concrete sport court. Cast in place by the home builder with mechanical details and finishes by us, the whole assembly was topped by a stunning water bowl imported from England.
The finish we applied here – an elaborately patterned tile mosaic – involved an unusual amount of waste as we fitted pieces of different dimensions into the overall composition. We needed to take this into consideration when ordering the materials and in the level of care we used when making our cuts to conserve and balance the two colors of glass tile in the pattern. It was time-consuming, detailed work.
MAINTAINING FOCUS
Edging towards completion, we all felt like decathletes on the last mile of a marathon, with nine grueling events already under our belts. Much of our attention near the end was focused on linking the indoor and outdoor aquatic spaces together to meet the clients' and the architect's vision.
This wasn't accomplished through the usual repetitions of materials. Although we stuck to similarly subdued color palettes, it was more about creating similar moods through subtle lighting, repeated textures, gentle sounds and, always, a pursuit of sleek, modern lines. We also focused inside and out on using environmentally friendly products, including an ultraviolet sanitizing system to minimize chemical usage; a black automatic pool cover to reduce evaporation and help warm the water; and an in-floor cleaning system to reduce maintenance.
The home, its poolscape and its garden have, with four years' effort, been completely recast along completely modern lines – a testimonial to the clients' persistence as well as to the patience of numerous contractors who held fast through a lengthy and occasionally sporadic construction process. The outcome is precisely what we had all been pursuing – a serene, inviting, multi-layered retreat from the encompassing urban environment. (Photo at top left courtesy Kingdom Builders)
There is always a sense of excitement that gives way to deep satisfaction when you get involved in a project as complex as this and manage to maintain a focus on transforming common living spaces into something remarkable. Repeating this sort of experience over and over is why we've come to think of ourselves not just as contractors but as lifestyle shapers.
It helps, through ongoing education and experience, that we have what it takes to tackle intricate work – as our mechanical systems and the layout of the equipment room attest in this project. So where many challenges emerged on the customer service side of this project, the complexities of the mechanical system kept us fully engaged as the work moved along and we dealt with the masses of pipes, conduits, fittings and equipment as they converged in one compact room.
As the owners have described it, the pool now "shines like a sapphire when the sunlight hits it" – just the sort of evocative visual effect we all were after. These are formal spaces, indoors and out, but there's also an invitation to an easier, more serene way of life: It may have taken four years of hard work to get there, but the results seem effortless.
Carla Sovernigo is president and chief financial officer for Alka Pool Construction Ltd., a 55-year-old, family-owner design/build company based in Burnaby, British Columbia, Canada. The company joined the Master Pools Guild in 1978, and Sovernigo chaired its board of directors in 2013. For more information, visit alkapool.com.