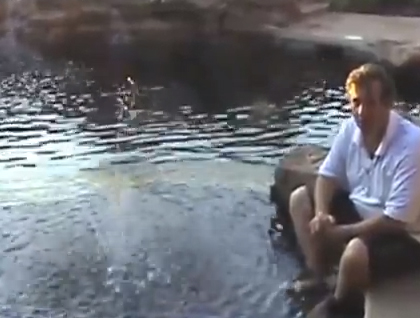 By Mike Farley
For a while there, it seemed like most pool/spa combinations were being built with raised spas – that is, systems in which the level of the spa was set above the level of the pool, with the connection between the vessels made by means of a spillway of some sort.
Recently, however, some of our clients have opted for a different approach in which the pool and spa appear to share the same water level. As I mention in the video linked below, there are various aesthetic and practical reasons for going flush – and there's at least one more I failed to mention, probably because this wasn't the right sort of application: Flush spa treatments make it a lot easier to specify an automatic cover for a pool/spa combination if that cover can roll right over the rim of the spa.)
Making these systems work – that is, maintaining the illusion of flushness when the spa is not in use – involves some fairly detailed plumbing and valving and, often, the use of multiple pumps. The key is making certain the spa can be isolated so that, when in use, the heated water recirculates only within the spa.
It can be a great look – one I'm happy to be seeing more often!
To see a flush spa in action, click here.
Mike Farley is a landscape designer with nearly 25 years of experience and is currently a designer/project manager for Claffey Pools in Southlake, Texas. He holds a degree in landscape architecture from Texas Tech University and has worked as a watershaper in both California and Texas.