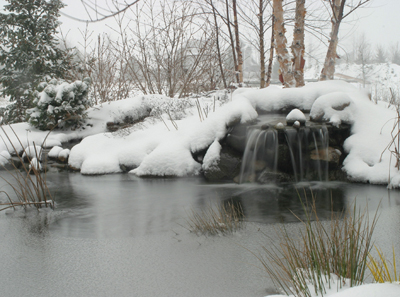 By Brian Helfrich
In places where winter's chill really takes hold, pond owners and those who maintain them face a big question: Should a pond run through the whole winter?
Some say yes, pointing out that keeping a watergarden in operation right through the frozen months will enable anyone who sees it to enjoy the beautiful ice sculptures that form in its streams and waterfalls. Others say no, observing that keeping up with a pond when the weather is cold is just too unpleasant and preferring to turn off the pump, clear the pipes and wait for spring.
Either call makes sense, but certain extra responsibilities come with a decision to keep a pond running. It's possible, for example, that ice dams will form and divert water out of the pond, which is why we at Aquascape (St. Charles, Ill.) recommend regular inspections of flow patterns. Periodic checks of the water level are also important: Ice locks up water, which may starve the pumps and cause the system to malfunction. To avoid this issue, water must be added as needed.
And don't be stubborn: If there's a succession of bitterly cold days and the water level drops at a dramatic rate, it might be time to clear the pipes and turn off the system until things warm up a bit.
Winter Wonderland
There are a couple other points to bear in mind if the year-round-pond path is being considered. During the winter months, for example, the usual water-supply options are frequently not available: Outdoor water spigots and automatic water-fill valves ought to have been cleared and turned off well before temperatures became cold enough to freeze and crack their pipes.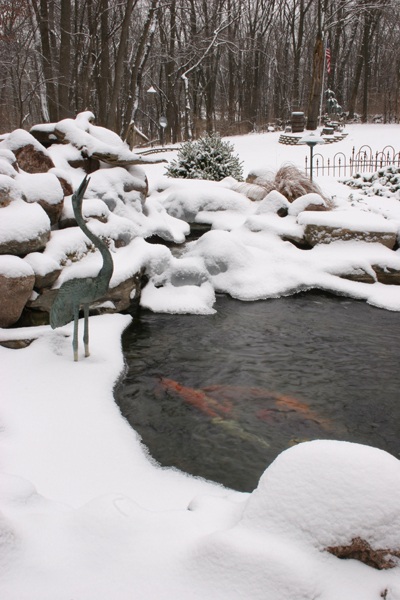 As mentioned above, ice locks up a portion of a pond's water, so finding an alternative water source for replenishment is required. One suggestion is to run a hose from inside the house; another is to make multiple trips with a five-gallon bucket. Either way, it's not a huge chore: Generally speaking, it won't be necessary to top off a frozen pond system more than a few times a month.
Pump size is another key factor here: If the unit is too small, waterfalls and streams can easily freeze solid. In our experience, the pump needs to be capable of moving at least 2,000 gallons per hour to be adequate for through-winter operation – and it must be run continuously to stay ahead of Jack Frost.
With the water moving continuously, the flow will usually maintain open holes in the ice around the waterfalls and in front of the circulation system's intake point. As mentioned above, however, long stretches of days with sub-zero temperatures may lead to excessive ice build-up that even continuous flow can't overcome, and the system may stop operating smoothly. If this happens, the pond should be shut down until temperatures rise to a point where the ice starts to melt and the necessary water flow can be restored.
Equipped for the Season
Oftentimes, we're asked whether super-cold weather will damage pipes, fittings and equipment, and the answer is generally no, provided proper procedures are followed when the weather turns raw.
Most good filters are made of materials designed to endure freeze/thaw cycles without incident. Likewise, the plastic pipes will not crack if, when the system isn't operational, water has been drained away so the freezing water can't expand and crack or burst them. None of that's a concern, of course, if the system runs all winter: The water won't freeze if it's flowing through the entire system on a continuous basis.
The bottom line with winter pond operation is maintenance. By our estimates, roughly 70 percent of pond owners in colder climes shut down their systems for the season because they don't enjoy the chores associated with tending a watergarden when the weather outside turns frightful.
As we see it, however, the aesthetic rewards of winter ponds are absolutely worth the moderate effort required. And there's nothing to fear in leaving the system running so long as the guidelines above are followed. Yes, shutting down a pond during the winter is an option, but so long as you take precautionary measures to preserve the fish, the plants and the equipment, why miss out on all that beauty?
Brian Helfrich is construction manager for Aquascape, Inc., St. Charles, Ill. For more information, visit Aquascape's web site: www.aquascapeinc.com.