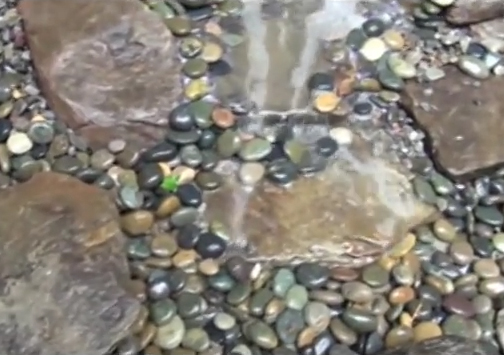 By Mike Gannon
The current generation of pond designers and installers tends to think big – often very big – and enjoy pursuing projects on large properties in which the basin and its accompanying streams and waterfalls create spaces so naturalistic that it seems like the water's been there forever.
That's a noble goal – and one I pursue frequently in my projects for clients in suburban New Jersey and elsewhere. In one recent case, however, we were called to the urban core of Brooklyn, N.Y., and a backyard that, small as could be, was nonetheless a pearl of great value to the homeowner.
These places aren't made for easy access: As the video linked below graphically demonstrates, it was pail and shovel work at every stage, with long walks from the backyard, through the home and out to the street coming with such frequency that we stopped feeling as though we were intruding. But this sense of confinement helped us appreciate the tiny yard as the home's sanctuary and made us happy to enhance this liberating space as best we could.
Although it isn't discussed in the video, the pondless waterfall we designed and installed is as much or more about sound than it is about anything else. Given the small available footprint in what I am certain can be a noisy space, we knew we could still fill the immediate area with the murmurings of water moving over the waterfall and add resonance when it disappeared and splashed into the large reservoir we'd dug into the small patch of dirt we had at our disposal.
In a sense, it's more like a fountain that a naturalistic waterfeature – a decorative element that lends a meditative, Zen-like air to the space instead of taking our clients out for a nature walk in the woods.
That doesn't mean we relaxed our standards: The waterfall is in keeping with our usual program of mimicking nature, for example. But in the collection area, we reached for a more decorative look akin to the intricate pavements you see in Japanese gardens – a suggestion of nature rather than an imitation.
As we see it, this is a demonstration of the fact that good things can come in small packages – and the clients were in full agreement.
To see this pocket waterfeature take shape, click here.
Mike Gannon is owner and lead designer at Full Service Aquatics, a pond installation and service specialist based in Summit, N.J. A certified Aquascape contractor, he may be reached at This email address is being protected from spambots. You need JavaScript enabled to view it..