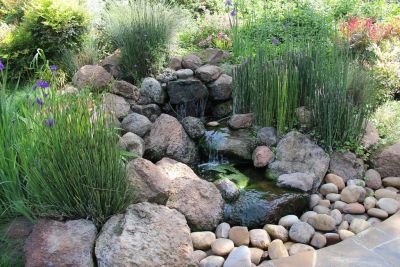 By Colleen Holmes
This is a story about turning an ugly duckling into a beautiful swan.
It starts with a couple who had recently purchased their ideal home – one with room for them, for horses and for serenely rustic outdoor living. But the reality as they found it was somewhat different: The entry from the street was boring, the house was bland, the backyard space was disorganized and the horse arena was up a dismal trail that ran front to back along the edge of the property.
Our mission at New Leaf Landscape (Agoura Hills, Calif.) was to take charge of the space and turn it into everything the homeowners dreamed it could be.
That's nothing unusual. In fact, it's what most of our clients ask us to do. But as a rule, the situations we walk into aren't quite as extreme as this one proved to be. We saw potential, thank goodness, but we knew from the start that our work was cut out for us.
ADDRESSING THE PAST
The property covers a long, narrow acre of the Santa Monica Mountains in Agoura Hills, Calif., backing onto a nature conservancy just perfect for a horse-riding lifestyle. There are miles and miles of trails back there through oak-strewn, hilly terrain, and being on its fringes put the homeowners in a great place to pursue their equestrian passion.
As we found it, however, the property consisted of a small, undefined entry space, a sleepy house, an ill-defined horse trail, a steeply sloping backyard and a raised terrace where the horse pens and stables were to be. But there was no design scheme, nothing to tie any of it together, and we recognized right off the bat that the house itself needed a lot of attention.
The property had clear potential, but it was an amazing mess when we arrived. We were greeted first by a collapsing railroad-tie wall, ambled up a cracking driveway to the nondescript entry of a drably painted house, passed into a sloping, unstable-looking backyard and, rising to see the horse area, looked back down to see nothing in particular. The big trees were great, but that was about it.
It was an older-vintage, summer-cabin sort of thing – as plain as could be on the outside, with dull paint, minimal detailing, a worn roof and very little charm. Our clients were working on the inside of the house and were making steady progress, but the exterior was something they were willing to leave to us, and we jumped in without hesitation.
We repainted everything, adding color where there had only been muted drabness and working in some architectural details to increase the level of visual interest. We'd also observed that the old, battered roof was plainly visible from the level of the horse arena, so we had a new one installed – again with some simple details added to increase its visual vigor.
The large deck we set up for the Japanese-style soaking tub is a new, visually dramatic design feature of the revised space, and it's now backed by a slope that has been thoroughly reworked to make it resistant to both tectonic action and washouts. By this time, we had painted the home's exterior and the roof had been replaced – big steps in raising the home's aesthetic profile.
We worked out front to create a welcoming space, replacing the deteriorating railroad ties with boulders and adding a hitching post, a windmill and a meadow to make approaching the front door a clear transition from an urban to a rustic environment. The front area was small, but we added landscaping and rock and began a lot-length process of adding green barriers that defined a privacy zone starting out front and ultimately stretching the length of the property. Mostly this meant bringing in trees.
The challenge in the backyard was the most complex, mainly because the space consisted of a grand slope moving more or less diagonally across the narrow yard. It had been that way for years, but to us it looked like a sand dune ready to tumble: As longtime residents of earthquake country, we had no confidence that the slope would stay where it belonged if given a good shake.
Approaching the house from the street is now a much more inviting process, starting with a new wall (top left), a revised pathway to the front door (top middle left), the emergence of a horse trail marked by a hitching post (top middle right), and the inclusion of various touches (including a large windmill) to clarify the transition from urban to rustic (right). Moving past the entrance into the sideyard, the horse path is a strong visual feature (bottom left), but it's balanced by comfortable spaces for riders and other visitors as well (bottom middle left and middle right).
So we started at the top, placing a pair of the strongest imaginable hitching posts in plain view from below. The rails are all that shows of heavy steel columns and the deep footing we dug into the slope to ensure its stability. And we made them so clearly visible from the house and backyard as a clue to what visitors might find by strolling up the pathway.
Down the slope, we set some secondary retaining walls, now hidden by plants, to complete the important stabilization phase of the project. We also inserted a bench with wagon wheels as another rustic accent.
SLOPING PLEASURE
With the slope ready, we began bolstering it further with generous plantings and, close to the home, a sweeping, well-anchored stream/waterfall feature that appears to start up near the stables and, just a few feet below, ends up in a large tank – although there's an illusion that it continues flowing under the stone deck.
The watercourse isn't very long, but it brings a wonderful level of sound to a space that forms a sort of natural semi-amphitheater in which the noise bounces purposefully off the house and flows over to the trees. The main deck is flagstone raised on a ledger-stone riser; the section between the home and the main deck is stamped concrete finished to resemble the natural material a step above.
Behind the upgraded house is an all-new outdoor environment – a relaxed, relaxing space made for people who love entertaining and spend lots of time working with and riding horses. As a visitor enters, the sound of a cascading waterfeature fills the air, flowing down the slope and seeming to disappear under the raised deck. At the top of the slope are two hitching posts that are also a big part of the slope-stabilizing system. (The waterfeature plays a part here, too.) Overall, it's a delightful space: The eyesores are gone, and it's time for gracious outdoor living.
The deck also features a Japanese-style onsen, or soaking tub. It's made of redwood and resembles a first-generation California hot tub in appearance, but it functions with all the amenities of a modern spa with a good assortment of jets, moderate lighting and a level of hydrotherapy easily appreciated by folks inclined to spend long days in their saddles.
The Maintenance Factor
My father was a gardener, and I learned much of what I know about plants by working with him and watching how he did things. He's why, when it's time to select plants, I take my clients to visit a big nursery where I can show them what I'm considering. I want them to touch and smell those plants so I can watch the interactions and reactions
That's it: My plans don't include anything more than general information about planting zones, and I improvise once I'm back on site as I consider colors, textures, scents and growth habits in making site-specific decisions about what goes where. As part of this, I consider those plants to which my clients had the most favorable responses and put them where they're accessible.
My father also taught me about maintenance and what happens once we complete our work and move on to our next project. The photographs included in the accompanying article were taken about two years after we wrapped up our main work, meaning everything was well established – and just about ready for us to come back in to do some judicious pruning, some new planting and maybe a removal or two.
This sort of periodic maintenance arrangement is something we try to work out with almost all of our clients. Their gardeners can mow the lawns and trim the verges, but we know the planted spaces' structural bones, and it's our goal to take long-term control of our work so our clients will be as happy with their environments on the last day they spend there as they were on the first.
It's a lot of work, but we love doing it because it's worth it.
-- C.H.
We set the tub down into the flagstone deck to soften its profile and integrate it completely into its surroundings. It's as welcoming as can be.
Moving up from deck level, we dressed the trail leading to the horse pens and stables, rebuilding the old path to stabilize it to the greatest extent possible and adding a tiered drainage system to prevent one of our infrequent downpours from washing it out. And again, we focused a lot of our attention on including plants that not only look great, but also will help keep the slope where it belongs, with healthy root systems and steady growth patterns.
In all, we spent six months on this project before the makeover was complete and the swan was ready to spread its beautiful wings. The homeowners were still all about the horses, of course, but we stretched out their vision and brought their property a level of serenity that offered them a break from their working lives as well as the rigors of managing their equine friends.
It's a beautiful ride into a close-to-home sunset.
Colleen Holmes is president of New Leaf Landscape, a full-service landscape design/construction firm based in Agoura Hills, Calif. A professional with more than 35 years' experience, she began her career as a child at the side of her father, Charles Prowse, who instilled in her a love of the art of landscape design. She studied landscape architecture at the College of the Desert in Palm Desert, Calif., where she was profoundly influenced by sculptor/landscape artist Michael Watling, and later attended UCLA's school of landscape architecture. Her early work focused on designs for country clubs and gated communities in the Coachella Valley. Since then, Holmes has run her own pool and landscape maintenance firms and founded her first landscape design/construction company in 1980. She established her current firm in 1987. She may be reached through her web site: www.newleaflandscape.biz.