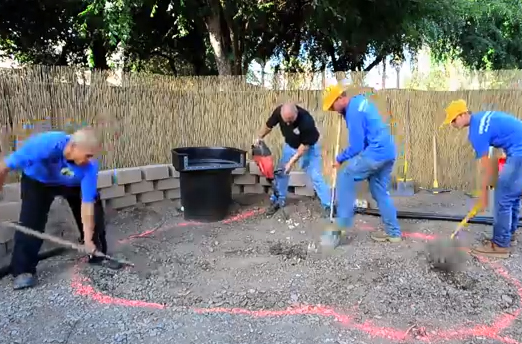 By Eric Triplett
All too often, do-it-yourself pond installers will jump the gun, apparently unable to resist the urge to start digging right away. My guess is that they want to get the intense labor involved in excavation out of the way, not to mention all of the grunting that comes with using a plate compactor.
As the pair of videos linked below indicate, there comes a time when there's no avoiding shovel and spadework – but it shouldn't happen first. Instead, the installation process should begin with the setting of the filter/waterfall box, followed by the stacking of the retaining wall and, before the surface even gets scratched, the marking with paint of the pond's shape. Then and only then should anyone start kicking a shovel blade into the soil.
When that time comes, I'm one of those rare individuals who actually enjoys digging. But even I know it can be hard work: The clay soils in the region where most of our projects are completed can be brutal, and even working in sandy soils is no picnic.
Whatever the soil composition or the digger's attitude, the excavation stage is crucial: It defines the pond's character – for the fish, of course, but also for the homeowners, family and friends who are destined to be lured to the water's edge. That's why we spend lots of time on shelves and where they should be placed. We're already visualizing the next several steps of the process and thinking about where we'll be putting distinctive boulders, the most attractive plants and other refined details that will make the pond stand out.
This is a two-part entry in the series. To see the first one, click here. For the second, click here.
Eric Triplett is founder and chief executive officer at The Pond Digger Waterscape Design & Construction in Yucaipa, Calif. He may be reached at [email protected] ponddigger.com.