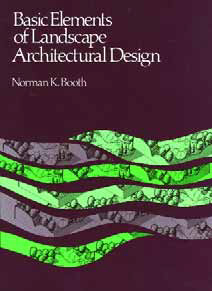 Watershaping has changed dramatically through the past several years, and we all could probably come up with a hundred different reasons why.
Here's the upshot: Clients are no longer merely asking us to build pools, spas or other bodies of water. Instead, they're asking us to create complete settings that include water. And when you compare where we are now to where we were, say, seven years ago, it's as though everything is different.
What the changes mean is that many of us have been or are being forced to seek out more sophisticated approaches to the design process. I recently finished a book that provides amazing insight into exactly that process: Basic Elements of Landscape Architectural Design by Norman K. Booth (Waveland Press, 1990).
The book was recommended to me by fellow landscape architect and watershaper Kevin Fleming, and I'm thrilled to have it. Despite the 1990 publication date, the book is used as a college textbook and is still widely available today.
As I was reading this extraordinarily practical, clear, well-organized compendium on landscape architecture, I kept wishing it had been part of my studies back in college. Booth does an amazing job of breaking down the field's varied disciplines into concise, separate but entirely interrelated discussions in seven chapters covering land forms, plant materials, buildings, pavements, site structures, water and, finally, how they all come together in the design process.
I could go on for pages describing his coverage of these subjects, but let's just look at some highlights. The first chapter, for example, discusses landforms and how the various elements of the land and its topography will influence a design's style and details. He offers great examples, discussing the way the flat spaces used for the gardens of Renaissance France resulted in traditions of geometry and hard lines – and then explaining how sloped spaces inclined 18th-century English garden designers to use softer, curved shapes and complexly layered views.
The fourth and fifth chapters (on pavement and site structures, respectively) offer wonderfully specific information about hardscape structures. He discusses everything from recommended frequencies for expansion joints to the types of hard surfaces and their characteristics. Although the book isn't about construction per se, Booth offers useful detail on the proper construction of staircases and walls with a discussion of the desired ratios of treads to risers for steps, for example, or how many steps you should have before inserting a landing and the proper height of handrails.
The sixth chapter – on water – is one of the best treatments I've ever seen coming from the architectural perspective: He explores key issues of reflection, surface area, the sound of moving water and how various types of watershapes will influence the character of a space.
He wraps this all up with a final chapter on the design process and, specifically, how you methodically use all the elements previously discussed to create designs that meet clients' requirements. He also supplies a terrific checklist for site analysis and an equally useful breakdown of the phases of design leading up to a detailed, finished plan.
Perhaps best of all, this is one of the few textbooks for the field that goes into residential designs as well as designs for institutional and commercial properties. Too often, this sort of coverage is omitted from books and college courses alike. At 315 pages, this long book is a feast of full of a variety when it comes to details and technical specifics – the kind of book that becomes a reference you'll consult over and over again.
To me, it's exactly the sort of primer we all need when clients ask us to move beyond the water's edge and create a well-designed exterior environment.
Mike Farley is a landscape designer with more than 20 years of experience and is currently a designer/project manager for Claffey Pools in Southlake, Texas. A graduate of Genesis 3's Level I Design School, he holds a degree in landscape architecture from Texas Tech University and has worked as a watershaper in both California and Texas.