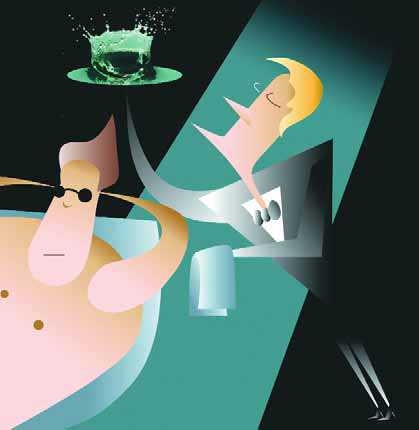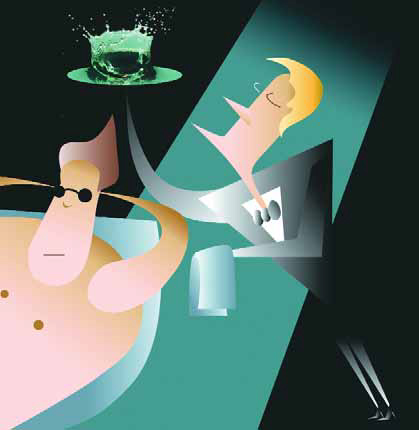 I've always loved the word "pamper."
I love its meaning, I like the way it sounds and, most of all, I think it's the perfect verb for us Baby Boomers, because I know as we slide through middle age and head toward retirement, a word that means "to treat with excessive indulgence, gratify desires or coddle" will only grow in usage and importance.
As I've pointed out many times, I'm a big proponent of indulging in the good life and gratifying one's needs for pleasure and enjoyment. One of the places you can go to plunge headlong into such indulgence is what some people call a "pampering spa."
Also known as "day spas" or "health spas," these facilities are becoming increasingly popular with people who seek their health and relaxation experiences in beautifully appointed environments. Among the most popular forms of physical and mental gratification available in these spas are massage, hydrotherapy, exercise, healthy cuisine and all manner of mud baths, mineral baths, saunas and beauty treatments.
As you may have guessed, I'm all for these places and, although some might say their beauty treatments haven't done me enough good, I highly recommend the experience in some form or other for one and all. Moreover, as a watershaper on the lookout for significant applications of our "main ingredient," I can't think of a more fitting environment for the creative and expert application of the watershaping arts.
DISTINGUISHED BY DESIGN
Let me boldly declare that the ways water can be used in these facilities cut right to the core of what watershaping is really all about.
I've worked on pampering-spa projects in the past and have always felt inspired by the idea that the watershapes in these places are so fully integrated into the environment, even in decadent ways. There tend to be multiple systems in such facilities, from decorative waterfeatures and fountains to swimming pools, spas and hot tubs.
To be sure, these projects don't come along very often, but when they do, I'm all too happy to jump on board.
That's why I smiled ear to ear recently when contacted by an architect looking for a consultant for the renovation and expansion of an existing pampering spa near Jacksonville, Fla. Even from our preliminary conversation, I could tell this would be an ambitious, complex job involving multiple bodies of water serving a range of purposes.
We exchanged the necessary paperwork and scheduled a meeting on site. By then, the team had developed an architectural plan with an overall layout for a large reception area, a restaurant, massage rooms, therapy rooms, men's and women's locker areas and associated "wet areas" – whirlpool facilities, plunge pools, spas and a large, outdoor swimming pool overlooking a nature preserve. It was quite elaborate. It was also very clear that water was to play a role in just about every phase of the visitor's spa experience.
The architect was very thorough in defining his vision of the project and did a nice job of bringing everyone at the meeting up to speed. In this case, the facility is on the same property as an existing golf resort, and he made it clear that one of the major goals of the project was to distinguish the pampering spa from the rest of the resort and give it a separate, marketable identity.
I didn't say much as he talked, but I made careful notes and maintained my focus because, with all the time he spent talking about water, it was obvious that there would be a great deal for me to consider and encompass: Not only were there going to be watershapes for exercise, relaxation and therapy, but also watershapes of a purely decorative form, including fountains and possibly waterfalls, streams and pond treatments.
TAKING THE TOUR
Appropriately, the project team had already determined that the impressions they wanted to make should begin with the entryway and the reception area and that water should be involved.
Beyond that, they were open to anything and had variously discussed sheeting waterfalls and other water effects for both sides of the circular driveway that provided access to the grounds – nothing specific beyond the notion that the water had to set the mood and make a statement about luxury.
Inside the front door at the reception area, they were similarly vague about their desires beyond the fact that they wanted visitors to be greeted by a subtle sort of water effect that would introduce a relaxing atmosphere. They also wanted to highlight the name of the facility, again with water as part of the package.
Just past the reception area will be a wide hallway leading to the heart of the facility. They talked about some sort of water effect on the sides of the space, and possibly a waterfeature in front that would lure people into the space while possibly serving as a divider that would separate foot traffic moving to different areas.
It was all pretty straightforward to that point, but as we "walked" through the rest of the project space, some obvious challenges emerged. Just beyond the watershape at the end of the hallway, for example, you could go to one side and into the restaurant or to the other side toward the locker rooms and a waiting area where patrons would be dressed in robes and slippers awaiting whatever treatments they had scheduled.
When we looked at this configuration, we all saw that there might be a problem in that one side would be quite noisy while the other would tend to be subdued. All they knew at this stage was that they wanted fireplaces in each area and were intrgued by the thought of integrating watershapes of some sort with the fire.
Now we moved on to the locker rooms just beyond the waiting area, where they wanted some kind of wall-mounted waterfeature to separate the men's and women's spaces. Next came a wet area with an array of hydrotherapy spas, cold plunges, saunas and steam baths beyond which there was a large, quiet area that would house a large, communal spa for all patrons.
The big spa sits on a terrace that overlooks the same nature-preserve vistas as the large outdoor pool below it. Exploiting that view, the architect had already drawn in the spa with a vanishing edge.
Down a level, the swimming pool was to be tucked up against the building's exterior and would include four arched alcoves that would extend back inside the structure (and each of which would house various hydrotherapy systems). We discussed the possibility of a vanishing edge for the pool and foresaw setting up a stream and pond system beyond as an easy visual transition to the preserve.
We then turned around and discussed interior rooms with baths and massage tables as well as exterior spaces dedicated to outdoor massages, all of them to include intimate waterfeatures. And one space was all about water: a massage room in which the patron would lie on the table to be massaged by overhead jets. Dotted all around the place were to be small watershapes – water literally everywhere.
ENTERING THE DISCUSSION
I purposely withheld most of my comments until the architect had gone through the whole program, at which point we started the circuit again, this time with me offering preliminary ideas and suggestions. I did so knowing that there was so much going on and, at this stage, very little specificity about much of anything, meaning that whatever we discussed at this point was subject to much future discussion and a host of major adjustments.
Even so, I laid out my own vision of the way I thought things should go with the design.
[ ] The circular drive. What they had was a circular space in the middle of the driveway measuring about 30 feet across. There had been some discussion of using this area for a naturalistic waterfeature – something with waterfalls, plants and rocks. I countered with a more architectural approach – perhaps a raised monolithic structure that would have water flowing gently over the sides with a fire element on the top – quite dramatic at night and a means of foreshadowing the fire effects visitors would find inside.
[ ] The reception area. Stepping inside, I suggested that the watershapes in the entry area should be relatively subtle and simple, especially given the fact that this was a main traffic artery rather than a destination and that my inclination is to place significant waterfeatures in places where people tend to spend more time as opposed to "just passing through." I offered an additional suggestion that they wet the walls behind the reception desks so that a soothing mood would be set from the time of the visitor's first formal interaction with spa personnel.
[ ] Spa signage. Responding to their desire to integrate water into "branding" the spa, I suggested using the central waterfeature that leads people beyond the reception area and etching the spa's name on a wetted glass panel. The architect then mentioned that "obscure" glass was being used throughout the facility, and I suggested etching the logo into the same material with water running over it. This would provide semi-translucent views of the restaurant and waiting area beyond and would further the objective of drawing visitors deeper into the spa.
[ ] Accessing the spa. We continued our tour amid brief discussions of ways to integrate fire and water in features for the restaurant and the waiting area and with conversation about smallish water effects for the entrances to the locker rooms. As for the challenge of separating the restaurant and waiting area, I suggested sticking with the fireplace concept, but incorporating noise-reducing obscure-glass panels that could be retracted into the walls as needed.
Now we turned our attention to the core of the project and the spa's hydrotherapy facilities. I offered the observation, based on my own experiences with pampering spas, that these facilities tend to do a nice job of presenting an upscale, luxurious image – but when you actually got into the hydrotherapy aspects of the experience, the spas themselves were sometimes less than satisfying and poor competition for the kinds of jet action found in portable spas. I also pointed out that many of the spas or hot tubs I'd seen or used in these facilities tended to be poorly maintained and filled with water of less-than-perfect quality.
For the spas in the wet areas, I suggested they consider going with prefabricated stainless steel vessels customized with deck level overflow systems, both being approaches I've used many times. Stainless steel shells are easily cleaned and stay that way because there are no grout lines or porous plaster surfaces. In addition, these spas are now made with all sorts of creative seating configurations and all sorts of hydrotherapy jets located at varying levels – effects that are difficult to replicate in concrete.
As for the perimeter-overflow system, not only does it have an elegant look, but it also offers the advantage of drawing water for the therapy action from a surge tank, which means you don't have to be sucking all that water through drains on the bottom of the spa. As for the big communal spa, I suggested a number of hydrotherapy configurations including an Italian-style system with stainless steel tubing that provides a full-body water massage as well as a "water alley" with deep water for toe-to-shoulder hydrotherapy among several other possibilities.
Finally, for the outdoor swimming pool, we discussed using the alcoves to provide a number of interactive hydrotherapy experiences in which guests can enter the alcove and activate waterfalls or even water cannons for the purpose of deep-tissue therapy.
NODS OF APPROVAL
Once we finished our second tour, the director of the facility, a woman with experience in managing pampering spas, spoke up and said that she was relieved to have someone in the loop who understood both the "pampering-spa experience" as well as the ins and outs of hydrotherapy and other water effects. This made me feel good and assured me that I would be playing an active role in the design team as the project moves forward.
Where all of this will end up and how all of the details will shake out is still to be determined in a great many cases, but based on what I've seen so far, it's clear to me that this particular pampering spa may well be on the way to joining my list of must-visit places when in the Jacksonville area – especially for folks looking for a bit of self-indulgence and pure pleasure.
We'll check back in with this project in later columns as the work progresses.
Brian Van Bower runs Aquatic Consultants, a design firm based in Miami, Fla., and is a co-founder of Genesis 3, A Design Group; dedicated to top-of-the-line performance in aquatic design and construction, this organization conducts schools for like-minded pool designers and builders. He can be reached at [email protected].