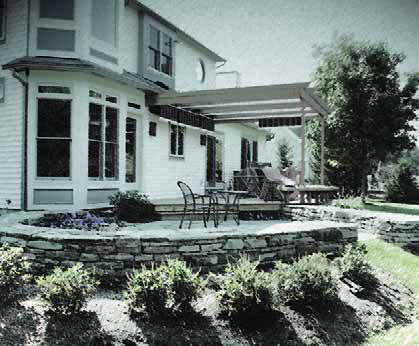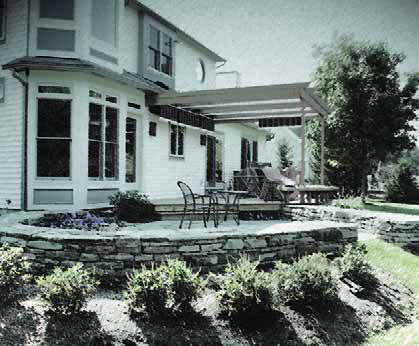 I've always believed that an unlimited budget is not essential to making design magic.
While having clients with deep pockets and a willingness to dig deeply into them is always nice and allows us a bit more leeway when it comes to artistic license, I've always observed that having relatively few constraints also tends to make some designers creatively lazy.
By contrast, I've often found small-budget, small-space projects to be creatively stimulating. A couple of columns ago, for example, I discussed a project we'd been working on that posed challenges with its sunken deck footings and the need to accomplish a lot with
limited resources. This time, I'd like to finish discussing that project and share my sense that working within its constraints led me to be more creative than I might have been if given greater resources.
Resetting the scene, my clients live in a typical middle- to upper-class tract of 3,000 square-foot homes shoehorned into postage-stamp lots. In the middle of the particular cluster to which we were called was a large, common detention pond that had been planted and was being maintained to look like a natural body of water found amid this part of the development.
INSIDE OUT
It's a picturesque view – one of which, I think, a custom-designed house would have taken greater advantage.
In this case, however, the production mentality of the developer allowed for no variation of the standard approach in which the back of the home has the typical clutch of small rooms with banks of small windows set in the usual locations, including a small opening over the kitchen sink, a couple of bedroom windows situated in this case so you can't see the water and a sliding-glass door leading out onto a small deck off the breakfast nook.
The back of the house also includes a formal dining room that these homeowners never used. But even here, which would seem the logical place to take advantage of the water view, only a simple window had been placed. Other than the big door in the breakfast nook, there was no easy way to enjoy the view.
The husband has a home-based business. Since they'd moved in, he'd always worked from an office in one of the small bedrooms upstairs – facing the street at the front of the house. Before we came on the scene, they'd decided to convert the dining room into his office and to expand the master bedroom above it.
Before the remodeling, a small deck opened out on an unrefined backyard. There was a great pond a short distance away – but no particular invitation to step outside to enjoy it.
Working with an architect, they'd decided to bump out the rear section of the house by three feet to expand these rooms. This may not seem like a huge step, but it represented a major change in the use of these spaces. Most important downstairs was that the bump-out was to include a door to the backyard: He wanted to gain access to the yard from his office and was thinking about installing a small terrace he could use as an outdoor refuge when the weather was fair.
This is about the time we became involved and were presented with a number of issues that needed addressing. As you can see in the "before" photos, for example, the existing deck did not extend over to what was to become the bumped-out area. As built with the house, that deck was nothing very elaborate: It extended about 14 feet out from the back of the house and was about 22 feet wide.
The architect who handled the new addition didn't pay much attention to the exterior issues. All he'd done, in fact, was design a simple extension of the deck over to the new door that would look exactly like what it was – that is, a piecemeal addition to an already uninspired space.
INTEGRATED VIEWS
After a meeting that took an extraordinarily long time given the scale of the project, we decided to rework the deck as well as design and install a small, walled terrace that would be easily accessed from the new office while also being tied into the new deck.
We didn't add much square footage in enlarging the deck to accommodate the renovation of the dining room into a larger office space, but in doing so we cut into the original deck in a way that let us give the whole surface a stylish, integrated look.
I wanted to avoid the aforementioned piecemeal approach so we cut into the existing deck and integrated it with the new work by turning the new deck boards perpendicular to the existing decking and creating what amounts to an inlaid wood "carpet" that seemed like it had always been there. The additional decking amounted to no more than about 50 square feet, but by carrying a pattern over into the existing deck, we made the whole surface seem bigger and gave ourselves the opportunity to set up an elegant transition from the deck to the new terrace.
As for that terrace, I wanted to put my client out into nature (as is the goal in many of my projects).
It would have been cheap and easy to set up a small patio with a few plantings and call it a day, but one of the many things I have learned through the years is that we humans tend to be a bit uncomfortable in open spaces. Much like our canine companions with their "den" mentality (which is what compels them to seek sanctuary under chairs and coffee tables), we prefer to relax within boundaries that give us a sense of security.
Just off and below the expanded wood deck, a new patio draws the homeowners out to enjoy a prime view of the pond just a short distance away.
In this case, I wanted to create that sense of enclosure without blocking my clients' view to the water. This led me to design and build a short, 18-inch-tall stone fence around the terrace that I extended off into the garden to soften its appearance with low-level plantings while still allowing my clients to feel ensconced in nature.
I planted a single dogwood next to the terrace alongside the new office, where it is now visible through a clerestory window. This window allows light into the office while still blocking views of the neighboring house, which is just 30 feet away, but now that light is dappled by leaves and branches during the day. By night, the tree is lit by low-voltage lights; in addition, we placed lights in the walls not only to show off its texture but also to provide a bit of path lighting that invites him (and others) out to the terrace and the lawn and pond beyond.
WORKING IN SCALE
The only element missing at this point was a bit of moving water.
The pond is a nice visual feature, but there's no movement with it and therefore no sound. To create an interesting feature on a budget, we core-drilled a boulder and placed it in a small basin, pumping water up through the hole and having it splash back down over various nooks and crannies on the boulder.
This simple feature creates just the right sound and is scaled perfectly to the small confines of the site. (We've built so many of these features for clients through the years that we've acquired our own core drill, but they can be rented fairly inexpensively and these bubbling boulders – alone or in groups – make simple, dramatic, low-cost watershapes.)
The bumped-out space – with its new windows and door – allowed our clients an easy means of getting out and enjoying the enlarged deck, the walled-in patio and the pond beyond.
In all, this exterior renovation covered no more than 800 square feet, including the 200 square feet of the bluestone terrace, the 50 square feet of new decking and another hundred or so square feet involved with the low stone fence. By anyone's definition, this qualifies as a small project.
Many designers I know of would look at a space of this sort and would either throw a cliché solution at it or, more likely, would just walk away. As I mentioned in my previous column on this project, however, I find that the challenge of designing for small spaces and on small budgets and coming up with a solution as transforming as this one makes these projects as satisfying as any large project I've ever designed, installed or simply been part of.
My sense is that the availability of a large space and access to a good bit of money has the tendency of closing off important creative avenues in our brains. On some level, big projects and big budgets become shopping sprees in which we hunt down, for example, just the "right" sort of stone rather than coming up with the best applications of more affordable or more readily available options.
What I want to suggest here is that it's easier to stay at the top of our games – maximum creativity, maximum ingenuity, maximum resourcefulness – if we look at smaller projects as workshops for the design mentality we need to make the most of our work on all levels.
I have applied this outlook for many years now, and I find that delivering million-dollar looks at a fraction of that cost to budget-minded clients with small available spaces keeps me fresh, interest and motivated. By being open to these projects, I am continuously inspired and find myself exploring new products and techniques to keep the creative juices flowing.
My pride, in other words, comes from designing and installing works of art. If that means doing it on a small budget, the prouder I am.
Bruce Zaretsky is president of Zaretsky & Associates, Inc., a landscape design/construction/consultation company in Rochester, N.Y. Nationally recognized for creative and inspiring residential landscapes, hee also works with healthcare facilities, nursing homes and local municipalities in conceiving and installing healing and meditation gardens. You can reach him at [email protected].