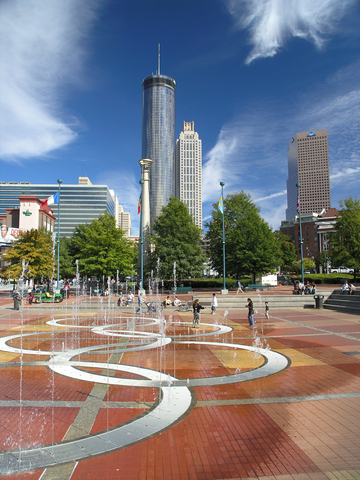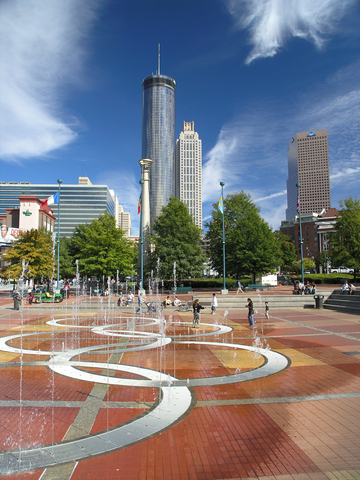 Business and pleasure have carried me to Atlanta more times than I can count through the past 30 years. On many of those occasions, I attended trade shows in the Georgia World Congress Center and found myself with enough time on my hands that I was able to enjoy Centennial Park, where people from all over the world once gathered to celebrate the Olympic Games of 1996.
I'd seen this area before the Olympiad, and I must say that the degree to which the city remade itself to host this international showcase event is truly remarkable. Particularly welcomed is the abovementioned Centennial Park, a broad, open space that I've strolled through often enough that it feels a bit like home. I am persistently intrigued by the Fountain of Rings, the park's big, interactive waterfeature.
Lots of times, I've seen the fountain teeming with kids running wild through varied jets of water, but on several occasions the timing's been right and I've caught one of the choreographed shows set to music of many descriptions. This fountain, some say, is the precursor to
the many musical fountains that have come along since 1996 ( including the one at the Bellagio Hotel in Las Vegas), and I'm perfectly willing to believe them.
Set up on a splash pad emblazoned with the five Olympic rings, the Fountain of Rings includes 251 jets that shoot water up to 35 feet straight into the air. The big shows run four times a day, 365 days a year, in the afternoons and evenings. I think I prefer the spectacle of the daytime displays, but the evening light shows are amazing.
A mild word of caution: I stood a bit too close once on a breezy (but humid) September day and soaked up enough good Atlanta water that I had to retreat to my hotel room to put on dry clothing. Since then, I've made a point of maintaining a respectful distance and have found that I get a better perspective on the show as a consequence.
It's a great attraction in one of my favorite cities, so do plan to stop by if business or pleasure takes you to the Peach State.
To see a brief video of the fountain dancing to strains of a Rossini overture, click here.