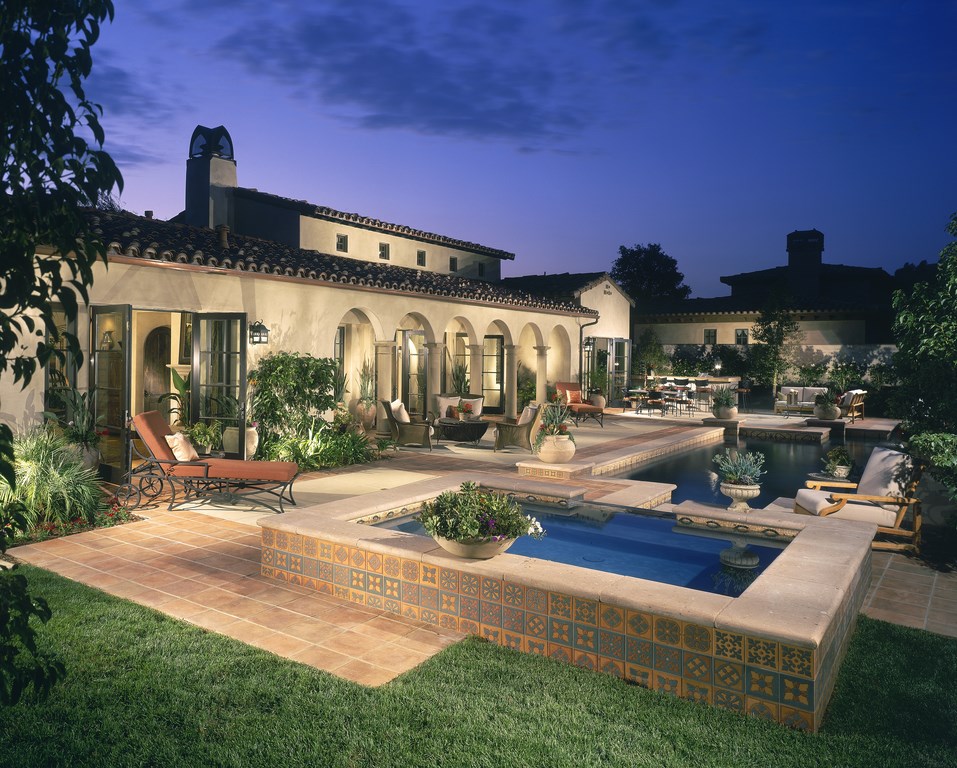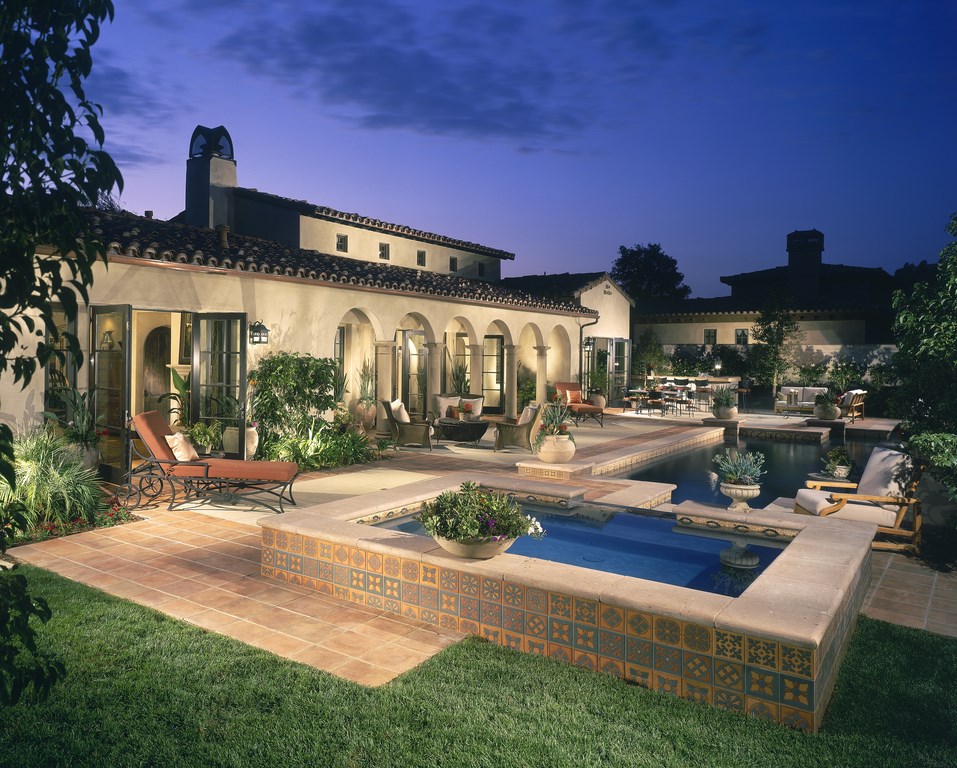 Our firm has always focused on the creation of watershapes and landscapes for championship-level golf courses. It is work on an enormous scale in beautifully conceived settings, and the clients are extraordinarily demanding. On occasion, our work has reached beyond the links and into the grounds and homes that surround them.
That makes sense, because the lion's share of our work on fairways, tees and greens runs parallel to development of adjacent luxury homes. This means that we often expend considerable energy in considering the views from future home sites and the ways our watershapes and landscapes visually interact with what are often enormously valuable pieces of private real estate.
Case in point: For the past nine years, my colleagues and I at Pinnacle Design have worked on a golf/residential complex known as The Bridges at Rancho Santa Fe in the rolling hills on the north end of California's San Diego County. In contrast to other projects where our work is primarily concerned with the spaces within the play areas of the courses themselves, this project had us ranging over the entire property, including pools, spas, landscapes and exterior environments for about 50 homes.
This has been an all-encompassing project in which every element adheres to a self-consciously European design sensibility. At every step, we extended and amplified an overall visual narrative that drew inspiration from the golden hills rising above the Mediterranean Sea.
CLASS ACTS
Our work began, as is natural for us, with the golf course and the design of multiple waterfeatures and landscaped areas adjacent to the field of play. In this case, it also meant early involvement in developing an extensive stream system that was to enhance and visually unify the settings for the first homes established on the property.
The golf course itself is a masterpiece. Designed by The Robert Trent Jones II Group and a thing of great beauty and variety now played comfortably by players at a wide range of skill levels, the course meets PGA-championship standards and plays host to an annual "Battle of the Bridges" tournament that has attracted Tiger Woods and other luminaries from the golf world.
Key Players

Our firm, Pinnacle Design of San Diego and Palm Desert, Calif., focuses strictly on the design of watershapes and landscapes. As is true of any sophisticated project, the success of our design work depends heavily upon the work of key contractors, subcontractors and suppliers.

For our residential work at the Bridges of Rancho Santa Fe, we must acknowledge the amazing skill and flexibility of the following southern California firms:

[ ] San Diego Pools, Rancho Santa Fe: pool and spa construction [ ] Steve Wolff & Associates, Orange: landscape decoration, pottery and artwork [ ] Rock 'n' Roll Tumbled Stone & Mosaics, San Diego: stonework and custom tile mosaics [ ] Costa Verde Landscaping, Encinitas: landscape installation [ ] Cross Construction, Vista: hardscape and stonework

All were instrumental in the expert execution of the spaces depicted in this article.

— K.A.
The 540-acre complex includes more than 80 luxury homes, most on half-acre parcels. Much of our work has been in the Cortile Collection, a set of homes inspired by the architecture and landscapes of Italy and Spain in three broad stylistic categories: Tuscan Farmhouse, Formal Italian and Spanish Countryside.
Unlike most planned developments, however, each home here is unique. They share certain design elements (the use of courtyards, extensive stonework and deep-set windows and doors as well as oversized fireplaces and exposed structural timbers meant to express the homes' timeless character), but all are intended to provide homeowners with a distinct sense of individuality.
Our challenge in designing the watershapes and landscapes was to echo and magnify the stylistic motifs while providing homeowners with spaces that would be theirs alone. This was clearly not a neighborhood, after all, where anyone would be satisfied with having things look too similar from lot to lot.
In other words, we had to work in harmony with those features but also had to respond to whatever we could find that was unique about the settings. In each case, this left us generous room to maneuver with hardscape, planting plans, exterior structures and an array of fountains, pools and spas, outdoor fireplaces and fire pits, patio areas, walls and outdoor cooking areas.
As you'll see in the accompanying photographs, we maintained focus by integrating our work with materials, color schemes and stylistic touches found in the homes themselves. The concept was to create residences that were completely turnkey, finished in every respect except for the furniture.
POINTS OF PRIDE
In all, we've developed designs for more than 50 homes in the Cortile development. And we're proud to report that our work has earned numerous design awards, including recognition by the Building Industries Association. More important, our clients – both the developers and the residents who have moved in – have expressed their complete satisfaction.
We're still at work at the Bridges, continuing with residential designs and making improvements to the overall landscapes and community areas. The project is so enormous and intricate that by the time we reach completion of a certain set of tasks, we've already started projects involving something new and different.
We've done all we can to evoke impressions of Mediterranean climes, but I suppose our success in that particular area is up to the individual observer. For my part, I know that when I spend time in this setting, I get a wonderful feeling of being transported to an environment that is distinctly different and, to me, possessed of a truly European flair.
---
From the Tuscan Hills
The homes with Tuscan Farmhouse designs are far and away the least formal of the possibilities at the Bridges complex. Here, we surrounded the pools with lots of flagstone, stacked stone and fieldstone waterfalls and opted for rustic, free-flowing, organic looks well suited to the homes.
The cantilevered flagstone decking blends seamlessly with the softly colored ceramic waterline tile and gray pebble finishes – stone and tile details we carried beyond the pools and into outdoor cooking areas, pathways, courtyards and fireplaces.
---
Distinctly Italian
With homes of the Formal Italian class, we leaned more toward the look of a classic villa or urban home and a more formal architectural style. The pools in these cases tend to have a symmetrical geometry with crisp rectilinear or curvilinear shapes. The color palette is similarly refined, with contrasting light and dark hues intended to accentuate the geometric designs.
In these cases, we relied on light pre-cast concrete, black and white ceramic tile, classic Roman pottery designs and, occasionally, beautiful statuary or raised spas that doubles as waterfeatures. It was all about creating a sense of tranquility through use of intimate spaces, lush plantings and the sounds of moving water.
---
Moorish Touches
Homes of the Spanish Countryside persuasion reveal touches of Spain's Moorish heritage – in many ways the most distinctive and influential of the Mediterranean styles.
We used warm, organic colors – lots of reds, browns, beiges, blues and oranges – in the form of vivid, hand-painted Saltillo tile and glass-tile mosaics that adorn simple, rectilinear watershapes. These tile details are picked up in a variety of ways throughout these spaces – as backsplashes on the outdoor cooking areas, for example, or on pilasters and walls. We also made extensive use of Cantera stone in the pottery and decking.
Ken Alperstein is co-founder of Pinnacle Design, a golf-course architecture firm with offices in Palm Desert and San Diego, Calif. He is a 17-year veteran of the landscape architecture industry and has specialized in golf- course landscaping since 1989. Alperstein and his partners, Ron Gregory and Bill Kortsch, founded Pinnacle to serve the highly specialized golf-course-design industry. The company's portfolio includes high-end championship golf courses, clubhouses and grounds throughout the Western United States – including several courses rated in the top 100 in the United States by Golf Digest and Golf magazines.